A campaign to impeach President Donald Trump gained more than three million supporters in 2018 and believes it is just getting started with Democrats gaining control of the House of Representatives.
The number of people signing up over the past 12 months to the Need to Impeach campaign aimed at pushing Congress to start proceedings to remove Trump from office was confirmed to Newsweek by spokesman Erik Olvera on Friday.
"We spent the last year raising up our supporters' voices to ensure our elected leaders heard their messages loudly and clearly," Olvera said. "And with Democrats controlling the House beginning next week, we're not going to let up on our work."
The campaign, launched by Democratic mega donor Tom Steyer in October 2017, has more than 6.5 million signatures to date.
The campaign has seen significant spikes—roughly fivefold—in daily signups when new details emerge around special counsel Robert Mueller's investigation into Russian interference and possible collusion with the Trump campaign in the 2016 presidential election.
"We knew there was widespread demand for Donald Trump's removal and that demand only intensifies each time new reports of corruption surface," Olvera said.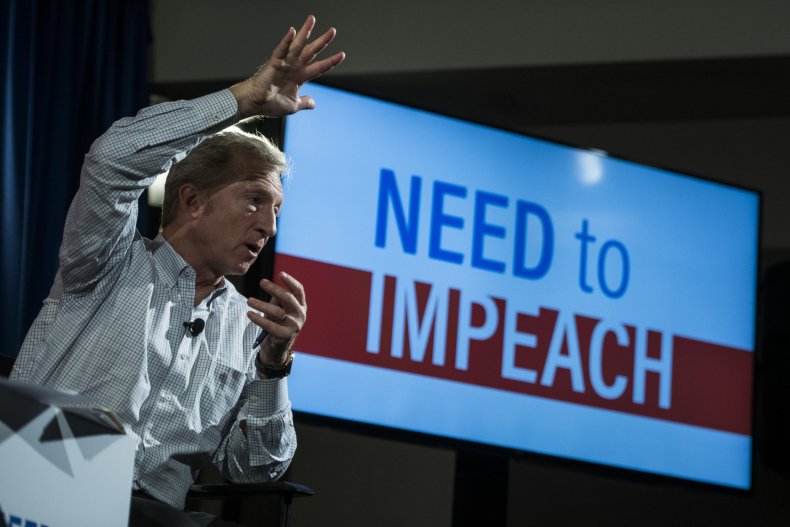 Olvera said that people across the United States are outraged by Trump's lawlessness and want elected officials to hold him accountable.
"We have a crook in the White House who committed crimes to ascend to power and who is now eroding our democracy from inside the Oval Office," he said.
Olvera added that the campaign's rapid growth underscores a demand from voters nationwide, including 80 percent of Democrats, who want elected leaders to step up and remove Trump.
"Things are bad and, each day Trump remains in office, they're getting worse," Olvera said. "The simple question is will members of Congress listen to voters and have the courage to impeach the president?"
Need to Impeach has held almost 40 town halls across the U.S. and claims to have helped flip 36 of 43 congressional districts it targeted in the November midterm elections, an 84 percent success rate.
The campaign mobilized it's supporters to focus on close to 638,000 voters who do not frequently vote in the 43 districts in the midterms. About 78,650 supporters hand wrote 1,645,895 notecards to people who do not vote in the midterms frequently.
Steyer spent more than $120 million on the midterm elections, including $10 million to turn the Need to Impeach movements into a powerful voting bloc.
But while Democrats will take over the House of Representatives next week, giving them the votes to impeach Trump, Party leaders have so far been cautious about instigating moves to remove the president from office. While Democrats could impeach Trump in the House, they would still require significant Republican support in order to achieve a two-thirds majority vote to convict him in the Senate.