Impeach Trump Billboards Go Up in Times Square, as Tom Steyer's $20 Million Campaign Ramps Up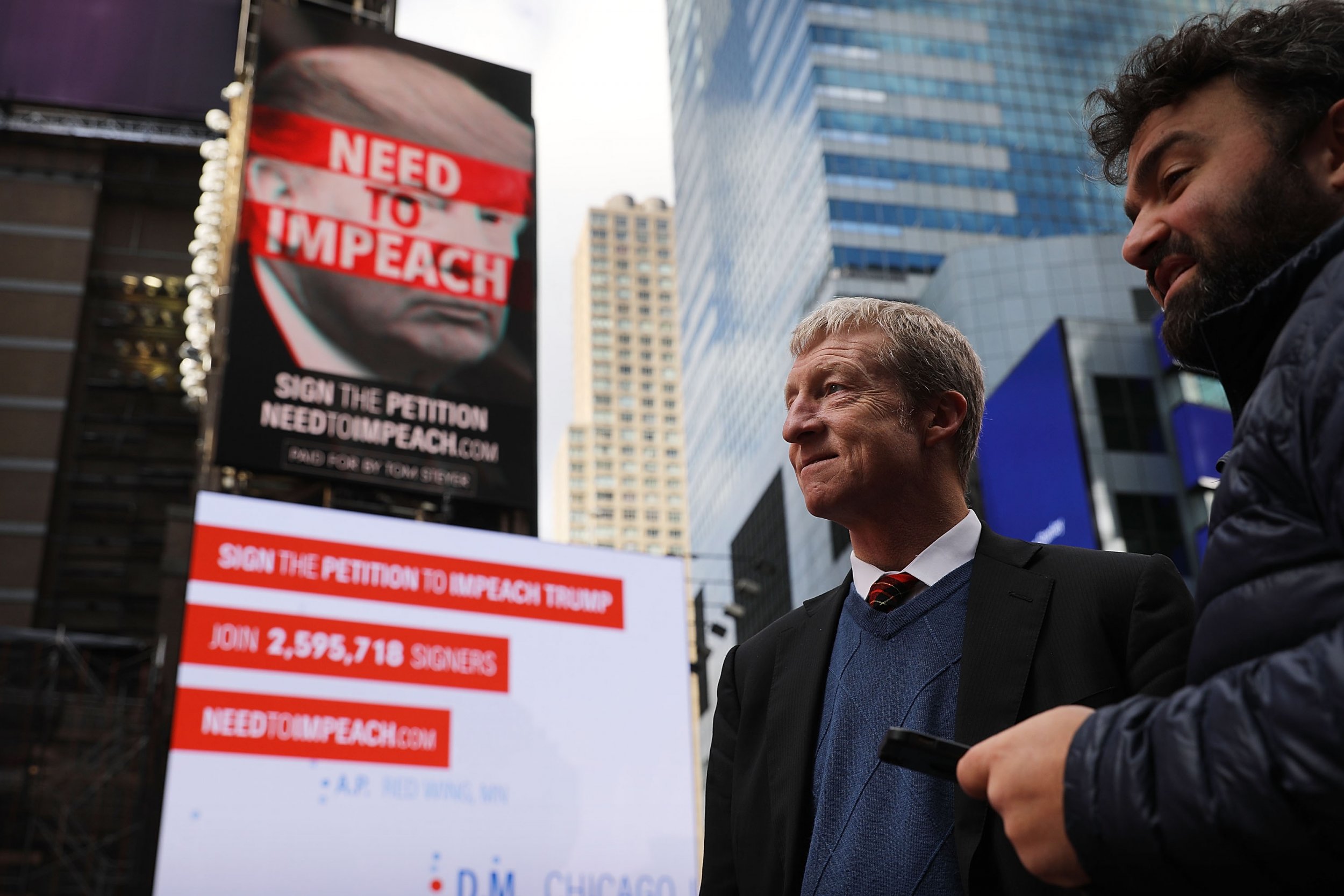 If they look up into the bright lights, the more than 350,000 people who traverse New York City's Times Square every day will be greeted with a new message among the throngs of advertisements: Impeach President Donald Trump. Environmentalist and Democratic mega-donor Tom Steyer announced Monday that his growing $20 million campaign to remove Trump from office is moving to the heart of the country's most populous city at its busiest time of year.
Related: Trump impeachment threat grows as obstruction of justice investigation deepens
"We're putting a couple of large billboards in Times Square calling for the impeachment of the president," Steyer told Bloomberg. "We legitimately feel that this is the huge issue in front of the American people that no one is standing up for what the overwhelming number of Americans think."
The billboards direct people to Steyer's website, needtoimpeach.com, where they can sign a petition calling on Congress to move to make Trump just the third president in history to be impeached and the first to be ousted from office. The billboards also include a running count of the number of signatories to the petition. Launched a month ago, Steyer's petition has already gained more than 2.6 million signatures, thanks in part to a television advertisement campaign.
That number is likely to increase further thanks to this new exposure. Already one of the world's busiest pedestrian areas on an average day, Times Square will be visited by about a million people who want to watch the ball drop and ring in the New Year.
Regardless of how many signatures it gets, whether the campaign actually leads to meaningful action in Congress is far from certain. Democrats made their biggest push for impeachment last week when six House members, including two from the House Judiciary Committee, introduced multiple articles of impeachment. However, party leaders have cautioned against moving too quickly on impeachment.
House Minority Leader Nancy Pelosi called Steyer's ad "great" during an appearance on MSNBC, but in private she was reportedly less than thrilled and told him so herself, describing it as a "distraction."
Steyer, though, has stressed that he is compelled by more important things than political strategy.
"It seems as if elected officials don't think this is the time or don't think that it's tactically smart," he said. "We're not trying to be tactically smart. We're not trying to in some way, shape or form use this for the '18 midterms."