#ImpeachTrump Day of Action Events Happening to 'Finally Open an Impeachment Inquiry' on Trump, Rashida Tlaib Says
More than 100 cities across the United States will hold #ImpeachTrump Day of Action events on Saturday and it is a call to millions of Americans to "finally open an impeachment inquiry" on President Donald Trump, according to Democratic Representative Rashida Tlaib.
As of late afternoon Friday, more than 140 events were scheduled in cities including New York, Los Angeles, Boston, Phoenix, Orlando and Detroit, to demand that Congress begin impeachment proceedings against Trump.
Along with Congresswoman Tlaib, Senator Elizabeth Warren and Representative Al Green are among Democratic lawmakers who have pushed for impeaching Trump are scheduled to speak at the teach-ins and other public actions.
"The biggest changes in our country, from women earning the right to vote to the outlawing of segregation, did not start within the halls of Congress, they started on the streets of places like my home city of Detroit and beyond," Tlaib said in a statement to Newsweek ahead of the day of action. "I'm heartened to see that same push behind holding this lawless President accountable."
Tlaib continued: "I sincerely hope that after this Saturday, my colleagues on Capitol Hill will answer the call of the likely millions of Americans that will rally across the country and finally open an impeachment inquiry into the actions of President Trump."
She concluded that "it is our duty as members of Congress to pursue the last option we have in this pursuit of justice on behalf of the American people."
Tlaib is scheduled to rally in Detroit, while Representation Jim McGovern is confirmed to speak in Northampton, Massachusetts, and Representative Madeleine Day is scheduled to appear in Philadelphia. The events, coordinated by MoveOn, By the People, and 20 partner organizations, can be found at Impeach.org.
A resolution in the House of Representatives to start an impeachment inquiry on Trump has been co-sponsored by Tlaib and Green.
Last month on the Capitol Lawn, the coalition of national advocacy groups delivered 10 million petition signatures to Congress urging Trump impeachment proceedings. At the press conference, Tlaib and Green held the thumb drive with signatures from the Need to Impeach campaign and other organizations that banned together on the effort.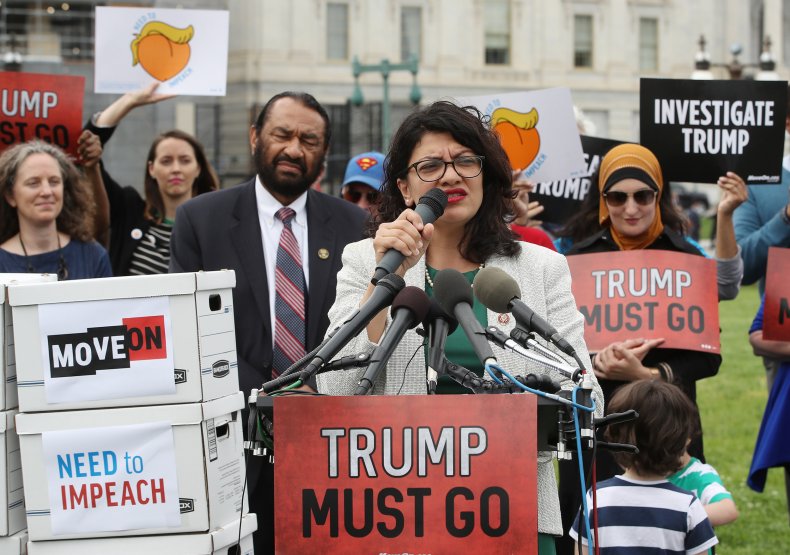 Support for the Trump impeachment movement has grown since the release of Russia probe special counsel Robert Mueller's redacted report, which did not exonerate Trump of obstructing justice. A Reuters/Ipsos poll last month found that 45 percent of Americans think Trump should be impeached, versus 42 percent who are opposed.
"By now, it is clear that Congress won't act unless we demand it," By the People spokeswoman Alexandra Flores-Quilty stated. "We need to take to the streets in every neighborhood in America to defend democracy."