Impeachment Support Continues to Grow Among House Democrats—Even in Swing Districts
House Speaker Nancy Pelosi continues to make her stance clear: now is not the time for an impeachment inquiry into the president of the United States.
Still, calls from House Democrats to initiate the process continue to mount, with at least eight members in the past week joining more than 60 of their colleagues in stating they now think the chamber should move forward with impeachment proceedings. And such a stance is beginning to gain momentum not only among Democrats in solid blue districts—but in swing districts, too, including representatives who the party has even classified as vulnerable in 2020.
Illinois Representative Sean Casten, a freshman, was one of the latest Democrats to announce his support Wednesday for an impeachment inquiry into President Donald Trump.
"I think that our leadership has done a good job," he told the Chicago Sun-Times. "But instituting the impeachment inquiry will actually enable us to get more information, more documents."
Casten marks the third freshman House Democrat to support an impeachment inquiry who is on the Democratic Congressional Campaign Committee's "Frontline" list, home to 44 Democrats—almost all of them freshmen—who the fundraising arm of the Democratic Party believe to be the most vulnerable to losing their seats. All three of them—Casten, Katie Porter of California and Tom Malinowski of New Jersey—flipped Republican-held districts last year.
The move by the vulnerable Democrats who support divided districts to come out in support of impeachment proceedings potentially puts themselves and Democrats' House majority at risk come 2020, and it's a stance that has concerned leadership members.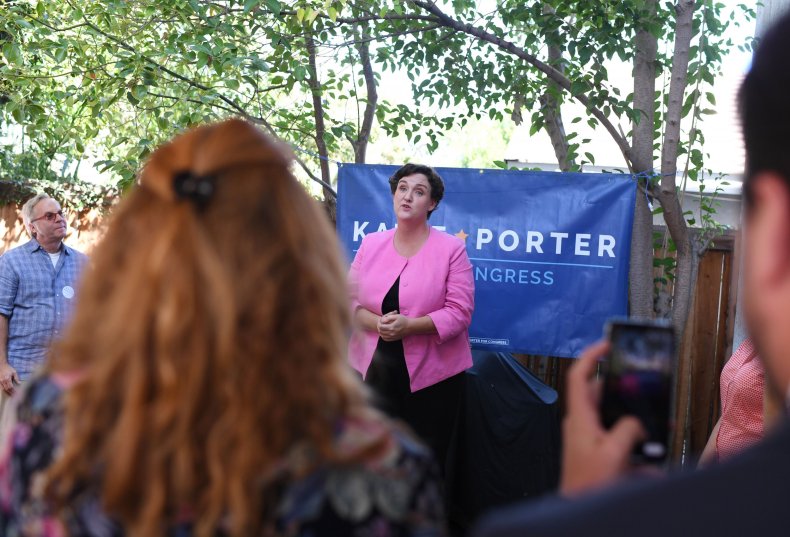 Asked whether it could cost him his seat next year, Casten responded to the Chicago Sun-Times: "I don't know."
Porter announced her support for an impeachment inquiry on Monday, arguing it was about "whether we choose to fight against" a "crisis within our midst."
"I didn't come to Congress to impeach the president," she said in a video. "But when faced with crisis of this magnitude, I cannot, with a clean conscience, ignore my duty to defend the constitution... [Mueller] presented extensive evidence of obstruction of justice."
Malinowski said last month that he also supports an impeachment inquiry, citing to NBC News what he viewed as "across-the-board defiance of congressional oversight and the rule of law by the administration."
In the past week, Representatives Eric Swalwell and Tony Cardenas of California, Brian Higgins and Carolyn Maloney of New York, Jan Schakowsky of Illinois and Dan Kildee of Michigan also joined the impeachment inquiry ranks.
Schakowsky, a member of House leadership as a senior chief deputy whip, made her announcement Wednesday night in a video. She, like many of her colleagues, highlighted the potential obstruction of justice incidences detailed in the Mueller report and the Trump administration's continued lack of cooperation with congressional investigations as her deciding factors.
And while she believed leadership "has done a good job," Schakowsky said an impeachment inquiry would give Congress more power to obtain requested documents and witness testimonies—an argument that many inquiry-supporters make.
Pelosi continued to say Wednesday while speaking with reporters at a breakfast hosted by the Christian Science Monitor that despite the growing impeachment calls, she does not "feel pressure from my members to do anything, and I have no pressure on them to do anything."
She objected to censuring the president, saying such a process would be "a day at the beach for the president, or at his golf club, or wherever he goes."
"No. I think censure is just a way out," the California Democrat said. "If you're going to go, you've got to go. In other words, if the goods are there, you must impeach, and censure is nice, but it is not commensurate with the violations of the Constitution, should we decide that's the way to go."
But she continued to make her opposition to impeachment proceedings known, pointing to the lack of support for such a process in the Republican-controlled Senate. An exoneration by that chamber, she said, would be viewed as a victory by Trump.
"I don't think you should have an inquiry unless you're ready to impeach," Pelosi said. "What I believe is that when we go forward, if we go forward, it has to go deep. It can't be the Democrats impeach in the House; the Senate, in his view, exonerates... This president must be held accountable."
This story was updated to include Representative Tony Cardenas as a member who supports an impeachment inquiry after the California Democrat released a statement.