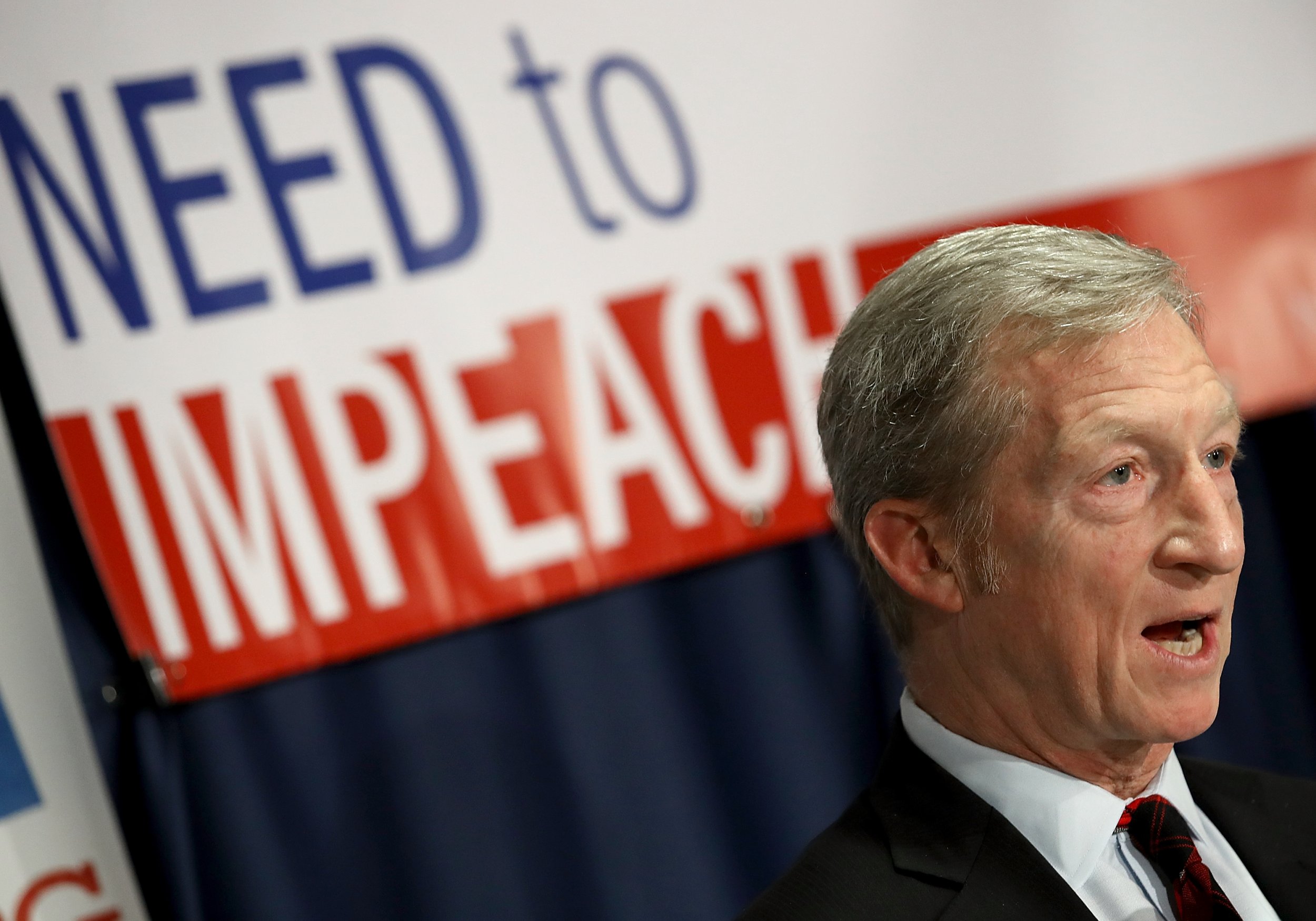 Billionaire hedge fund manager Tom Steyer amassed a groundswell of national support for impeaching President Donald Trump over three short months, increasing speculation the Democrat could be a challenger in the 2020 presidential election.
Related: Democrats need "smoking gun" to truly impeach Trump
Steyer, 60, has gathered 3.73 million signatures for his NeedToImpeach.com drive targeting Trump—coupled with his national TV advertising campaign meant to frighten viewers over Trump's access to nuclear weapons and his mental state. Experts told Politico it could be the start of a major run for Steyer.
Steyer, like Trump a billionaire originally from New York, reportedly did not rule out the possibility in a yet-to-be-aired C-SPAN interview this week. Previously, he was linked to a possible run for California governor or for one of the state's U.S. Senate slots.
"I haven't ruled it out, and I'm actually trying to determine what will have the most positive differential impact,'' Steyer said, according to Politico. "I'm absolutely ambitious...to try and be part of the group of people who gets America back on a just and prosperous course."
Steyer is now reportedly gunning for 5 million signatures, which could only add to a list of potentially motivated voters and supporters for a sweeping national campaign.
"That's how you build a grassroots operations for a presidential campaign. And if you are that guy who started this, that's certainly a leg up in organizing a 50-state strategy," Mike Madrid, a Republican consultant in California, told Politico. "That's what he's building, and it's probably second only to Bernie Sanders's list and may be eclipsing it. Every election cycle has its own dynamics, and whoever is tapping into the sentiments of their own base usually has an advantage."
The report focused on how Steyer's growing digital imprint and base could rival that of Sanders, who challenged Hillary Clinton during the Democratic Party's 2016 presidential primary.
Steyer would still have to fight a very crowded potential field. Sanders is viewed as the current front-runner, with former Vice President Joe Biden next up, followed by Senator Elizabeth Warren (D-Mass.), according to The Washington Post's running rankings.
Trump already acknowledged Steyer earlier this year and used his familiar tactic of insulting challengers of any kind by calling Steyer "unhinged" and "wacky."
"Wacky & totally unhinged Tom Steyer, who has been fighting me and my Make America Great Again agenda from beginning, never wins elections!" Trump tweeted October 27, roughly a week after Steyer's ads hit the airwaves.