Impeachment or 2020 Election: Tom Steyer Determined to Oust Donald Trump, One Way or Another
Democratic mega-donor Tom Steyer, who founded the Need to Impeach campaign to remove President Donald Trump from office, has unveiled a "Five Rights" platform and a tour to key primary states, sparking speculation that he is considering a 2020 presidential bid.
Steyer announced his platform Tuesday in a full-page advertisement in USA Today and its nationwide network of newspapers. In the ad, featuring a large image of himself, Steyer stated he would host "a series of events to talk about what these rights mean for us." The five rights are the right to an equal vote, the right to clean air and clean water, the right to learn, the right to earn a living wage and the right to health.
"These five rights should be at the core of the Democratic Party's 2020 platform—but this is bigger than any political party," Steyer said in a statement. "A hostile takeover of our democracy by large corporations and their enablers in politics has eroded that promise, and we must act to reclaim that power and put it back in the hands of the American people."
While Steyer's platform and tour mirror the actions a presidential candidate would launch, the California billionaire has not announced if he is running.
Get your unlimited Newsweek trial >
"Tom has not yet made a decision regarding 2020," Aleigha Cavalier, a spokeswoman for NextGen America, the advocacy group Steyer started in 2012, told Newsweek in an email Tuesday.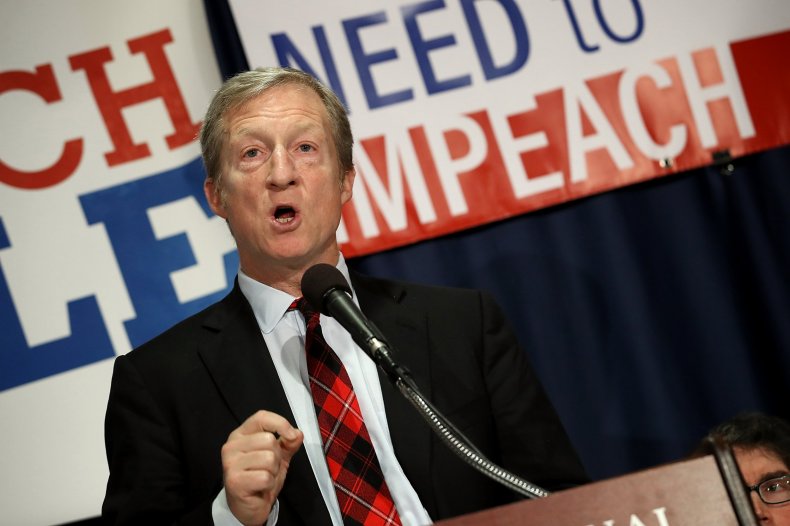 Steyer came up with the platform while holding 40 town hall meetings nationwide over the past year to gather signatures for his online Need to Impeach petition, urging Congress to start proceedings to remove Trump.
At an October 20 town hall meeting in Newark, New Jersey, marking the campaign's one-year anniversary and more than 6 million signatures, Steyer spoke of the list of rights. During the question-and-answer period, he was asked: "Are you running for president in 2020? We need someone who cares about others!" The crowd of more than 200 people cheered.
Get your unlimited Newsweek trial >
"Look, I guarantee you, I will be working full-time for social justice on November 7, 2018, and going forward, and the question will be, what is the best thing that I can figure out to do," Steyer answered. "I don't know what will be the best thing to do and it will really depend a lot on what happens on November 6."
Democrats won control of the House of Representatives in the November midterm elections—a major push of the Need to Impeach campaign and a must-achieve goal, according to Steyer.
The philanthropist told the town hall that the big question in the United States was: "Are people willing to tell the truth."
"In some cases, I think we're in crisis, but it's nothing we can't solve if we'll tell the truth and get our backs in it together," Steyer said. "So it's not overwhelming. We can do this. We have to agree together to do this."
An attendee then yelled out, "So that's not a no," referring to the question of whether Steyer would run for president.
Steyer laughed, and the audience clapped.
The former hedge fund manager has invested about $120 million in grassroots and political campaigns.
In late October Trump acknowledged Steyer, in the president's predictable way:
"Just watched Wacky Tom Steyer, who I have not seen in action before, be interviewed by @jaketapper. He comes off as a crazed & stumbling lunatic who should be running out of money pretty soon," Trump tweeted. "As bad as their field is, if he is running for President, the Dems will eat him alive!"
Impeachment or 2020 Election: Tom Steyer Determined to Oust Donald Trump, One Way or Another | U.S.