Trump Told Kevin McCarthy Rioters Were 'More Upset' About Election than Him Says GOP Rep
Representative Jaime Herrera Beutler has backed a media report that a heated conversation between former President Donald Trump and House minority leader Kevin McCarthy took place during the U.S. Capitol riots.
CNN had reported that McCarthy had urged Trump to call off the rioters on January 6. During the phone conversation that turned into a shouting match, Trump reportedly told the GOP Californian lawmaker that the protesters were "more upset about the election than you are."
The network had cited Republicans who had been briefed on the call. Beutler was one of the 10 Republican representatives who voted to impeach Trump and said she had described Trump's behavior during the riots with the media and her constituents.
Trump is charged with inciting the rioters during the Capitol insurrection that led to five deaths.
In a statement, Beutler reiterated that sharp words were exchanged between Trump and McCarthy which she said showed the former president's state of mind and that he had refused to call off the rioters.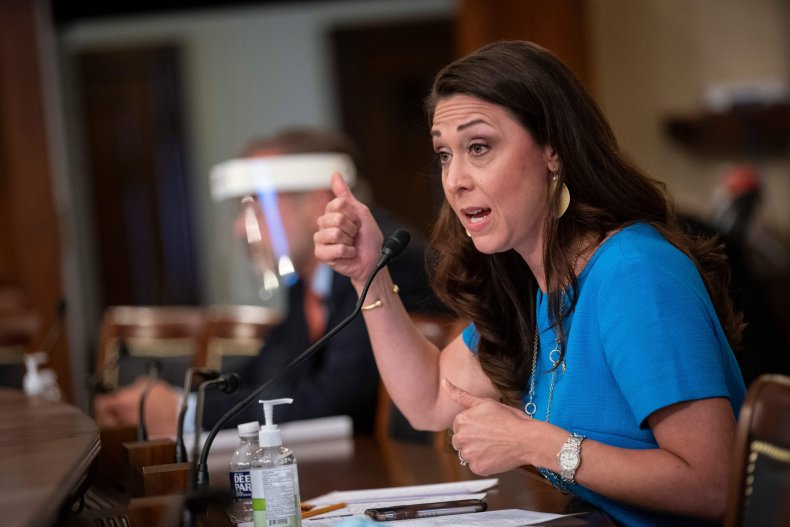 "When McCarthy finally reached the president on January 6 and asked him to publicly and forcefully call off the riot, the president initially repeated the falsehood that it was Antifa that had breached the Capitol," she said.
"McCarthy refuted that and told the president that these were Trump supporters. That's when, according to McCarthy, the president said: 'Well, Kevin, I guess these people are more upset about the election than you are." Newsweek has contacted McCarthy's office and Trump's office for comment.
In her statement on Friday, Beutler also appealed to her fellow Republicans to speak up about what they knew about Trump's behavior that day.
"To the patriots who were standing next to the former president as these conversations were happening, or even to the former vice president: if you have something to add here, now would be the time," she said.
Another GOP lawmaker who backed impeachment, Rep. Anthony Gonzalez (R-OH) told CNN that the phone call "speaks to the former President's mindset." He said it also showed that Trump "was not sorry to see his unyieldingly loyal vice president or the Congress under attack by the mob he inspired."
Trump's legal team closed its defense on Friday after only three hours and 15 minutes of an allotted 16 hours and the two-thirds Senate majority makes an acquittal likely.
Trump's attorney Michael Van Der Veen took aim at the Democrats and described the article of impeachment as "an unjust and blatantly unconstitutional act of political vengeance."
The graphic below provided by Statista shows the impeachment process.