Impeachment Committee 'Nearing Completion' of Cuomo Probe, Invites Him to Submit Evidence
The New York State Assembly's Judiciary Committee sent a letter to the legal team of Governor Andrew Cuomo saying the Assembly will soon consider filing articles of impeachment.
In the letter, Judiciary Chair Charles Lavine writes that the committee's investigation is "nearing completion," and the committee invites the governor's legal team to submit any evidence or written submission it would like the Committee to review prior to making its decision.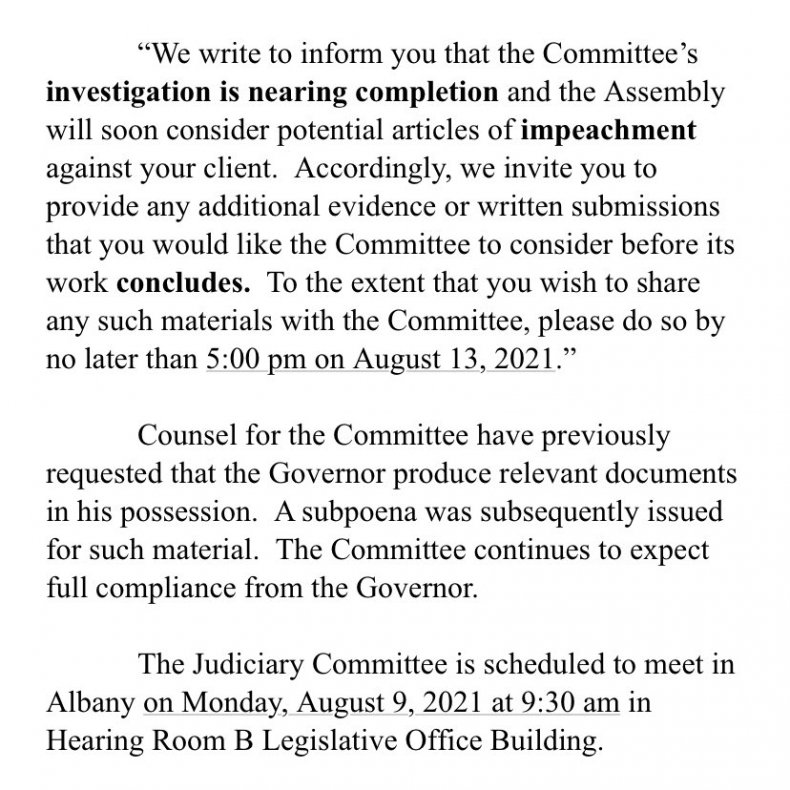 It placed a due date for providing such materials as "no later than" 5:00 p.m. on August 13The news comes as the attorney generals of three New York counties announced they would open criminal investigations against the governor, following the investigation by New York State Attorney General Letitia James where her office found Cuomo guilty of sexual harassment.
In his response to the report, Cuomo denied wrongdoing and has accused individuals of feeding "ugly stories to the press" and having a "bias" against him. In a past public statement, Lavin warned Cuomo not to interfere with the impeachment investigation.
"It is obvious that attempts to demean the Attorney General serve as well to undermine the investigation and send profoundly negative signals to witnesses," Lavine wrote to Cuomo. "It is critically important to realize that any such comment may merit severe repercussions."
This is a developing story and will be updated as more information becomes available.