Impeachment is Rapidly Growing on Voters as House Surges Forward with Inquiry, Subpoenas Rudy Giuliani
The majority of American voters now support an impeachment inquiry into President Donald Trump, while the country is split on whether Trump should actually be removed from office, according to a new Quinnipiac University poll released on Monday.
The survey showed a 20-point swing from less than a week ago, showing that voters are split on whether they believe Trump "should be impeached and removed from office" at 47 to 47 percent. In a prior Quinnipiac poll released Wednesday, respondents rejected that idea by 57 to 37 percent. Monday's poll also found that voters support the House's formal impeachment inquiry by 52 to 45 percent.
The poll showed that when asked whether Trump should be impeached and removed from office, 90 percent of Democrats—a 17-point increase from last week—said yes, while 42 percent of Independents—an 8-point increase—and 7 percent of Republicans—a 3-point increase—agreed.
Trump's approval rating among his base remained high at 88 percent, but his overall approval rating was 41 percent and his disapproval was at 53 percent.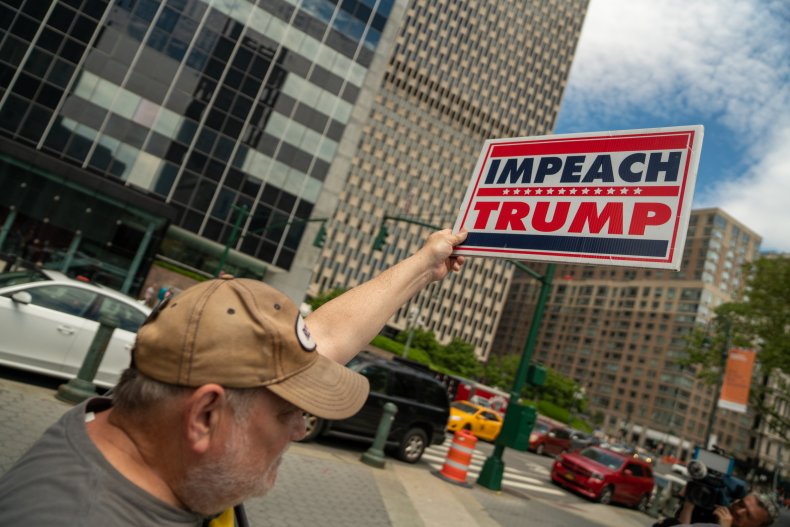 The surge in support from American voters for House Democrats' impeachment proceedings came as Trump's personal attorney, Rudy Giuliani, was subpoenaed on Monday by the Foreign Affairs, Intelligence and Oversight Committees to hand over documents related to his involvement in Trump pressuring Ukrainian President Volodymyr Zelensky to investigate a political opponent and their family: former Vice President Joe Biden and his son.
"Our inquiry includes an investigation of credible allegations that you acted as an agent of the President in a scheme to advance his personal political interests by abusing the power of the Office of the President," the Democratic chairmen wrote in a letter to Giuliani that accompanied the subpoena.
The subpoena demands that Giuliani provide communications and records about his efforts to have Ukraine investigate Biden and his family for their involvement in a Ukrainian gas company. Giuliani said on CNN September 19 that he asked Ukraine to look into the Bidens. The Democratic chairmen also demanded documents related to allegations that Giuliani pushed for the foreign prosecution of Ukrainians who provided evidence against Trump's convicted former campaign manager, Paul Manafort.
The requested information must be turned over by October 15. The subpoena does not require Giuliani to testify before Congress.
Giuliani was mentioned by Trump and Zelensky in their July phone call, where Trump said he'd like Giuliani to be involved with any potential investigation into Biden and stolen Democratic emails from the 2016 election, along with Attorney General William Barr.
"The Committees are investigating the extent to which President Trump jeopardized national security by pressing Ukraine to interfere with our 2020 election and by withholding security assistance provided by Congress to help Ukraine counter Russian aggression, as well as any efforts to cover up these matters," the chairmen wrote.
The three chairmen were Reps. Adam Schiff (D-Calif.), Elijah Cummings (D-MD) and Eliot Engel (D-NY) of the Intelligence, Oversight and Foreign Affairs Committees, respectively.
The Quinnipiac poll was conducted from Friday through Sunday among 1,115 self-identified registered voters and has a plus or minus 3.6 percent margin of error.