House Democrats are moving full steam ahead with their impeachment inquiry against President Donald Trump as they hold several public hearings with key witnesses in the Ukraine controversy.
Next up to testify is Marie Yovanovitch, the former U.S. ambassador to Ukraine. Yovanovitch will appear before the House Intelligence Committee at 9 a.m. Eastern time Friday.
The hearing will be broadcast on C-SPAN and will likely be carried by most major cable news outlets. You can also follow along with the events via the live-stream below, courtesy of PBS NewsHour.
Democrats launched the impeachment inquiry against Trump following reports that he tried to pressure Ukranian President Volodymyr Zelenskiy to investigate former Vice President Joe Biden and his son Hunter. Trump also temporarily withheld nearly $400 million in military assistance to Ukraine in order to get the country to follow through with his request, according to reports.
Yovanovitch, a Russian immigrant who moved to the U.S. with her family as a child, began serving as ambassador to Ukraine in August 2016. In May 2019, she was abruptly removed from her post even though one of her bosses assured her that she'd done "nothing wrong."
The reasoning for her ousting has become one focus of the House investigation. In a closed-door testimony last month, Yovanovitch told lawmakers that Trump and his personal attorney Rudy Giuliani were engaged in a smear campaign against her since 2018 because she refused to let Giuliani use the U.S. embassy in his attempts to obtain dirt on the Bidens.
Even after Yovanovitch was removed, Trump continued to disparage her in his communication with Zelenskiy. He referred her as "bad news" during his July 25th phone call with the Ukraine leader, according to a rough transcript of the conversation released by the White House.
"The former ambassador from the United States, the woman, was bad news and the people she was dealing with in the Ukraine were bad news so I just want to let you know that," Trump said to the Ukrainian leader. He also said that Yovanovitch was "going to go through some things."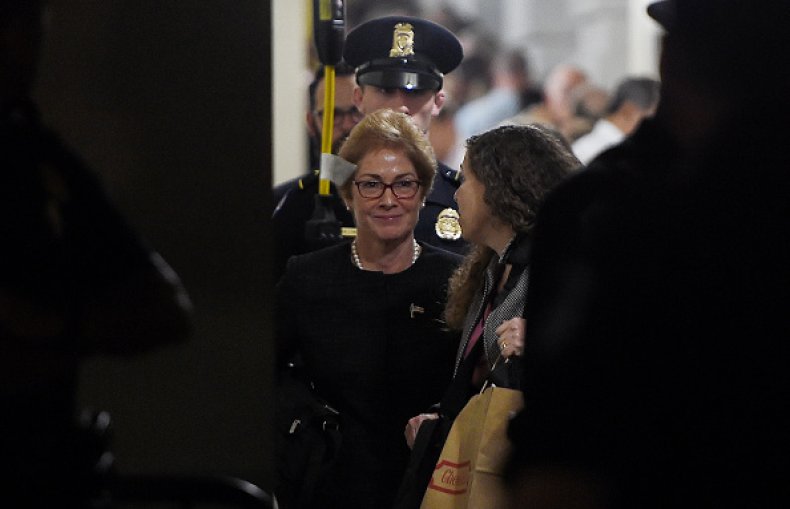 When asked by lawmakers about Trump's comments to Zelenskiy, Yovanovitch said she was "very concerned" and that she felt threatened by his remarks.
Yovanovitch's public testimony follows that of William Taylor, the top U.S. official in Ukraine, and George Kent, a State Department official. Taylor and Kent appeared side-by-side before the committee for an hourslong session Wednesday.
After several weeks of investigation, the House passed a resolution to formalize the impeachment inquiry in late October and move the matter into the public eye. Trump has railed against the inquiry moving forward, stating last week that Congress "shouldn't be having public hearings" and that "this is a hoax."
More officials are slated to testify next week, including national security official Alexander Vindman, former Ukraine envoy Kurt Volker and former Russia aide Fiona Hill.
The graphic below, provided by Statista, illustrates the split in public opinion on the impeachment hearings.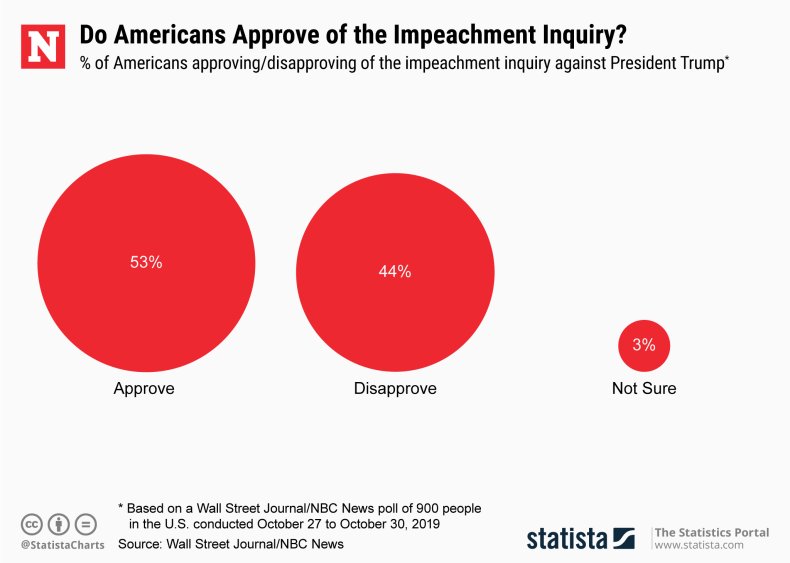 This article was updated to include an infographic.