Watch Impeachment Hearings Day 4: Live Stream, Schedule, What to Know As Sondland, Cooper and Hale Testify
The next White House officials set to publicly testify in the House Democrats' ongoing impeachment inquiry against President Donald Trump are Gordon Sondland, Laura Cooper and David Hale.
The trio will appear before the House Intelligence Committee Wednesday at 9 a.m. Eastern time. Sondland, the U.S. ambassador to the European Union, will testify first. Cooper, the deputy assistant secretary of Defense, and Hale, the undersecretary of State, will appear side-by-side for questioning in the afternoon.
The hearings will be broadcast on C-SPAN and will likely be carried by most major cable news outlets. You can also follow along with the events via the live-stream below, courtesy of PBS NewsHour.
House Democrats started the probe in late September amid reports that Trump tried to pressure Ukrainian President Volodymyr Zelenskiy to investigate former Vice President Joe Biden and his son Hunter over what Trump alleged were corrupt business deals. The president also reportedly temporarily blocked nearly $400 million in military aid to Ukraine in order to get the nation to follow through with his demands.
Sondland is expected to be the biggest witness to testify during the second week of public hearings. The ambassador is one of the so-called "three amigos" who helped lead the president's Ukraine agenda, along with former U.S. special envoy for Ukraine Kurt Volker and Energy Secretary Rick Perry.
Sondland told lawmakers during his closed-door deposition last month that he was directed by the president to work closely with Rudy Giuliani, Trump's personal attorney, on the administration's Ukraine policy.
In a controversial move, he revised his testimony to state that he informed an aide to Zelenskiy that military aid wouldn't be released until the Ukrainian leader released a statement agreeing to investigate Burisma, a gas company that employed Hunter Biden.
Cooper also testified about Trump's demand to freeze aid to Ukraine. She told lawmakers in a closed-door meeting that officials were concerned about the legalities around blocking the military assistance. She said that she had a "very strong inference" that the Ukrainians knew the funding was on hold.
The statements from Sondland and Cooper contradict the defense put out by Trump and his Republican allies that there was no "quid pro quo" arrangement because Ukrainian officials were unaware the funds were being blocked.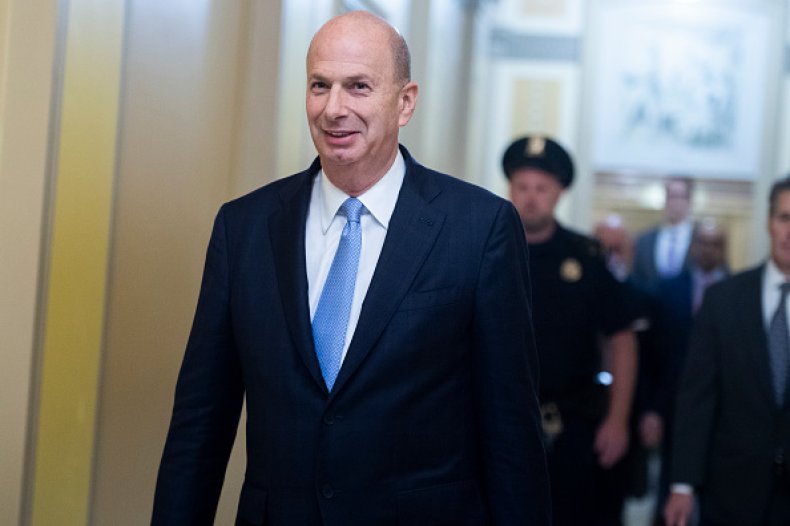 Hale is the third-highest-ranking official at the State Department, serving under Secretary of State Mike Pompeo. He also told investigators during his closed-door deposition earlier this month that Giuliani played a significant role in pushing out the former ambassador to Ukraine Marie Yovanovitch.
Yovanovitch, who testified before the House panel last week, was suddenly removed from her post by Trump in May. She told House investigators that she was the target of a smear campaign by the president and his conservative allies.
Later this week, Congress will hear from Trump's former Russia adviser Fiona Hill and Ukraine diplomat David Holmes. House Democrats have yet to release any further details on who else may be testifying in the probe.
On Monday, Trump suggested he would be open to testifying either publicly or in writing as part of the ongoing impeachment inquiry. The president tweeted that House Speaker Nancy Pelosi "suggested on Sunday's DEFACE THE NATION that I testify about the phony Impeachment Witch Hunt. She also said I could do it in writing."
"Even though I did nothing wrong, and don't like giving credibility to this No Due Process Hoax, I like the idea & will, in order to get Congress focused again, strongly consider it!" Trump added.
Watch Impeachment Hearings Day 4: Live Stream, Schedule, What to Know As Sondland, Cooper and Hale Testify | U.S.