House Democrats responded Tuesday to weeks of criticism from their GOP counterparts for conducting closed-door impeachment proceedings by unveiling a resolution that will formally outline the inquiry's procedures in a bid for more transparency.
But while the vote is expected to pass later this week, it will force the handful of moderate freshmen Democrats—most of whom represent swing states and who've yet to endorse the impeachment inquiry—to make a difficult choice.
Most of the eight Democrats yet to back the inquiry hail from Trump districts that they flipped from red to blue last year, making them vulnerable members. And a vote for the resolution could falsely lead constituents to believe their congressional lawmaker backs the impeachment investigations.
The resolution does not formally authorize the inquiry, as Republicans have demanded of the chamber. Rather, it sets the guidelines for how the proceedings will play out as the impeachment investigations continue, such as the guidelines for public hearings, how the minority can call witnesses and what rights President Donald Trump and his attorneys have as participants.
Rep. Jeff Van Drew (D-N.J.) maintained his long-held stance against the notion Trump has committed potential impeachable offenses, despite the constant drip of damning revelations from private witness depositions in recent weeks regarding the Ukraine scandal. Van Drew, who flipped a Trump district, said an inquiry was too divisive and could potentially backfire on Democrats ahead of the 2020 election, adding that he would not vote for the impeachment resolution.
"The odds are, if you really look at it objectively: he'll be impeached here, they'll then go to the Senate, he'll be vindicated. So, he will still be the president and he will be able to go around and say, 'I have been vindicated because I was not impeached,'" he told Newsweek. "I don't know that we gain that much from that. I know what we lose: I know that we split people further apart; I know that we split the country apart even more; I know that we, regardless of what people say, get less work done."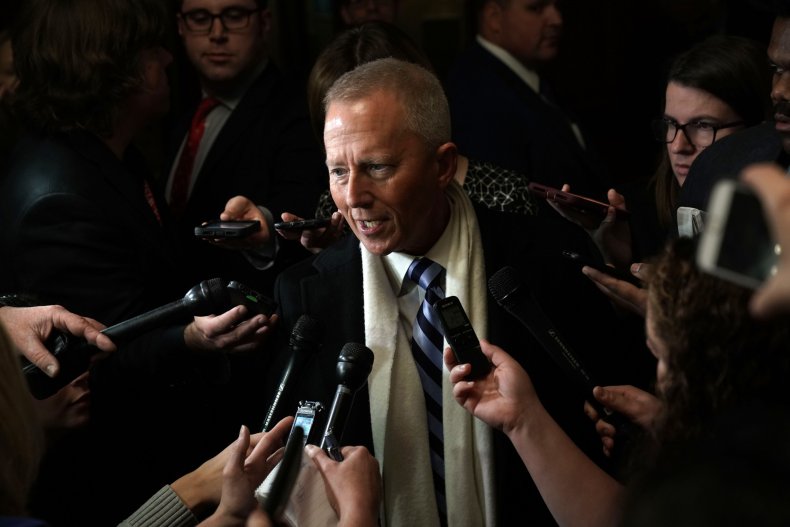 The office of Rep. Collin Peterson (D-Minn.), who's been in Congress since 1991, left the door open on the matter, saying he "has not indicated how he will vote." In 2016, Trump won Peterson's district by 30 points.
But based on a statement he issued in September about the impeachment inquiry, which his office highlighted, it's likely Peterson will not support the measure. He previously said an inquiry would likely become a "failed process" that further divides the country, and that anyone who thought it would "constrain" Trump was "fooling themselves."
Some swing district, moderate members did signal a willingness to back the impeachment resolution, despite not having endorsed the inquiry.
Rep. Ron Kind (D-Wis.), a veteran who flipped a Trump district, told The Washington Post he would vote for the resolution.
"We fully support a thorough investigation and we're going to continue doing what we're doing," Kind said.
Rep. Joe Cunningham (D-S.C.), another freshman Democrat who flipped a Trump district in 2018, told Newsweek he would support the resolution but did not say it meant he backed the ongoing inquiry. The reason, he explained on the front steps of the Capitol building, was because the resolution deals with procedure and trying to make the process more transparent, rather than substantive allegations of wrongdoing.
"It allows more transparency and I think that, for my colleagues who have been criticizing the process of what's been going on, I think this eliminates all those roadblocks," Cunningham said. "So, we're going to find out if those gripes and concerns were legitimate."