Impeachment Week Recap: Dems Make Their Case, Trump Team Goes on Defense and Witness Fight Looms
The opening arguments for the Democratic House managers concluded Friday, capping off a week of outlining why President Donald Trump allegedly violated the Constitution by abusing his power and obstructing Congress and should become the first president in U.S. history to be removed from office.
Senate Republicans steamrolled their Democratic colleagues' attempts to seek new evidence, lawmakers made clear any witness exchange agreement was off the table and at every chance they could, impeachment managers used past remarks by Republicans, Trump's defenders and Trump himself to further their case for why his act of withholding foreign aid while pushing for political probes is impeachable conduct.
But the trial is far from over. Trump's legal defense team will layout a brief preview of their case Saturday at 10 a.m. and pick back up on Monday. Later next week, senators will be afforded a question-and-answer period and a fierce and partisan debate over whether to subpoena new documents and witnesses will almost certainly ensue.
Here's what you may have missed this week and what to expect in the coming days.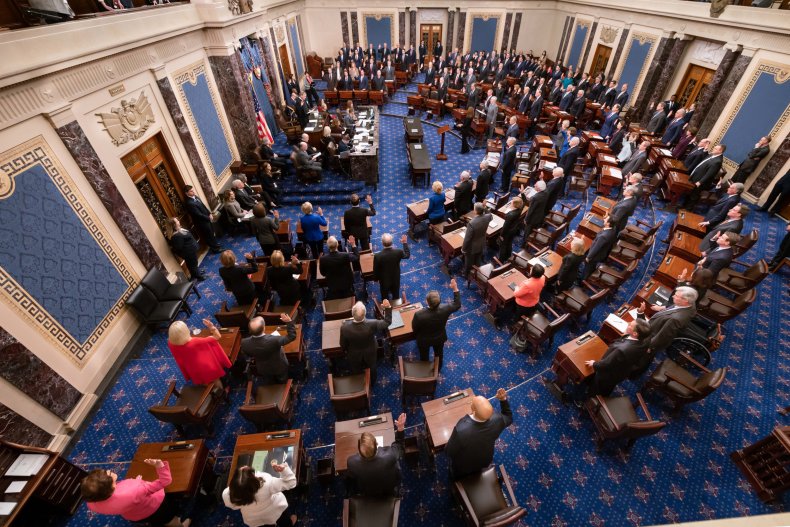 A fight over witnesses and repetitive arguments
Democrats started the week on Tuesday by making what might have been their last chance to secure witnesses, including former national security adviser John Bolton and acting White House chief of staff Mick Mulvaney, and documents that were previously blocked by the White House.
But the attempt unsurprisingly was defeated in a series of nearly a dozen failed amendments made by Democrats to change the trial rules. Partisan debate ensued for hours until 2 a.m. Wednesday, leaving lawmakers and reporters weary when they returned just a short time later for the start of opening arguments.
The impeachment managers focused on re-hashing their argument that Trump is a national security threat who tried to subvert an impending election and has wrongfully rejected Congress' constitutional powers in an unprecedented fashion.
They highlighted prior testimony from the former and current administration officials who testified in the House impeachment inquiry, in addition to lobbing in past remarks by Trump confidants that suggested hypocrisy, such as comments by Sen. Lindsey Graham (R-S.C.), Attorney General William Barr and Trump defense team lawyer and Harvard law professor Alan Dershowitz. They also utilized recent remarks made by Trump himself when he pushed Ukraine and China to investigate the Bidens and said he would accept dirt on a political rival received from a foreign entity. Mulvaney, who admitted there was a quid pro quo and to "get over it," was also featured.
But in making their case, the Democratic managers may have alienated moderate Republicans whom they need to vote with them at a later date for witnesses. The lengthy arguments that have made for tiring days have been classified as too long and redundant by many Republicans.
"We saw that protester yell something bad about [Senate Minority Leader] Chuck Schumer," Sen. Rick Scott (R-Fla.) said, referencing a protester this week who was forcefully removed from the Senate as he screamed insults about the New York Democrat. "I'm thinking about possibly doing the same thing so the sergeant-at-arms will take me out also because this is ridiculous. We've heard the same thing three days in a row."
Even some Democrats conceded as much, but they argue the case at hand is too essential for the future of American democracy to operate any other way.
"Yes, it is lengthy, but this is the third time in the history of the United States we've had an impeachment of a president being considered," Democratic Whip Dick Durbin of Illinois told Newsweek. "I think we should take our time and do it right."
Other Democrats jeered at such GOP accusations, with lead impeachment manager Rep. Adam Schiff (D-Calif.) labeling it "nonsense."
"Seriously? If your argument is, 'Oh, I don't have to act to defend my country because someone talked too long,' you're not—Sorry," Sen. Chris Coons (D-Del.) told Newsweek, who groaned out of frustration. "Why don't you ask me that question again."
Trump's legal team launches defense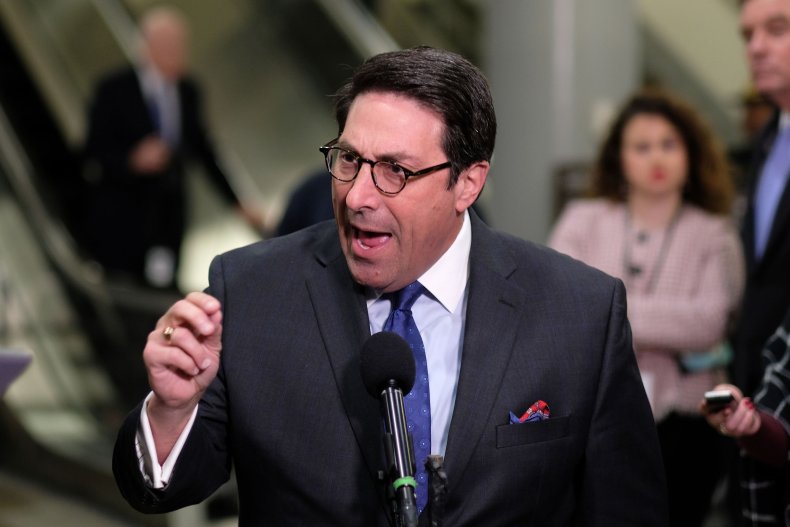 Saturday's proceedings will only last from 10 a.m. until early afternoon, likely concluding around 1 p.m.
Given the time constraint and being the weekend, Trump's legal defense team plans to offer a "sneak preview," as the president's personal attorney, Jay Sekulow, put it, in order to "layout what the case will look like."
Starting Monday, Trump's defense will then mount a "strong rebuttal" to the impeachment managers and "present a robust case on both the facts and the law" to show the American people that the "president didn't do anything wrong," according to a source on the president's legal team. The source spoke to reporters on a conference call Friday on the condition of anonymity.
The source said they would not seek to immediately dismiss the case, but stated their belief that "if we were in a court and this was a complaint or indictment, we certainly would say it needs to be dismissed on its face."
The person further said, because the managers defended the matter so vigorously in their remarks, they'll make a case for why they believe there was corruption involving former Vice President Joe Biden and his son, Hunter, who sat on the board of Ukrainian gas company Burisma while his father was president.
"Why they opened up the door as wide as a double door on the Hunter Biden-Joe Biden-Burisma issue, I guess they figured that was their way of getting ahead of it," Sekulow said. "We will address it."
A looming fight over witnesses
Once Trump's legal defense team completes its arguments, which is likely to occur sometime early next week, senators will be able to submit questions to both sides. That timeline tees up another battle over witnesses at the end of next week.
Under the rules, lawmakers will vote whether to debate about whether they want to subpoena witnesses, something Democrats have called an "unnecessary obstacle." If they pass that hurdle and have a final vote on summoning new witnesses and documents, Democrats needs four Republicans to side with them. It's a tough road ahead, considering Sens. Mitt Romney of Utah and Susan Collins of Maine appear to be the only Republicans—at this point—who are inclined to support witnesses.
Democrats have ruled out the possibility of a witness exchange, such as Hunter Biden for Bolton. And many Republicans don't believe any witnesses are needed.
If no witnesses or documents are subpoenaed, Trump could be acquitted by the last week in January. If subpoenas are issued, it's likely the trial will be extended until sometime in February.