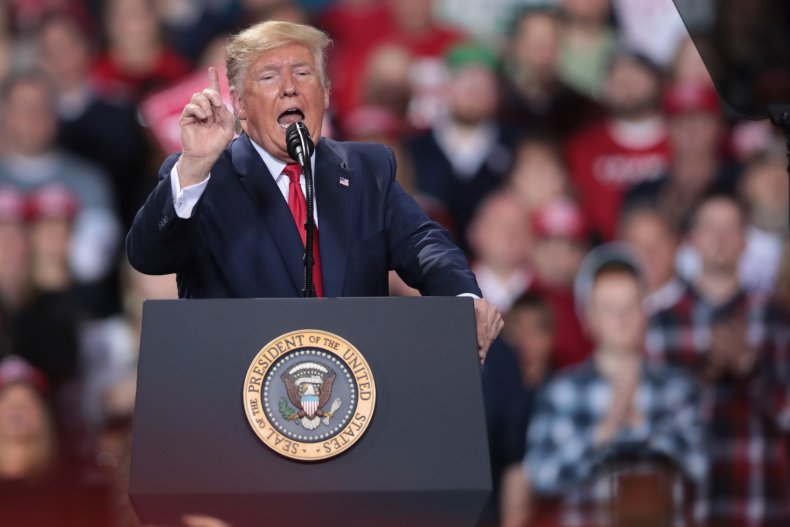 The House of Representatives took the extraordinary step Wednesday evening of impeaching a president for just the third time in U.S. history. Ahead of the historic vote, members traded accusations back and forth on the House floor as the articles of impeachment were impending.
Congressman Doug Collins, the top Republican on the House Judiciary Committee, said during a preliminary hearing on Tuesday that Democrats are "trying to interfere with the 2020 election by beginning this process and moving forward."
At a rally for President Donald Trump Wednesday evening, Vice President Mike Pence echoed accusations about impeachment butting into the 2020 election.
"They're pushing this partisan impeachment because they know they can't stop you from giving President Donald Trump four more years in the White House," Pence said.
These two pathways, impeachment and re-election, are not mutually exclusive, however. After being impeached by the House, Trump could be removed by the Senate and still retain his ability to run for the presidency in 2020.
Article II of the Constitution states that the president, vice president and all civil officers "shall be removed from office" if they are impeached and convicted. While the plain language of Article II says officers "shall" be removed upon a conviction, Article I provides latitude for additional sanction from the Senate.
A final verdict in impeachment cannot "extend further than to removal from office, and disqualification to hold" office. This language from Article I enables the Senate to bar officials from holding government office after conviction. But because of its discretionary nature, the Senate would not be required to prevent a convicted individual from ever holding office again.
"It is a sentencing provision," University of Missouri constitutional law professor Frank O. Bowman III told The New York Times.
Should the requisite two-thirds Senate majority vote to convict the president—a near-impossible scenario—the Upper Chamber could easily allow him to run for the White House again in 2020.
Interestingly, as Democrats are counting on a handful of Republican senators to constitute a majority willing to set fair rules for Trump's impeachment trial, that same handful could also tip the balance upon any conviction in favor of disqualification for future office.
The Senate has only disqualified three people from holding future office after a conviction in an impeachment trial. In 2010, the Senate convicted then-U.S. District Judge G. Thomas Porteous Jr. in an impeachment related to bribery charges. The body subsequently disqualified him from holding federal office by a vote of 94 to 2. Earlier examples are more illuminating.
Former federal Judge Robert W. Archbald was impeached and convicted in 1913. The Senate, however, subsequently voted to disqualify him from future office by a vote of 39 to 35, a simple majority. In other impeachment proceedings in 1936, the Senate, while ultimately rejecting disqualification, referenced the Archbald case as precedent for a simple-majority threshold that would apply to their trial.
So while Trump would need a substantial number of Republican defectors to remove him from office, the Senate's own precedent suggests a simple majority could impose a more permanent penalty. However, no Republican senators have publicly indicated thus far they are likely to vote to convict, much less disqualify the president from seeking re-election in 2020.