Impeachment Viewership Has Dropped Millions from Day 1 to Day 3
Twelve million Americans turned into the third day of President Trump's impeachment hearing—contrasted with over 14 million who watched the November 13 hearings.
This marked a continued downtrend, as the numbers for the second day of the hearing were down to roughly 13.5 million viewers.
However, there is a significant rise in viewership between broadcasts of the morning testimony and the afternoon sessions. Cumulatively, broadcasts of the morning congressional session drew 11.4 million viewers, while the afternoon session drew 13 million in total.
Fox News is apparently the go-to source for viewers, pulling in the highest numbers for the hearings for the third time in a row with their coverage of Tuesday's proceedings. The cable network drew 2.45 million viewers on average throughout the day.
MSNBC came in second with an average of 2.3 million, and ABC pulled in third place with 1.99 million.
NBC was fourth with 1.94 million, with CBS and CNN at the bottom of the pile with 1.85 million and 1.6 million viewers, respectively.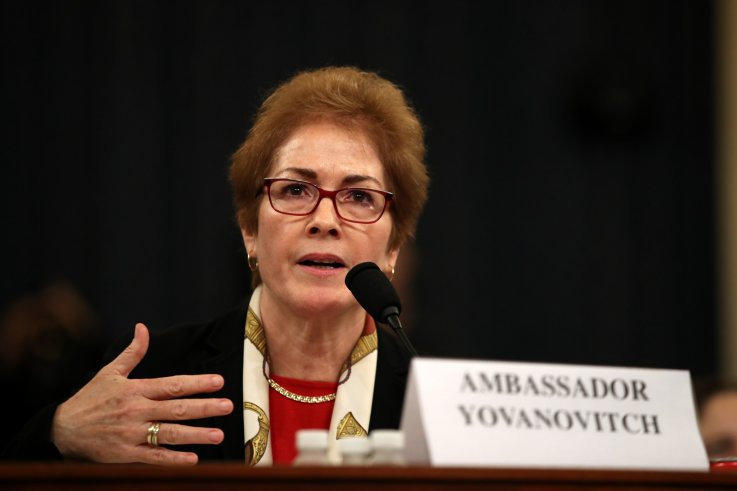 Tuesday's testimonies came from Lt. Col. Alexander Vindman, Jennifer Williams, a worker for Vice President Pence who worked as a foreign service officer, former special envoy to Ukraine Kurt Volker and top Russia adviser on the White House National Security Council Tim Morrison.
George P. Kent, a senior State Department official in charge of Ukraine policy and William B. Taylor Jr., the top United States diplomat in Ukraine, testified November 13.
Former U.S. Ukraine Ambassador Marie Yovanovitch testified on the second day.
Laura Cooper, the deputy assistant secretary of defense for Russia, Ukraine and Eurasia, and David Hale, undersecretary of state for political affairs, along with U.S. ambassador to the European Union Gordon Sondland, provided testimony on November 20.
During Cooper's testimony on Wednesday, she admitted that the State Department on July 25 received a communique saying that the Ukrainian embassy and House foreign affairs committee were asking about the withheld security assistance.
Gordon Sondland, meanwhile, revealed that he had knowledge of existence of a quid pro quo deal being in place, revealing that there was a meeting set up between Rudolph Giuliani and the Ukrainian president specifically to discuss a quid pro quo situation.
"Mr Giuliani's requests were a quid pro quo for arranging a White House visit for President Zelenskiy," Sondland said. "Mr. Giuliani demanded that Ukraine make a public statement announcing investigations of the 2016 election/DNC server and Burisma. Mr. Giuliani was expressing the desires of the president of the United States, and we knew that these investigations were important to the president."
"This is not an impeachment inquiry, this is an impeachment inquisition," said Devin Nunes during Wednesday's closing remarks.
Impeachment Viewership Has Dropped Millions from Day 1 to Day 3 | Politics