Diplomat Bill Taylor Was 'Embarrassed' About Withholding of Ukraine Aid, Impeachment Witness Transcript Shows
The top U.S. diplomat in Ukraine, William Taylor, was "embarrassed" when he was questioned by Ukraine this summer about why hundreds of millions of dollars in foreign military aid to fend off Russian aggressions was being withheld.
The U.S. official's transcript of his closed-door deposition with impeachment investigators last month was released Wednesday. Taylor further corroborated allegations of a quid pro quo by President Donald Trump in withholding a White House visit and some $400 million in U.S. aid to Ukraine while pressuring the foreign state to investigate the 2016 election and a company tied to the Bidens.
The top takeaways from his testimony to lawmakers can be found below.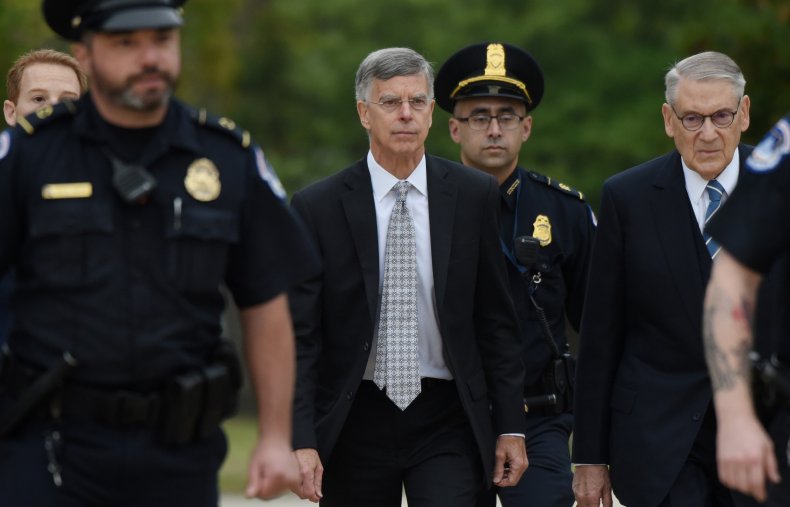 Taylor corroborates quid pro quo allegations
"That was my clear understanding, security assistance money would not come until the President committed to pursue the investigation," Taylor said of Trump's push to have Ukraine probe a conspiracy theory about 2016 election interference hailing from Ukraine—not Russia—and Burisma, the Ukrainian energy company Joe Biden's son, Hunter, once sat on the board of.
He said he learned of such stipulations being demanded by Trump and others close to him, such as the president's personal attorney, Rudy Giuliani, after he was informed by Tim Morrison, who handles Russian and European affairs for the National Security Council. Taylor said he was told by Morrison of a September 1 phone call in which U.S. Ambassador to the European Union Gordon Sondland told top Ukrainian aide Andriy Yermak that the military assistance would not be released until assurances by President Volodymyr Zelenskiy to open Trump's desired investigations.
Taylor said he did not have first-hand knowledge of the call and did not speak with Trump directly about withholding aid.
Taylor was "embarrassed" when asked by Ukrainians why aid was withheld
Leading up to his discovery of evidence there was a quid pro quo, Taylor said he began to raise concerns with U.S. officials, including Secretary of State Mike Pompeo, about why the aid was not being released. On August 29, after a Politico story unveiled the military assistance was being withheld, Yermak phoned Taylor with questions.
"At that point, I was embarrassed that I could not give him any explanation for why it was withheld. It had still not occurred to me that the hold on security assistance could be related to the investigations," Taylor said. "That, however, would change."
"There was an irregular, informal channel of U.S. policymaking" with Ukraine, Taylor said
As have several other impeachment inquiry witnesses, Taylor detailed his concern degree by which Giuliani—a private citizen who does not appear to have a security clearance or any official government role—and others were involved in U.S.-Ukraine policies.
"There was an irregular, informal channel of U.S. policymaking with respect to Ukraine, one which included then-Special Envoy Kurt Volker, Ambassador Sondland, Secretary of Energy Rick Perry, and as I subsequently learned, Mr. Giuliani," Taylor stated.
He went on to state it was his belief that, in representing the interests of Trump, it was Giuliani who first suggested they need promises from Zelenskiy before releasing aid and extending a White House invitation.
"I think the origin of the idea to get President Zelenskiy to say out loud he's going to investigate Burisma and 2016 election, I think the originator—the person who came up with that—was Mr. Giuliani," Taylor said.
A House GOP lawyer got the whistleblower's name into the record
A Republican staff attorney, Steve Castor, has been leading the GOP's questioning of witnesses behind closed doors. In his questions to Taylor, Castor asked the diplomat if he'd ever heard of or spoken with the anonymous whistleblower who first reported the July Trump-Zelenskiy phone call.
Taylor responded in the negative to both inquiries.
Democrats attending the depositions had previously accused their Republican counterparts of trying to out the whistleblower by questioning witnesses whether they knew a name that's been widely speculated in Washington and online to be the anonymous person. Republicans denied such allegations, but the release of Taylor's transcript confirmed Democrats' claims.
The law firm representing the whistleblower lambasted Donald Trump Jr., the president's eldest son, Wednesday morning after Trump Jr. publicly named them on Twitter.
Newsweek has not verified the identity of the whistleblower.