Where to Find Impossible Burgers: Fake Meat Lands at Burger King and Grocery Stores Nationwide Next
People living all across America will soon be able to try the delectable, juicy, flame-broiled meatless Impossible Whopper now that Impossible Foods is launching a nationwide expansion with Burger King.
The plant-based patty first landed on the fast-food chain's menu in St. Louis Missouri before being added to a few select states like Florida, Georgia and Alabama. Following successful test runs at Burger Kings in those locations, Impossible Foods announced its biggest rollout yet with Impossible Whopper's being added to more than 7,000 Burger King locations across the U.S. on Thursday.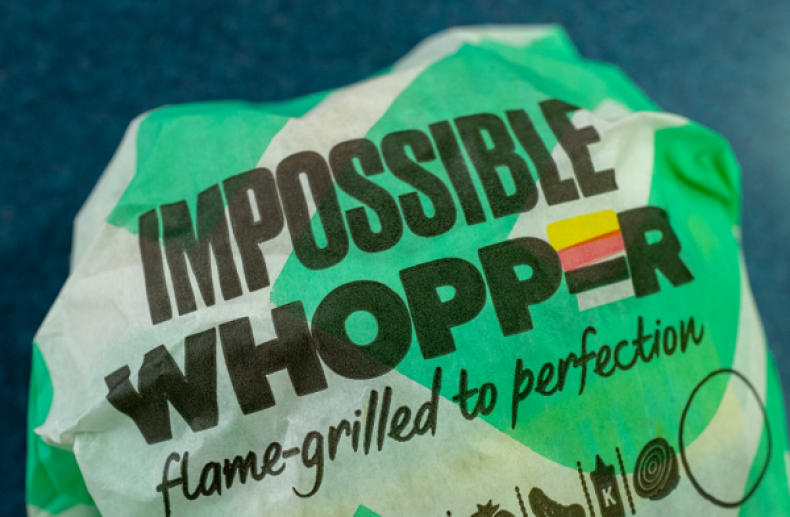 The burger—which gets is flavor, texture and red, blood-like color from a plant-based protein called heme—will only be available at Burger King restaurants for a limited time, from August 8 through September 1. Customers will also be able to order the burger on the DoorDash and BK apps.
The Impossible Whopper has a suggested retail price set at $5.59, just a dollar less than the original Burger King staple.
In an effort to appeal to more carnivores, Burger King is offering the Impossible Taste Test Deal, which encourages eaters to try both the original Whopper and Impossible Whopper for comparison for just $7 on the DoorDash and BK apps. DoorDash is also offering free delivery for a solo Impossible Whopper for $7 from August 8 through September 1 with the code IMPOSSIBLE.
The Impossible Whopper test run was a big success in drawing new customers to Burger King restaurants and continues to be a hit with flexitarians—people who eat meat as well as vegetarian and vegan products—according to Chris Finazzo, Burger King's president for North America.
"We've heard great feedback and know the Impossible Whopper appeals to both current guests who are already big fans of the Whopper sandwich, as well as new guests who are excited about this new option," Finazzo said in a statement.
Impossible Burger is already a featured item on various restaurant menus across America. An option at more than 10,000 locations, diners can taste the meatless burger at restaurants as high end as David Chang's New York City hotspot Momofuku Nishi to Applebee's and Cheesecake Factory restaurants as well as fast-food eateries like White Castle, Bareburger, Umami Burger, Little Caesars, Taco Dumbo and Qdoba.
In the very near future, just about everyone interested in Impossible Foods will be able to get their hands on the plant-based product. The Food and Drug Administration approved direct-to-consumer sales for the meatless ground beef after a round of testing, meaning Impossible Foods' plans for grocery store sales is on the horizon—possibly as soon as September, according to a Fast Company report on Thursday.