The Improbable and Absolutely American Life of Coach K
It's that time of year for college basketball fans: March Madness. It's an exciting time even for people who don't follow the sport but are part of an office betting pool. And if there's one basketball program that exemplifies college hoops, it's Duke University.
Love or hate Duke—and many Americans love to hate Duke—it has a winning tradition like few organizations in America. Ask anyone who knows basketball why, and you'll get the same answer: Coach K. Few people bother to say his whole name. Fewer try to spell it. Even Polish people.
Mike Krzyzewski arrived on the scene in Durham, North Carolina, back in 1980. Since then, his Duke teams made the Final Four 12 times, won five national championships and won over 75 percent of their games. Twenty-two former Duke players are in the NBA, an astounding number. But most impressive is Duke's academic record: Since 1980, the program has boasted a 98 percent graduation rate—excluding players who transfer or enter the NBA early.
This past weekend, Coach K coached his final home game against Tobacco Road rival North Carolina, marking the final time sports fans will see him leading the Blue Devils at Cameron Indoor Stadium. But who is Coach K, and how did he end up being the winningest coach in college hoops history—with over 1,100 wins and counting?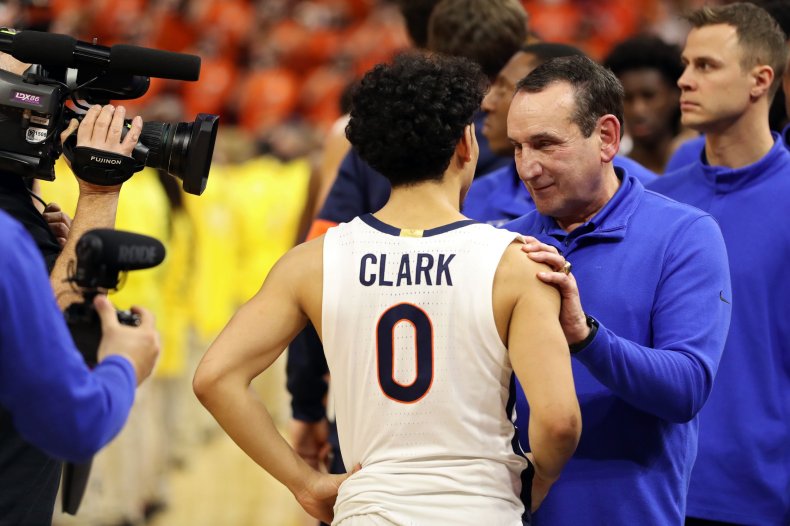 Coach K was born in 1947 and lived with his family in a rented bottom half of a home on West Cortez Street in inner-city Chicago. The upstairs apartment housed Coach K's uncle, aunt and cousins. "My dad was an elevator operator and my mom used to clean offices in downtown Chicago, but they never went by the name Krzyzewski because of prejudice," Coach K explained at his induction into the Basketball Hall of Fame. "My dad always went by the last name Kross so he could get jobs. So we could eat. And my family never wanted me to take Polish, and I realized it when I was a lot older, they didn't want me to have an accent because they didn't want me to be discriminated against."
Like most fathers of that generation, he was firm, strict and distant. "I didn't know my dad very well," Coach K admitted. Few boys back then did.
Coach K then described his mom, who worked nights cleaning at a Chicago athletic club. "She passed away five years ago," he began, holding back tears. "She didn't go to high school and said her mission and her job in the world was to chase dirt. I'll do a good job of it. You'll never see dirt anywhere in my house because I'll chase the heck out of it. I'll beat it. And she did."
Coach K's mom taught him many of the enduring values that would animate his career. "She taught me commitment, she sacrificed, and she taught me to get outside yourself and to be committed to somebody," Coach K told the Academy of Achievement in 1997. "That's something I always try to teach."
The streets Coach K grew up on were crammed with the children and grandchildren of immigrants. "If you wanted a ballgame, you grabbed some buddies and headed for the playgrounds," wrote ESPN's Dana O'Neil about Coach K's neighborhood. "Some kids got fancy—Krzyzewski's buddies nicknamed their playground squad the Warriors, for example—but parents had no time and certainly no money for schedules and practices and uniforms and coaches." Indeed, the local neighborhood elementary school, St. Helen School, didn't have a gym, let alone the funding for coaches, referees or travel teams.
"When the boys in the neighborhood begged school administrators to help them join the local Catholic Youth Organization basketball league, their pleas fell on deaf ears," the ESPN profile noted. "Undeterred, one boy, a seventh-grader, took it upon himself to organize his buddies into a team. He served as player/coach." That boy was Mike Krzyzewski.
"I knew I was a leader because I was always organizing things," Coach K said. "The other thing I knew I had was a high level of competitiveness. I hated to lose." Those two personality traits, among others, would define his life.
There were some key mentors and moments that changed the arc of Coach K's life. The first was his high school coach, Al Ostrowski. "He was only in his 20s, and he wasn't even a former basketball player," Coach K described Ostrowski. "But he was the first person outside of my family who believed in me. He told me to shoot the ball every time I could. Go follow your instincts, you're good enough, was what he was really saying to me."
But Coach K wasn't finished, giving the Hall of Fame gathering an important coaching tip. "You should say it more. Say it to your friends and family and your kids, tell them they're good," he said with emotion. "Tell them you believe in them no matter what. Because what you create was what was created for me—and I didn't know it—was a foundation of unconditional support and unfailing love from my family and friends."
The biggest decision of his life was one he didn't make for himself. His parents insisted he attend the U.S. Military Academy at West Point. "My family told me I had to go," he told the Hall of Fame crowd. "West Point is for the rich and the privileged, that was their feeling about it. And if that happens for me, something good like that, it happens for us."
Coach K did the most countercultural thing a young man could do in the mid- to late 1960s: Instead of burning his draft cards or going to college to avoid the draft, he went to college to serve his country in uniform.
"I went to West Point, and I got to play for probably the best coach ever, and I learned about the game and learned about myself and learned about leadership," he continued in his speech. The coach he was talking about was Bob Knight, who started his head coaching career at West Point at the age of 24. Coach K was Knight's starting point guard from 1966 to 1969 and the captain of the team in his senior year. The coaching apple, it turned out, didn't fall far from the coaching tree.
Coach Knight was in Springfield, Massachusetts, on the night Coach K was inducted into the Hall of Fame and had the honor of doing the introduction. "Mike was a very good player, and I've heard him say on occasion that midway through his second year with me he thought his name was 'Dammit Mike,'" Knight said to the crowd's laughter. "I think that's a reflection of the responsibility I put on his shoulders as a point guard."
Knight wasn't finished. "Mike understood as a player what he had to do to help his team win. He learned to be an outstanding defensive player, and he learned how to not make mistakes and learned how to really understand the game."
On the day Coach K graduated from West Point, he married his bride, Mickie—the love of his life and partner in everything—in the campus chapel. He then served his country for five years, attaining the rank of captain. His first civilian job was with Knight at Indiana University, helping guide the Hoosiers' 1974–75 powerhouse team. He then returned home to lead West Point's program for five years, and in 1980 he landed in the heart of Atlantic Coast Conference country at Duke.
The man who is forever linked with winning had an inauspicious start at Duke. His 38-47 record in his first three seasons caused fans in Durham to call for his firing. But by the 1983-84 season Coach K had turned things around with a 24-10 record. In the '87-'88 and '88-'89 seasons, Duke made the Final Four both years. The 1990-91 and 1991-92 seasons, when Duke won successive NCAA Championships and had a combined two-season record of 66-9, made Coach K a living legend. With a lot more living, coaching and winning to do.
Coach K's legacy, in the end, was this: He was more than a great coach and leader; he was a teacher, teaching his boys lessons not about just basketball but life.
"A basketball team is like the five fingers on your hand. If you can get them all together, you have a fist. That's how I want you to play," he tells his players. "If, when we lose, I say you didn't do a good job, there's no fist. Collective responsibility is saying, 'We lost. Why did we lose, and how can we get better?' If we can do that, amazing things happen."
Coach K's favorite part of teaching has to do with limitations and how to get his players to surpass them. "The thing I love most about teaching is that you can connect with an individual or group, and see that individual or group exceed their limits. You feel like you've been a part of them, you became something bigger than yourself. I really love that."
Discipline has a lot to do with Coach K's success, but a neglected part of leadership and teaching, he believes, has to do with the imagination. "Imagination has a great deal to do with winning," he explained. "Why, I ask players, would you lose in your imagination? Why would you not achieve really neat things in your imagination? Why would you let someone else do your imagining for you?"
He continued: "I never let a defeat determine what I think of myself. I think that I win. I don't all the time, but if I play long enough I'm going to be a winner. I believe wholeheartedly that that came about because of my imagination when I was younger."
Coach K has often commented on parenting in America and the ways in which parents can help or hinder their kid's development. "Your kids are not going to fully develop just by me patting them on their back or saying, 'You're a good boy,'" he told the Academy of Achievement. "We're not only trying to build good habits, sometimes we're trying to destroy bad habits. A bad habit being the fear of failure. How do you destroy that? Is there a book on that? Is there a pill you can take? In some cases, you have to exorcise it."
One of Coach K's great accomplishments, one he cherishes as much as any other, is the coaching he did for Team USA in the Olympics. He made his first appearance on the USA bench in 1979, and by 2016 he had become the only basketball coach to lead a nation to three consecutive Olympic gold medals.
It's a life that's absolutely and unabashedly all-American, the improbable life of Coach K. From humble beginnings in inner-city Chicago, he rose to basketball royalty—and sports royalty too—and became one of the most influential coaches, teachers and leaders in American life. And a wealthy one too. All of it was possible because of the country he loves. The country he served in uniform. And the country he represented in the Olympics.
"The American Dream is the ability to pursue what you want to pursue," he told the Academy of Achievement. "To be confident enough that whatever you want to be, if you have the talent, the desire and support throughout, you can attain it. I'm very much a result of the American Dream. In fact, I didn't dream as highly as I attained."