Imran Khan Confirmed as Pakistan PM: What Next for This Nuclear Power?
Former cricket star Imran Khan is set to be sworn in on Saturday, August 18, as Pakistan's prime minister after he was confirmed as the country's new leader in a vote by its National Assembly on Friday.
The former cricketer's Pakistan Tehreek-e-Insaf (PTI) party won the most seats in July's elections, propping up Khan to become Pakistan's new leader more than two decades after pivoting from the sporting world to politics.
Khan won the support of 176 National Assembly members in the Friday vote, while his opponent, Pakistan Muslim League-Nawaz President Shehbaz Sharif, earned 96, according to the BBC.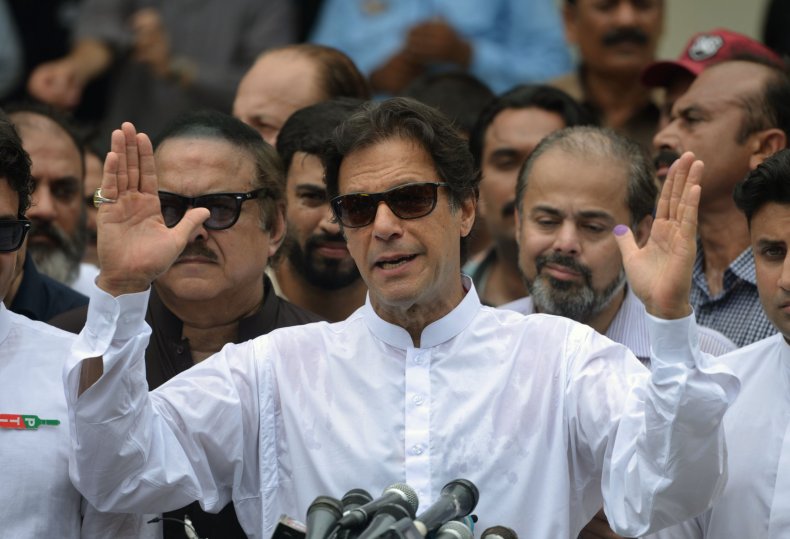 After his victory was revealed, Khan vowed to bring about the "change" Pakistan has been "longing for."
The famous cricketer, who led Pakistan to a World Cup victory in 1992, will take the helm at a time when the nuclear-armed country has been trying to steer itself out of an economic crisis.
Since the mid-'90s, Khan has billed himself as a populist, anti-corruption politician dedicated to creating a "new Pakistan."
In a speech following the PTI party's victory in July, Khan acknowledged that the "biggest challenge" Pakistan faces "is the economic crisis."
"We have never had such a huge fiscal deficit," Khan said. "All of this is because our economy is going down because of dysfunctional institutions."
Indeed, Pakistan's currency, the rupee, has declined over the past year, with inflation on the rise.
The country's exports have also suffered, due to cheaper products being made available by countries like China.
Analysts say the government would likely need to rely on the International Monetary Fund for the country's second bailout since 2013, with Karachi-based brokerage Insight Securities projecting that the government may need $10 billion to $15 billion to help it out of its economic crisis.
Pakistan's greatest asset
In the same speech, Pakistan's new leader said the country's "greatest asset" is its "overseas Pakistanis."
"We will fix governance and invite them to invest here," he said.
The former cricketer said Pakistan had to "escape [its] economic crisis," adding, "No one is coming to save us."
He said he planned to strengthen anti-corruption institutions after three-time Prime Minister Nawaz Sharif was ousted from office last year over corruption allegations and later jailed.
Khan, who was considered the favored candidate of Pakistan's military, accused the country's previous leaders of spending money only "on themselves" and inspiring the country's citizens to stop paying their taxes.
"People don't pay taxes because they see how our ruling elite spends that money." said Khan. "I promise that I will protect the people's tax money. We will cut all of our expenses. I am telling you here that the PM house, this huge mansion ... in a country where there are so many poor people, I would be embarrassed to live there."
The confirmed prime minister said that under his leadership, all governor houses would be used for the public.
"I am saying to you today, that for the first time, Pakistan's policies won't be for the few rich people—it will be for the poor, for our women, for our minorities, whose rights are not respected," he said. "My whole aim will be to protect our lower classes and to bring them up."
U.S. relations
During his speech last month, Khan said he wanted Pakistan to have a "mutually beneficial relationship," adding that "up until now, it has been one way."
"The U.S. thinks it gives us aid to fight their war [in Afghanistan] ... We want both countries to benefit," he said. "We want a balanced relationship."
The call for a balanced relationship comes months after the former cricketer hit out at President Donald Trump, calling the U.S. leader "ignorant and ungrateful" after Trump accused Pakistan of aiding extremists who attack U.S. soldiers in Afghanistan. Islamabad refuted the claims, asserting that it had fully cooperated with Washington in its fight against extremist groups.