Imran Khan, Ousted Pakistan Prime Minister, Warns 'Freedom Struggle Begins'
Ousted Pakistan Prime Minister Imran Khan has warned the "freedom struggle begins against a foreign conspiracy" after he lost a vote of no-confidence, prompting his resignation.
The 69-year-old former cricket star claimed without evidence that the result of Sunday's vote which forced him from office was a White House-led conspiracy.
Ahead of the vote, there were fears Khan would seek martial law instead of step down as prime minister, with Information Minister Fawad Chaudhry, an ally of Khan, reportedly telling journalists "those who bought MPs will be responsible if martial law is imposed."
Khan's post came just hours after the parliamentary motion proceeded in the capital Islamabad and ended with 174 votes (of the 342-member house) against him, two more than were needed to remove him from office.
In a tweet after the vote on Sunday, the ousted PM said: "Pakistan became an independent state in 1947, but the freedom struggle begins again today against a foreign conspiracy of regime change.
"It is always the people of the country who defend their sovereignty and democracy."
His supporters are expected to take to the streets on Sunday evening.
A Pakistani official has expressed to Newsweek that relations with the United States would stay their course.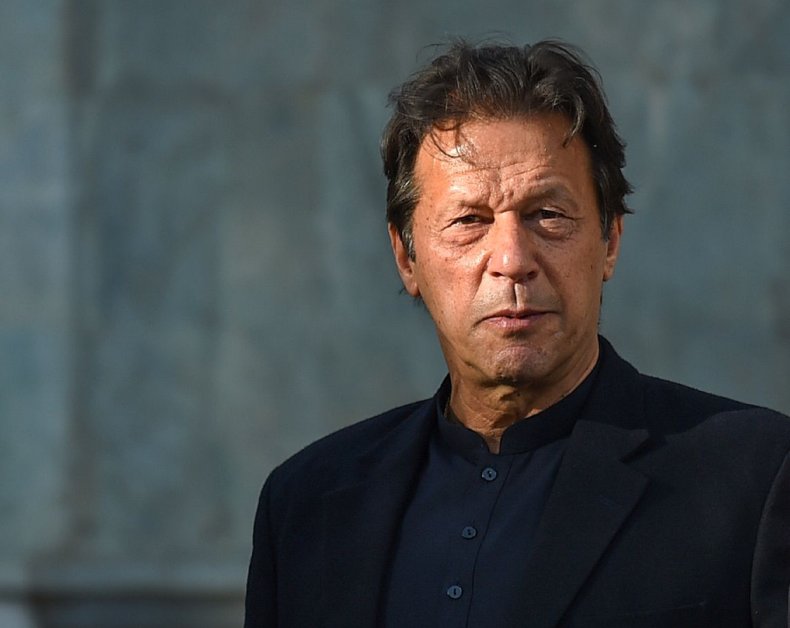 After Khan was ousted from office, opposition leader Shehbaz Sharif said a "new dawn" had broken in Pakistan.
In a Saturday Twitter post, Sharif said: "May Allah Almighty bestow his special blessings on this nation in the blessed month of Ramadan.
"Alhamdulillah [praise be to God], dear country and the House of Parliament, was finally freed from a serious crisis last night.
"Congratulations to the Pakistani nation on a new dawn. May Allah almighty be the supporter of Pakistan and all of you, Amen."
Sharif, brother of former Prime Minister Nawaz Sharif, could take power on Monday if selected by parliament to do so.
Newsweek has contacted the office of the Prime Minister of Pakistan for comment.
An earlier attempt at the vote had been brought last week, but Khan stopped it from going ahead by dissolving parliament.
But Pakistan's Supreme Court ruled the vote had to go ahead and said Khan's efforts to block it were unconstitutional.
Political tensions within the world's second-largest Muslim nation had risen in recent weeks, with Khan claiming the previous vote was a case of "blatant interference in domestic politics by the United States."
In response, U.S. State Department spokesperson Jalina Porter said on Friday: "Let me just say very bluntly there is absolutely no truth to these allegations."
She added: "Of course, we continue to follow these developments and we respect and support Pakistan's constitutional process and rule of law. But again, these allegations are absolutely not true."
No Pakistan leader has finished a five-year term since the country was founded following its division from India.
Political tensions have been further exacerbated by Pakistan's proximity to the growing economic and military powers of China and India.
Khan further strengthened ties with Chinese President Xi Jinping and Russia's President Vladimir Putin as the U.S. aligns itself more closely with India, which Pakistan considers to be a hostile power.