The hashtag #ImWithFred was trending on Twitter into the early hours of Wednesday, after security removed anti-gun violence activist Fred Guttenberg from the State of the Union (SOTU) on Tuesday night.
Guttenberg's daughter, Jamie Guttenberg, was killed during the Parkland shooting at Stoneman Douglas High School, Florida, in 2018.
Guttenberg now campaigns for gun safety through the organization Orange Ribbons for Jaime, which honors his daughter by supporting causes important to her and pushing for gun safety measures, and had been invited to the event by House Speaker, Nancy Pelosi.
Security escorted him from the chamber after he was heard shouting "What about my daughter!" in response to Trump's comments about the Second Amendment being "under siege," Newsweek previously reported.
"So long as I am president I will always protect your Second Amendment right to keep and bear arms," Trump said.
In response to the night's events, Guttenberg tweeted:
"Tonight was a rough night. I disrupted the State Of The Union and was detained because I let my emotions get the best of me. I simply want to be able to deal with the reality of gun violence and not have to listen to the lies about the 2A as happened tonight."
"That said, I should not have yelled out. I am thankful for the overwhelming support that I am receiving. However, I do owe my family and friends an apology. I have tried to conduct myself with dignity throughout this process and I will do better as I pursue gun safety."
Guttenberg, who has written for Newsweek on 3D guns and gun safety legislation, has been a vocal advocate for gun control reform since the Parkland shooting. His wife Jennifer has written of her grief at Jaime's loss and on why she believes the 2020 election is the most important one in a generation.
One of the cornerstone's of the couple's activism is Jaime's Law, which aims to introduce background checks on firearm ammunition similar to those in place for firearms.
It was introduced to the Congress on March 13, 2019 after receiving sponsorship from U.S. Senator Richard Blumenthal (D-CT) and U.S. Representative Debbie Wasserman Schultz (FL-23).
This is the second SOTU Guttenberg has attended, after he was invited by Pelosi in 2019. Reflecting the experience, he described how honored he was to have been invited but said he should have been at "home watching on our couch with my complete family."
"I should not have been there," he wrote. "I cannot erase the reality that I was there because my daughter Jaime was murdered."
He added: "My hope was that this speech would provide a road map on how to deal with the reality of gun violence. Wow, was I disappointed."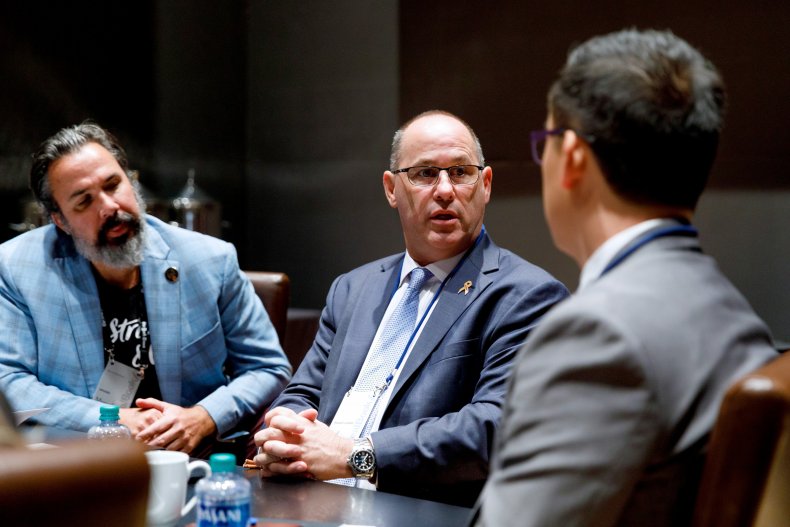 Since Tuesday's events, supporters and fellow gun activists have flooded Twitter to show their support for Fred Guttenberg, using the hashtag #ImWithFred.
David Hogg, gun control activist and co-founder of March for Our Lives, shared a video of Guttenberg being taken out of the chamber as Trump spoke of NASA's Project Artemis Space program.
Hogg was a student at Stoneman Douglas High School with Jamie Guttenberg during the 2018 shooting and has been a high-profile campaigner in favor of gun control. His tweet has racked up 17.9K likes and 4.9 retweets at the time of writing.
".@fred_guttenberg lost his daughter in the Parkland shooting and has worked every day since to end gun violence," he tweeted.
"Tonight he stood up to a president that believes peace and the second amendment are mutually exclusive and was removed."
He later added: "I hope the next president awards@fred_guttenberg with the metal of freedom.
"If this president had the amount of courage Fred has in one cell gun violence would be over tomorrow. #ImWithFred"
Fellow Parkland survivor, Jaclyn Corin, who co-founded March for Our Lives and spearheaded the Never Again MSD movement with other former students including Hogg, tweeted: "We love you, @fred_guttenberg!!!"
"I sat one seat apart from @fred_guttenberg at #SOTU tonight," tweeted Will Godwin, the Director of Government Relations at VoteVets—a progressive nonprofit representing veterans and military families.
"When POTUS started lying about gun violence, he leaned over and said "I'm about to get kicked out but I can't stand this."
"And then he stood up for his daughter Jamie and spoke truth to power."
Elena Perez, student and gun violence activist representing the New Jersey branch of March For Our Lives, also tweeted the clip of Guttenberg leaving the chambers and included a quote from Robert F Kennedy:
"Each time a man stands up for an ideal, or acts to improve the lot of others, or strikes out against injustice, he sends forth a tiny ripple of hope."
The actress and activist Alyssa Milano chimed in, tweeting "My friend @fred_guttenbergis a hero and an inspiration. He's honoring his daughter with action. And he won't rest until America's children are safe from gun violence. #ImWithFred."
Rhonda Hart, whose daughter Kimberly Vaughan was killed during the Santa Fe High School shooting, also in 2018, tweeted her support using the hashtag.
Democratic Congressman Eric Swalwell, who represents California's 15th congressional district also voiced with his support.
Immigration was a hot topic at yesterday's event, being one of the key areas of focus in the speech.
Relatives of those who have been killed by illegal immigrants were invited by the President as special guests, including Jody Jones, whose brother Rocky Jones was shot in 2018.
"The shooter at my high school was not an illegal immigrant, he was a 19 year old that was able to go out and LEGALLY buy a weapon of mass destruction," David Hogg noted.