An Inauguration Day Tradition too Precious to Sacrifice | Opinion
Some traditions are too precious to sacrifice for the sake of political posturing.
Looking ahead to Inauguration Day on the 20th of January, some GOP activists seem ready to undermine the occasion by focusing on the likely absence of the departing, defeated incumbent, Donald Trump.
To do so would disregard the precedent of more than two centuries. Presidential inaugurations have served to heal party polarization and affirm our underlying unity. Public figures of any stripe who attempt to undermine that affirmation threaten profound damage to the republic.
In 1801, after a fiercely contested battle for the presidency, the ultimate winner (chosen after 36 ballots in the House of Representatives!) sought to bridge the divisions that had nearly wrecked the young nation.
"Every difference of opinion is not a difference of principle. We have called by different names brethren of the same principle," Thomas Jefferson declared after that election. Referring to the two political parties that separated the populace at the time, he insisted: "We are all Republicans, we are all Federalists."
Unfortunately, the defeated incumbent in that race didn't hear Jefferson express his soothing sentiments. The outgoing president, John Adams, left the White House before dawn on Inauguration Day, boarding a 4:00 AM stage to Baltimore, the first leg of his long journey home to Massachusetts.
Looking at the example of this esteemed Founding Father, President Trump's adoring supporters may see a strong precedent for their hero's likely refusal to attend Joe Biden's inauguration, or even for holding a competing "counter Inauguration" in which the outgoing president would announce his much-discussed campaign for a return to power in 2024.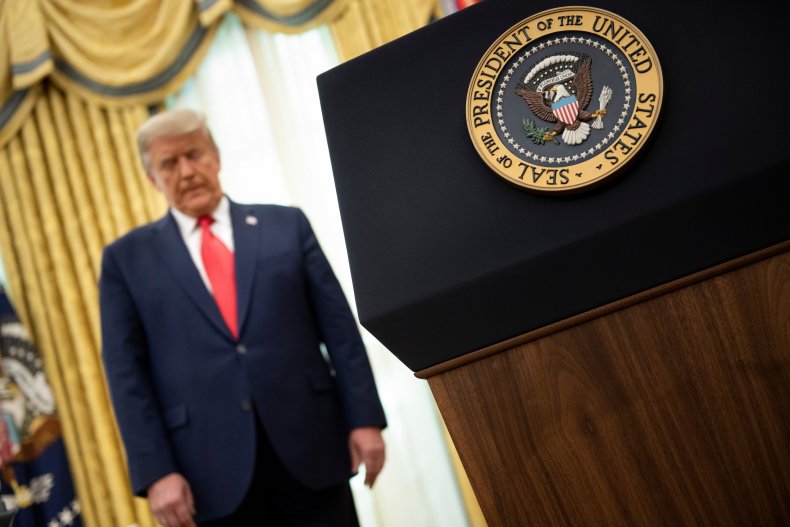 For several reasons, however, the Adams precedent hardly applies to the current situation. When our second president made his decision to leave town before his successor could be sworn in, no tradition yet existed mandating a peaceful, respectful, public transfer of power between former rivals. In fact, John Quincy Adams, our sixth president and the second incumbent to lose a race for reelection, repeated his father's example and declined to participate in the 1829 inaugural festivities surrounding his victorious opponent, Andrew Jackson.
The eight incumbents who lost reelection bids since then (Martin Van Buren, Grover Cleveland, Benjamin Harrison, William Howard Taft, Herbert Hoover, Gerald Ford, Jimmy Carter and George H. W. Bush) established the current practice of honoring their replacements on Inauguration Day, if not always cheerfully. In part, they did so to protect the prospects of the political parties they represented, allowing them to remain competitive in future contests.
In contrast, the factions identified with both Presidents Adams more or less collapsed after their defeated leaders scuttled out of the capital in the darkness of night. John Adams's badly divided Federalists never again ran a credible race for the presidency, or controlled either house of Congress, while the short-lived National Republicans who had organized around John Quincy Adams made only one more (unsuccessful) White House race before giving way to the Whigs.
In 2021, however, Republicans expect revival, not extinction. They have strong prospects for regaining control of the now-closely divided House of Representatives in 2022, and every chance of mounting a formidable challenge to Joe Biden (or, more likely, some younger Democrat) in 2024.
Centering the GOP's hopes on a triumphant return of Trump, and attempting to vindicate his claims of a stolen election, can only harm the party and the country. Four years from now, whatever nostalgia American voters may feel for the turbulent Trump era, it won't include any desire to recapture the poisonous polarization that characterized his term. The president's apparent insistence on boycotting the Biden inauguration, and the suggestion of launching a comeback campaign at the very moment the new chief executive takes office, hardly comport with a respectful and orderly transition in executive leadership.
Even Abraham Lincoln, facing seven defiant southern states that seceded before he took the oath of office, tried to sound themes of reconciliation at his first inauguration. "We are not enemies, but friends. We must not be enemies," he proclaimed. "Though passion may have strained it must not break our bonds of affection. The mystic chords of memory, stretching from every battlefield and patriot grave to every living heart and hearthstone all over this broad land, will yet swell the chorus of the Union, when again touched, as surely they will be, by the better angels of our nature."
Lincoln's indelible words may not have persuaded the slave states to alter their self-destructive course in abandoning the Union, but they ought to influence contemporary leaders of all parties not to jettison the cherished institution of a unifying, patriotic inaugural celebration.
Michael Medved hosts a daily radio talk show and is author, most recently, of God's Hand On America: Divine Providence in the Modern Era. Follow him on Twitter: @MedvedSHOW
The views expressed in this article are the writer's own.