Abigail Spanberger Says 'Violent and Extreme Ideology' Drove Capitol Riots
Rep. Abigail Spanberger has said a "violent and extreme ideology" was behind the attack on the U.S. Capitol last week and its influence would be felt for a long time to come.
When asked on CNN whether she feared there would be "some form of repeat" of the unrest in Washington, D.C. before or during the inauguration of Joe Biden, the Virginia Democrat said her concerns extended far beyond January 20.
"The large concern that I have is not about a particular date," she said. "The real issue that I think we need to focus on as American people is that there is a violent and extreme ideology that has taken hold, that has been given safe harbor [...] in the political space," she said on Thursday.
"We saw the results of what happens when that is able to fester and come to the forefront.
"We saw those results on January 6, we are certainly preparing for those potential results over this weekend at the inauguration, but it doesn't end there, because it is an ideology."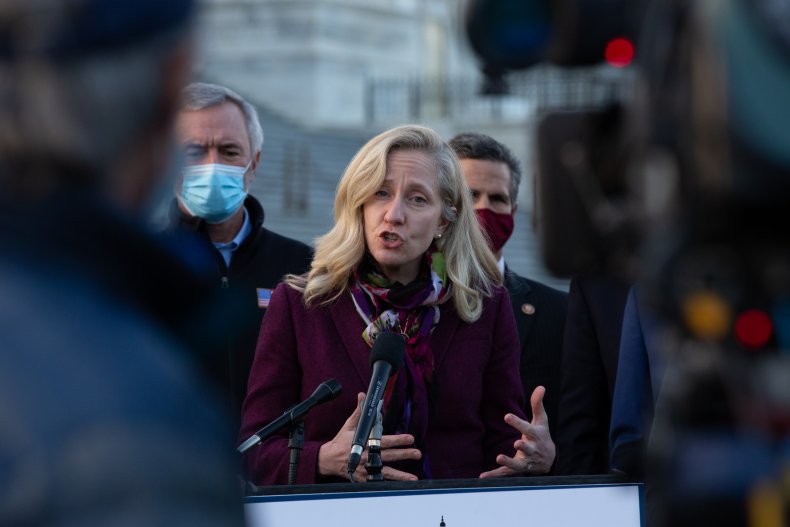 President Donald Trump has been impeached for the second time and is accused of inciting the protesters who stormed the Capitol. The unrest that followed led to at least five deaths.
After questions were raised over the security measures that were in place and whether there could be a repeat of the violence when Biden takes the oath of office, the entire National Mall will reportedly be closed on Inauguration Day, according to The Washington Post. Only members of the media and security personnel will be allowed.
There are fears of armed protests across the U.S. in the lead-up to the inauguration. ABC News, citing an internal FBI bulletin, said there was a risk of such action at all 50 state Capitols between January 16 and 20, and at the U.S. Capitol from January 17 through January 20.
However, a short-term beefing up of security would not be enough to curb the movement behind last week's violence, according to Spanberger, who once served as a CIA officer.
"The domestic violence extremists who took siege and executed an insurgent attack are not just going away so that's something we need to contend with."
"We are going to need accountability, we are going to need leadership because really that is the long-term challenge that extends frankly far beyond the 20th of January," she added.
The graphic below, produced by Statista, shows how the impeachment process works in the U.S. Congress.