On Sunday night, Frances McDormand won her second best actress Academy Award for her performance in Three Billboards Outside Ebbing, Missouri. During her acceptance speech, she asked every nominated woman in the crowd to stand up and receive the crowd's applause. And she ended it with two words of advice: "inclusion rider."
Within seconds, every conceivable version of McDormand's words were trending across Twitter and Google. Had she said "inclusion writer?" Or was it "inclusion ryder?" And why did the 60-year-old actress want her fellow actors and artists to know the phrase?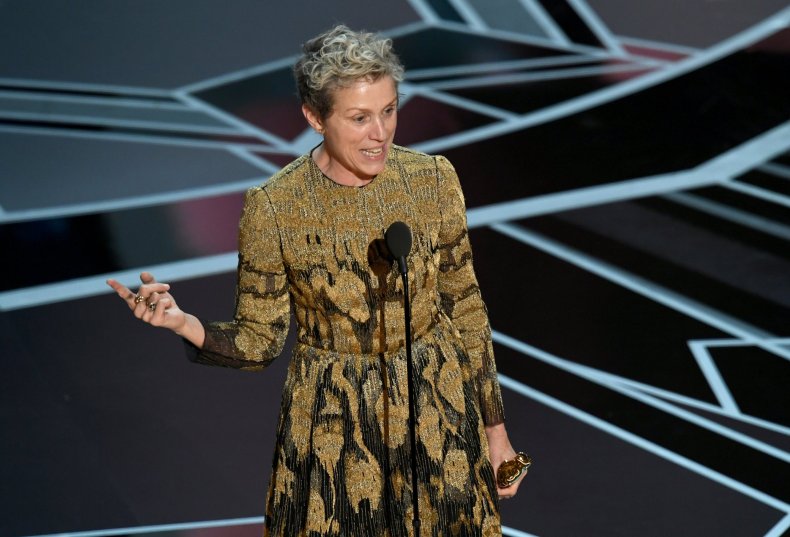 Slowly, explanations popped up on Twitter from those familiar with legalese. According to Policing Equity president Phillip Atiba Goff, an inclusion rider is "a clause in an actor's contract that requires the cast and crew be diverse in order to retain the actor." Comedian Whitney Cummings backed up that definition, tweeting that "an inclusion rider is something actors put into their contracts to ensure gender and racial equality in hiring on movie sets."
In 2014, The Hollywood Reporter described such a clause, calling it an "equity rider" in the essay, "Hey, Hollywood: It's Time to Adopt the NFL's Rooney Rule — for Women." (The "Rooney Rule" requires National Football League teams to interview women and people of color when hiring for coaching and operation positions.) If more A-list performers included these riders in their contracts, McDormand insinuated, Hollywood would be on a fast-track to achieving gender and racial equity across its nominees—and the industry.
On Sunday, women and people of color were somewhat well represented across the evening's categories—though the evening's diversity was certainly not as robust as it could have been.
Greta Gerwig—only the fifth woman nominated as Best Director, for her film Lady Bird,—would have been the second woman in history to win the honor, following only Kathryn Bigelow for The Hurt Locker. But she lost to The Shape of Water's Guillermo del Toro, who also took home the Oscar for Best Picture.
An inclusion rider is just one way to correct Hollywood's issues with diversity and inequality, though. A report published in 2016 suggested one way to boost on-screen representation would be for each screenplay to include five additional female characters. This would boost the number of women in films, as well as create more inclusive sets.
"Importantly, this strategy need not only increase the percentage of White female characters," the report continued, "but females from underrepresented racial/ethnic groups, lesbian characters, or female characters with disabilities."