Dr. Rochelle Walensky, the incoming CDC director under the Biden administration, warns that "dark" days of the coronavirus will come around President-elect Joe Biden's inauguration at the end of January, following the Christmas and New Year's holidays.
"I think we all need to acknowledge that on January 21, things are going to be bad. It's going to be dark," Walensky told CNN's John Berman on Saturday. "Right now, we're already in some dark times. I do think that we're going to have more deaths, more surge after the Christmas and New Year's holidays. And all of those are going to manifest around the end of January."
In the weeks following Thanksgiving, data suggests that there have been regional and isolated upticks in COVID-19 cases related to travel and activity surrounding the holiday, especially in Texas and California, reports The New York Times.
Walensky, who is the chief of infectious diseases at Massachusetts General Hospital and professor of medicine at Harvard Medical School, says that medical professionals need to be prepared for the potential post-holiday surge, with a focus on the already overwhelmed hospitals across the nation.
"I think about the priorities, among the things that I think about are making sure that our hospital systems are OK, that we have enough supplies, that we have enough beds, and that we have enough workforce to work in those systems," she said.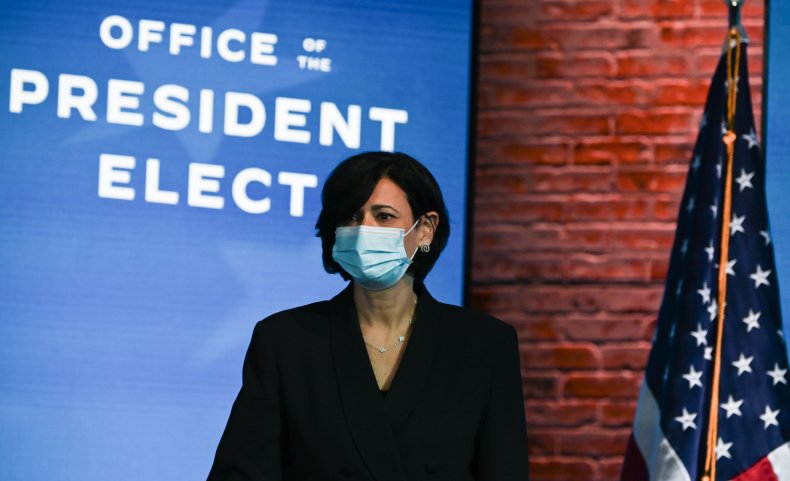 More than 117,000 people were hospitalized in the U.S. with COVID-19 on Tuesday, the highest recorded number since the start of the pandemic. The U.S. also reported over 195,000 new cases Tuesday, forming a seven-day average of 215,000 new cases per day, according to data from Johns Hopkins University.
The death toll is also rising at a staggering rate, with over 3,100 new deaths reported Tuesday, one of the highest reported numbers of deaths since the pandemic began.
As the second wave of vaccinations kicks off this week, Walensky notes that surveillance and testing shouldn't be put aside due to the distribution of the Pfizer and Moderna vaccines, especially while a new mutation of the coronavirus—which appears to have surfaced in the United Kingdom—could pose as a serious threat.
"I think we have realized with this new mutant that we are not done with testing and that all of the population will not be able to be vaccinated immediately," Walensky said. "We need to understand whether that new mutant is here and we need to understand whether and when new mutants will arise."
While she says the Biden administration has had "numerous meetings already" about the new variant of the coronavirus, Walensky notes that limiting travel and mobility is the more effective way to stop the spread.
"We have been saying loud and clear to the entire American people, we need to be limiting our mobility," she said. "The real question now is, if we are concerned about a mutant strain, we know that viruses mutate so there are probably many mutant strains, but if we are concerned about a specific mutant strain, what is the best way to control that so that it doesn't explode in other places?"
The new fast-spreading coronavirus variant, identified in England in recent days, prompted strict lockdowns in parts of the country, announced by Prime Minister Boris Johnson on Saturday. Since the lockdown, over 40 countries in Europe, Asia, South America and the Middle East have banned travel from the United Kingdom as the holidays approach.
Health Secretary Matt Hancock revealed Wednesday that a second coronavirus variant has been detected in the United Kingdom, believed to be from South Africa.
But Walensky says that, while a travel ban could be a good solution, there need to be greater measures taken to prevent the rapid spread of new coronavirus strains.
"I think one of those strategies might be to ban travel, but other strategies might be to have quarantines upon arrival, to promote testing, to have testings before you arrive, to have testings upon your arrival, or even several days after your arrival, or some combination," Walensky said.
"It's really important to understand which of those strategies or combinations of those strategies is going to limit the spread," she continued. "It's not clear yet that banning travel is going to be the one, especially since we've been saying limit your mobility already."