Boost Your Team's Productivity With monday.com
Check out the intuitive team-management system everyone's talking about.
Sponsored post
Managing a team is far from easy—and ensuring every member is productive? Next to impossible. Using a project management tool is the best route to getting buy-in across the board and increasing overall productivity, but it's quickly becoming a saturated market. When it comes to choosing a solid tool, monday.com is a great choice, having earned major acclaim for its intuitive system. With just one easy-to-use interface, it manages to centralize every workplace process, while engaging and empowering every member of the team—and you can try it free for two weeks right now.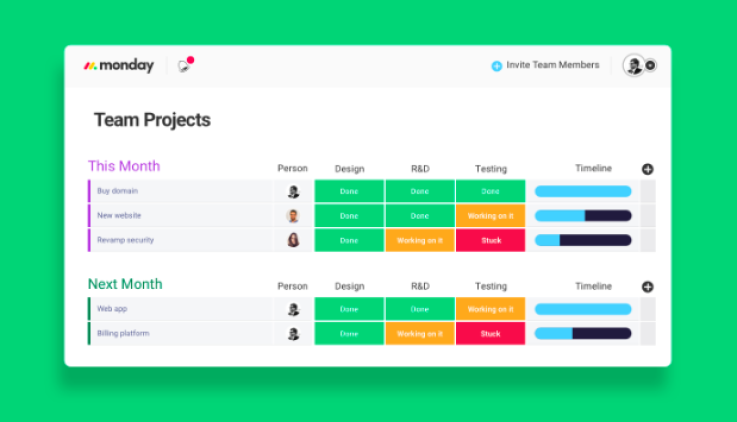 monday.com makes communication between teams of any size easy, whether you work in a small office or in a giant network of freelancers you've never met. The onboarding process is also incredibly simple, basically allowing you to get a member set up with a simple invitation. You can also customize your interface however you'd like, and add team photos and color coding like above.
monday.com's vibrantly colorful interface is one of our favorite aspects of the tool, giving visibility into workflows without having to scrutinize Excel files or attend droning daily whiteboard meetings that eat away at productivity. You can select from a different viewing options, such as chart, calendar and timeline views to track your team's work, and monday.com's full transparency means that employees and managers alike see the same information, making everyone feel like a full collaborator.
Over 33,000 teams ranging from startups to Fortune 500 companies use monday.com, and with the current free offer, there's really no reason to not give it a try.
You can start using it today by clicking here to sign up for a 2-week free trial.
Boost Your Team's Productivity With monday.com | Business