Increased Attacks on Journalists Covering Protests Coincide with Videos of Police Attacking Unarmed Protesters
The pervasiveness of cameras on mobile phones has led to hundreds of videos showing alleged police brutality against protesters and journalists documenting demonstrations sparked by the death of George Floyd.
Hundreds of instances of law enforcement officers appearing to use strong-arm tactics, including physical attacks, against protesters and journalists have been recorded since demonstrations began after the May 25 death of Floyd, an unarmed black man who died in Minneapolis, Minnesota when his neck was wedged to the ground by a white police officer's knee for nearly 9 minutes.
Police have attacked journalists at least 140 times amid the demonstrations, according to Harvard University's Nieman Journalism Lab. Over 300 incidents were recorded by the U.S. Press Freedom Tracker. The Guardian and investigative journalism website Bellingcat included 141 incidents in a publicly available Google document as of Friday night. Video recordings of roughly the same number of incidents, many of which show journalists being attacked directly after identifying themselves, were widely available to view on social media.
A large number of online videos have also documented demonstrators, gathered to protest police brutality and racism, repeatedly being targeted and attacked by police at the demonstrations. A Google document compiled by Lawyer T. Greg Doucette and mathematician Jason Miller listed over 300 videos of police attacks appearing on Twitter Friday. The videos are thought to represent only a fraction of the attacks that are likely to have taken place.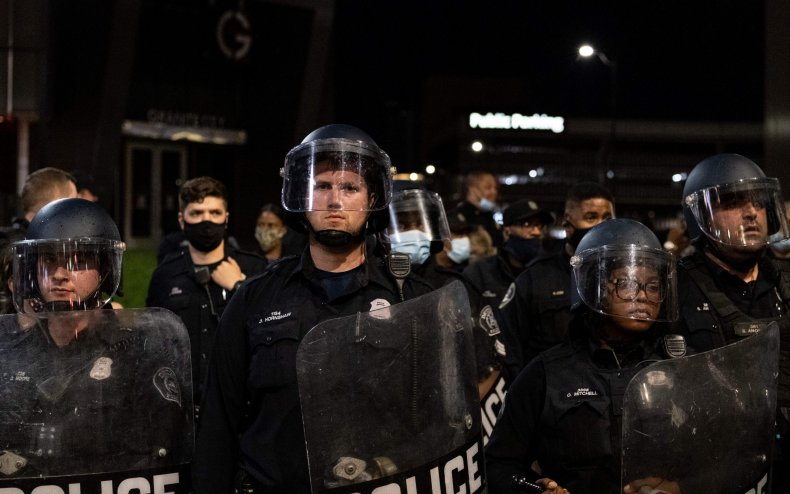 On Wednesday, the American Civil Liberties Union (ACLU) filed a class-action lawsuit against law enforcement officials on behalf of journalists attacked by police during the demonstrations, which the group said was a violation of the First, Fourth and Fourteenth Amendments of the U.S. Constitution.
"Law enforcement is using violence and threats to deter the media from vigorously reporting on demonstrations and the conduct of police in public places," Teresa Nelson, legal director of the ACLU's Minnesota chapter, said in a statement. "We depend on a free press to hold the police and government accountable for its actions, especially at a time like this when police have brutally murdered one of our community members, and we must ensure that justice is done."
The national organization was also involved in a lawsuit filed against President Donald Trump and members of his administration on Thursday for allegedly violating the Constitutional rights of protesters by subjecting them to tear gas and forcibly removing them from a demonstration in front of the White House on Monday, in order to clear the way for the president to cross the street and pose for photos with a Bible in front of a church.
"What happened to our members Monday evening, here in the nation's capital, was an affront to all our rights," April Goggans, lead plaintiff in the case and core organizer of Black Lives Matter D.C., in a statement. "We won't be silenced by tear gas and rubber bullets. Now is our time to be heard."
The ACLU said they were pursuing additional "legal actions to stop police brutality against protesters and organizers." Newsweek reached out to the ACLU for comment. This article will be updated with any response.
Despite the outcry, some officers have remained defiant. An entire unit of 57 police officers in Buffalo, New York resigned in protest Friday after two officers were suspended in the wake of outrage over a viral video showing the officers violently shoving 75-year-old peace activist Martin Gugino to the ground during a protest, blood visibly pouring out of his ear due to a head injury caused by action. The head of the local police union defended the suspended officers by insisting they were "simply doing their job."