An Increasing Number of Flying Car Companies Are Taking Off in the US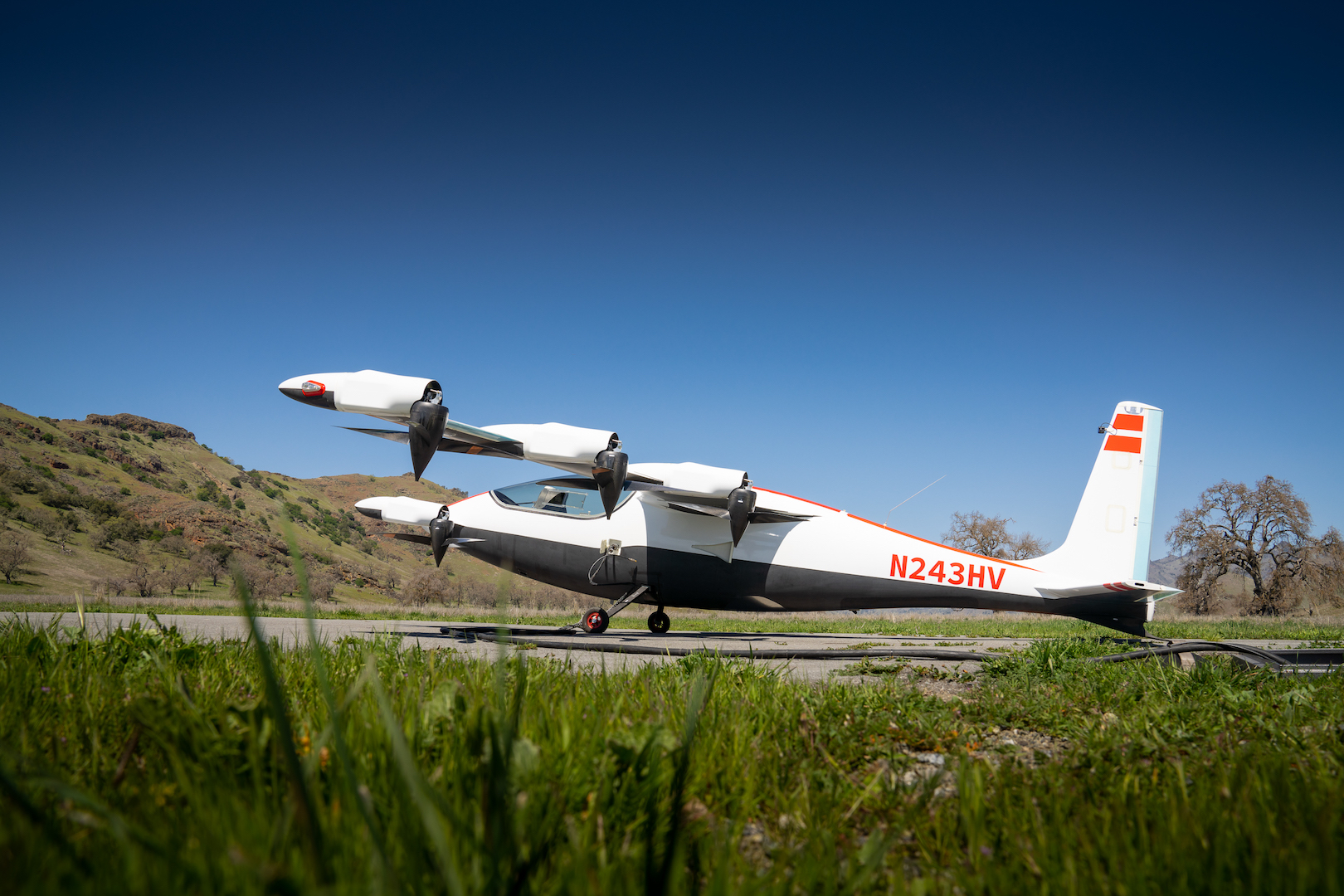 Electric cars are growing in prominence every day. Tesla just reported its best delivery figures in this past quarter and most every automaker has announced plans to electrify their lineup.
While the focus is on cars, trucks, vans and SUVs, a handful of companies are working on eVTOL (electric vertical takeoff and landing) vehicles with the goal of taking some of the pressure off the streets and putting passengers into the skies. Here's a rundown of some of those companies.
Joby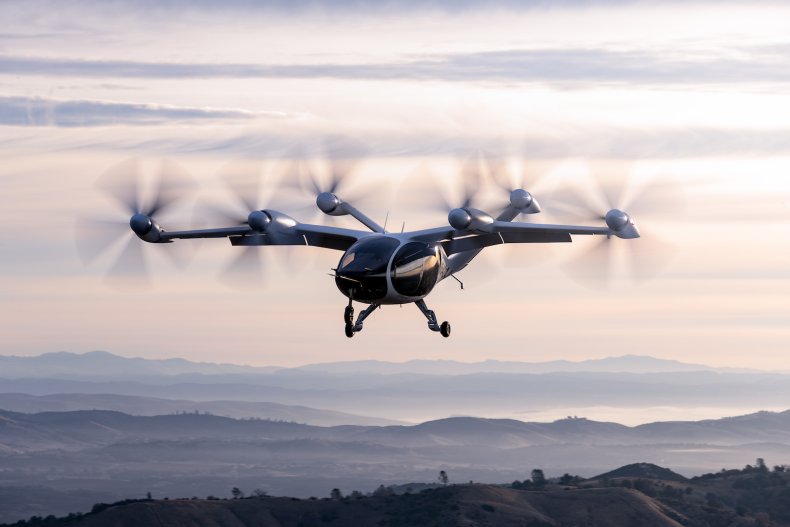 Santa Cruz, California
Founded in 2009, Joby Aviation is working to produce electric aircraft. With space for a pilot and four passengers, the aircraft takes off vertically and has a top speed of 200 mph. The aircraft has a range of more than 150 miles. The company has entered into a number of high-profile partnerships, like NASA, Toyota and Uber. Last year, Joby was the first eVTOL vehicle company to receive airworthiness approval from the U.S. Air Force.
The company plans to achieve FAA certification in 2023 with commercial operations expected to start in 2024.
Opener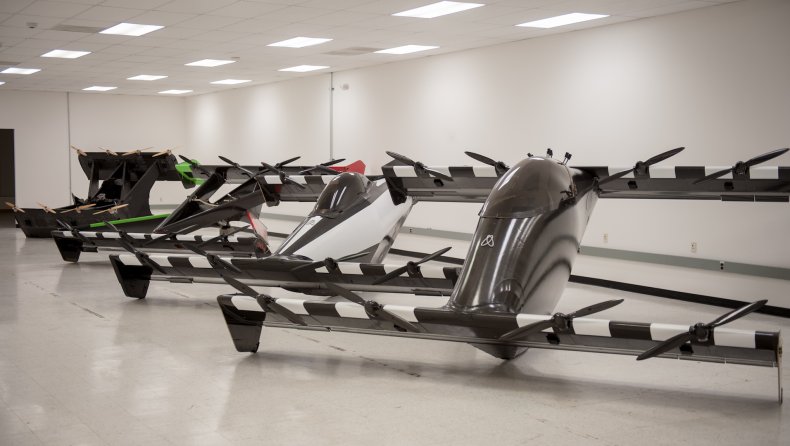 Palo Alto, California
With its eVTOL, BlackFly, Opener is emphasizing safety and environmental friendliness with its electric aircraft. The company claims that the energy consumption and noisiness of its aircraft is less than a conventional electric vehicle. Founded in 2009, the company relocated to California a few years later after a successful test flight.
Opener says that BlackFly will be priced in the range of an SUV. The company expects to sell 25 units in Fall 2021. Currently the aircraft is built for one passenger, with a 25-mile range and a cruising speed of 62 mph.
Kitty Hawk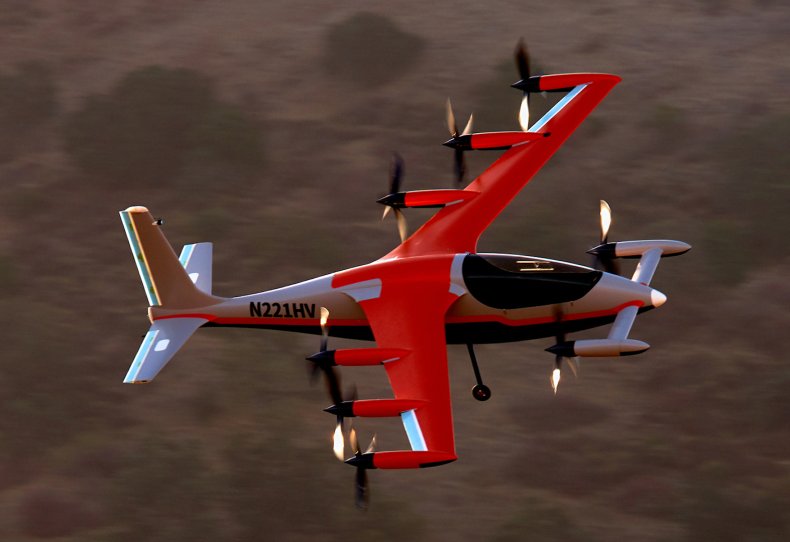 Palo Alto, California
Eleven years after its founding, the company's Flyer and Heaviside eVTOL aircrafts have been logging thousands of test flights. Before it was retired in 2020, the Flyer made more than 25,000 test flights over five years.
Its current single-passenger flagship, Heaviside, has been clocked at 180 mph and has traveled about 100 miles on a single charge. With eight variable-pitch propellers, the aircraft can take off and land in a 30-foot by 30-foot area.
Wisk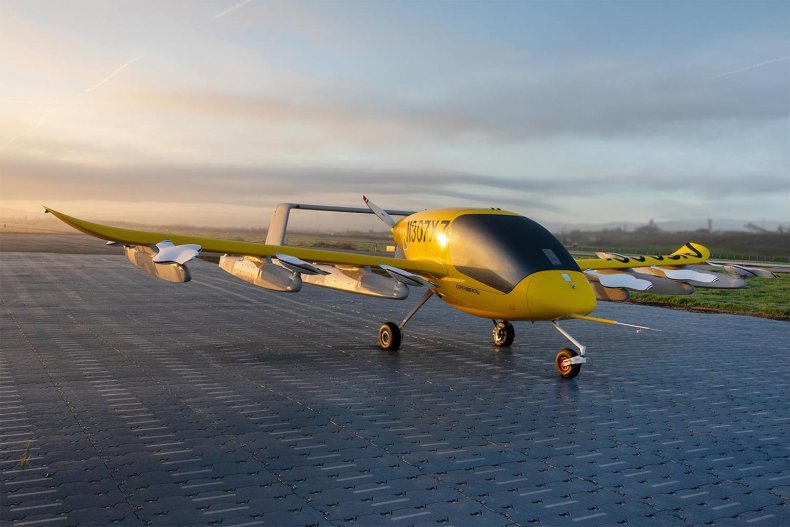 Mountain View, California
Promising an aircraft with self-flying software with human oversight, Wisk was the first company to successfully fly an autonomous eVTOL for passenger use in 2017. The company boasts a range of 25 miles plus reserves and a top speed of about 100 miles per hour. As an autonomous aircraft, Wisk is emphasizing safety with its rotor safety mechanism, redundant systems and a parachute equipped in case of an emergency.
The company was spun off from Kitty Hawk's Cora project and has the backing of Google co-founder Larry Page and Boeing.
Terrafugia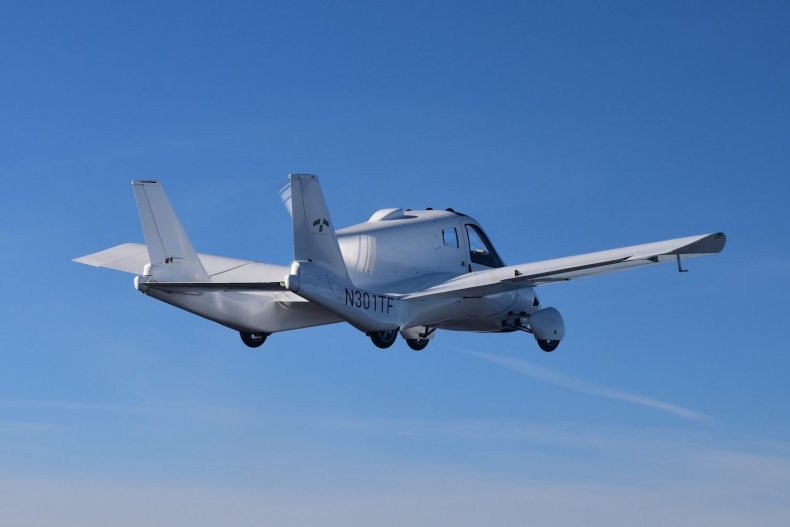 Woburn, Massachusetts
Started by a group of MIT graduates in 2006, Terrafugia has been developing the Transition, a piloted two-seater, and the three-passenger autonomous TF-X with override controls. Both models feature foldable wings to give them the ability to drive on land, setting itself apart from many eVTOL prototypes built for vertical takeoff. The company also started work on a military concept called the (TX) Transformer with DARPA in 2010, but the project was scrapped in 2019 due to outsized costs and delays.
In 2017, after years of financial troubles, the company was bought by Zhejiang Geely Holding Group, the owner of Volvo Cars and Lotus. In February 2021, the company laid off many of its employees with plans to close U.S. operations and continue in China.
Volocopter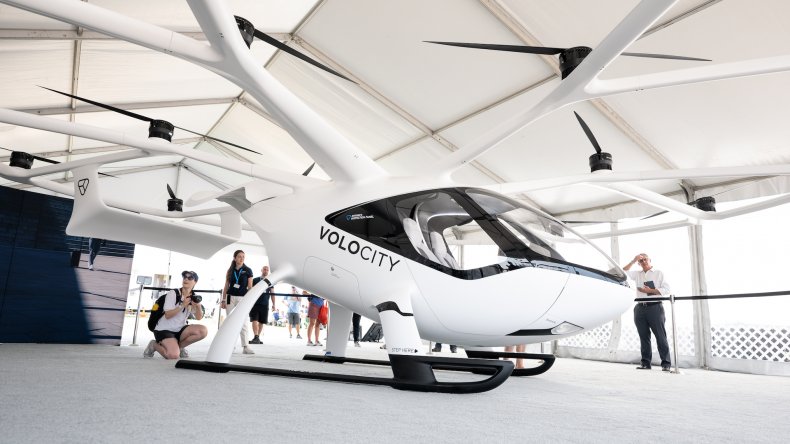 Bruchsal, Germany
Emphasizing urban air mobility, The German company has been testing the waters with its VoloCity and VoloConnect eVTOL's. With flights dating back to 2011, the VoloCity is a two-seat, 18 rotor "air taxi" intended to fly between transport hubs. The prototype has flown manned and unmanned in Europe and Asia.
The VoloConnect is meant to connect these transportation hubs to the suburbs with two propulsion fans, six electric motors and rotors. The aircraft can hold four passengers with a range of about 62 miles and a maximum speed of about 155 miles per hour.
Uber/Hyundai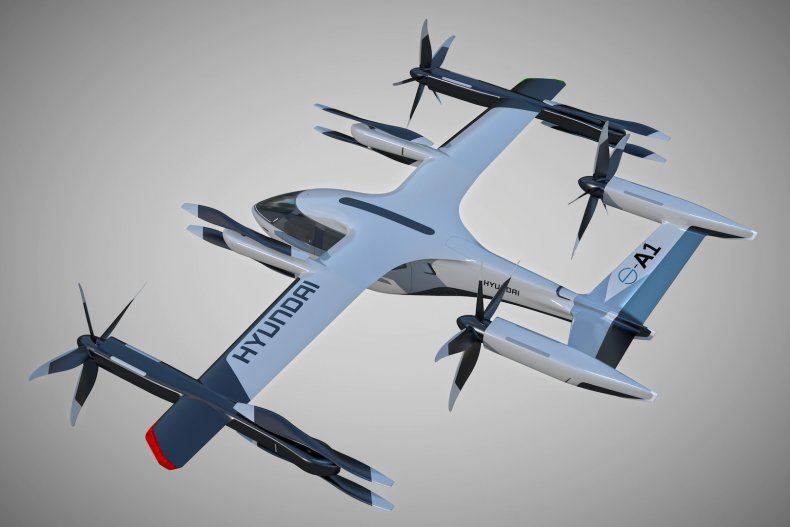 Seoul, South Korea
In January 2020, South Korea-based carmaker Hyundai and rideshare company Uber unveiled the S-A1 at the CES in 2020 in Las Vegas, Nevada. Initially projected to hit the skies by 2028, the company reported in June 2021 that the project was ahead of schedule and could be released on a network of Uber transit hubs by 2025.
Initially planned as a piloted vehicle, Hyundai eventually wants to make the four-passenger eVTOL autonomous. The company says that the aircraft has a cruising speed of 180 miles per hour and can fly 60 mile trips.
Airbus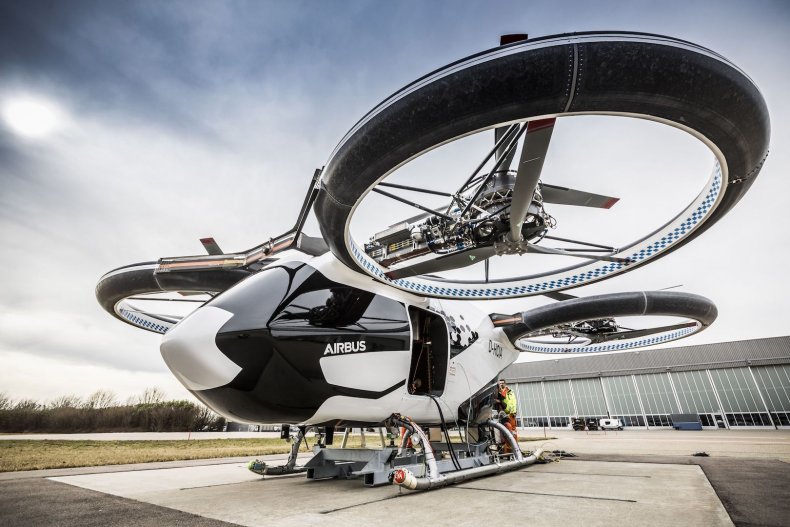 Leiden, The Netherlands
Housed within the helicopter manufacturing arm of aerospace company AirBus, the CityAirbus eVTOL has been in development since 2015 and was first flown in 2019. With over 100 test flights under its belt, the CityAirbus is capable of about a 75 miles per hour cruising speed and can carry four passengers. The prototype is able to fly on an autonomous path for up to 15 minutes.
A single-passenger counterpart, the Vahana, was built in 2017 and retired in 2019.
Lilium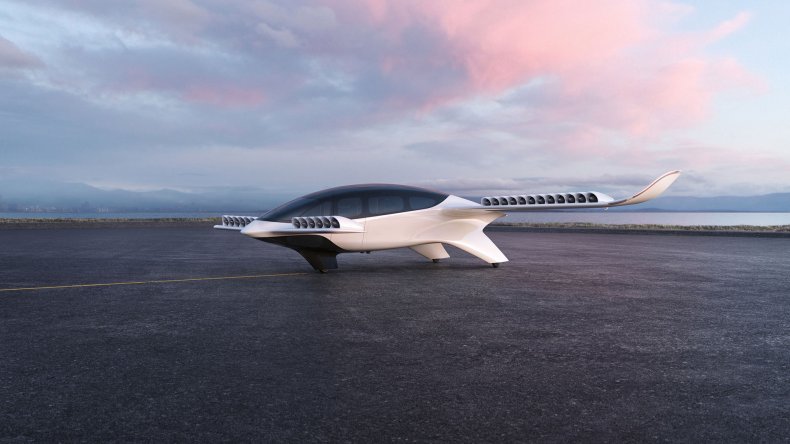 Wessling, Germany
Established in 2015 and making strides with its all-electric five-seat Lilium Jet, the German company plans to go to market with a finished product by 2024. Hoping to increase capacity to seven by then, the eVTOL is powered by 36 electric motors. The aircraft has a range of more than 155 miles per hour with reserves with a cruising speed of 175 miles per hour.
The company has announced a network of 14 "vertiports" in Florida with a similar network in Germany in the works. In August 2021, Lilium announced a deal to sell 220 of its vehicles to Brazil-based airline Azul for up to $1 billion and build a vertiport network.
Cadillac
Warren, Michigan
Still in the concept phase, General Motors' luxury brand unveiled the one-seater at CES 2021 as part of its "Halo Portfolio" design showcase. GM has yet to commit to producing the vehicle, which could run on a 90 kilowatt-hour battery and reach speeds of up to 56 miles per hour, using less energy than some of its higher-capacity competitors.