Incredible 'The Masked Singer' Homemade Halloween Costumes Mirror the Celebrity Originals
A family Halloween costume theme is turning heads for its impressive resemblance to costumed celebrities seen on The Masked Singer Season 2. Ciara Caltagirone Tate organized the detailed Halloween disguises in the fashion of the FOX reality show, including some of the current season's best masks.
Tate, who lives in Wilmette, Illinois, brought her family together to celebrate the holiday, even though they don't live in the same state. Her sister, Carla Caltagirone Thomas, also designed costumes, according to WTVT, a Tampa, Florida, affiliate near Thomas's current residence of St. Petersburg.
This isn't the first such Halloween celebration for the family, but it is the first time both halves from different states have participated wearing the similarly themed costumes.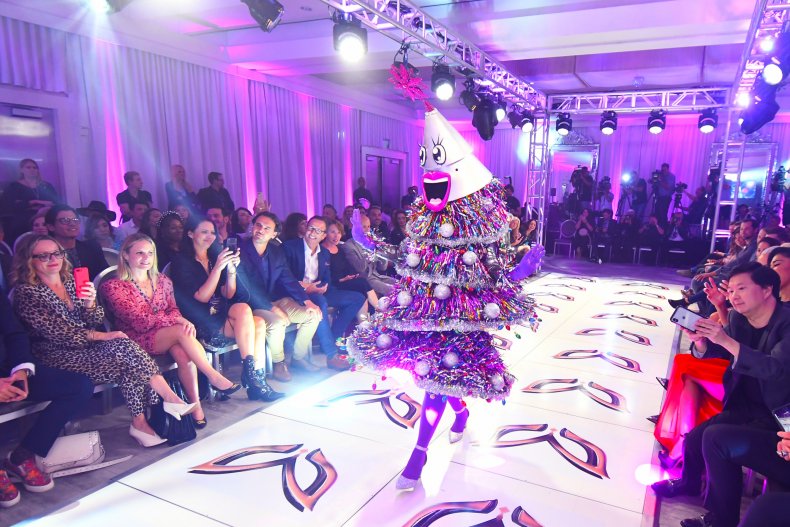 "When we saw The Masked Singer Season 1, we both watched the show and loved all the performances and the costumes, especially," Tate told WTVT. "And then when Season 2 came on in September…we got excited about it again and decided to do the costumes as a group."
She continued, "This is the first year we've done our entire, both families, as one entire group costume, rather than just her family or my family or just the two of us."
The Masked Singer is a reality singing competition. Each singer is a celebrity whose identity is hidden. When they are voted off, their mask is removed.
The family costumes will cover some on Season 2. One costume is Tree, the sparkly and charismatic Christmas tree, still on the show. While Tree has not been unmasked, some fans say they think the disguise could be hiding dancer and former American Idol judge, Paula Abdul.
Flower is another family costume. The green and purple disguise is intricately designed with a giant floral headpiece. Other costumes are Egg, Flamingo, Thingamajig, Skeleton, Rotweiller and Pineapple (from Season 1). The costume set will also honor the secrecy of the competition. One family member will sport a black "don't talk to me" shirt, which comes from the backstage culture of the show. You can see the costumes here.
The Masked Singer usually airs each Wednesday on Fox. It won't air October 30 because of World Series Game 7. It was also off air the previous week because of the series. It's set to return in its normal time slot on November 6.