What to Watch on Independence Day: 10 Red, White and Blue Flicks To Binge on Fourth of July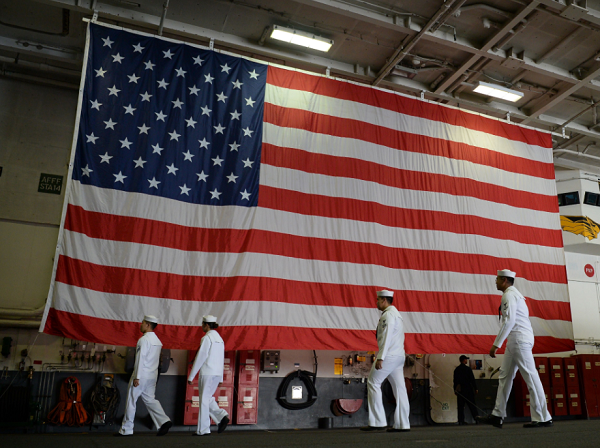 It's the Fourth of July, which means you'll likely be spending the day enjoying barbeque, brews and good old stars and stripes fun. Even if you're celebrating the United States' independence from Great Britain indoors, there's still plenty of ways to enjoy the holiday. After all, it's not every day Americans get to enjoy a day off on a Wednesday.
If your Independence Day plans have you chowing down on hot dogs and hamburgers from the comfort of your home, consider binging on a few classic films oozing with American pride.
The Patriot (2000): It's Mel Gibson at his finest—before his 2006 DUI, anti-Semitic comments, and racist rants—portraying a widowed farmer who forms a regiment of Carolina patriots as he attempts to rescue his son, played by the late, great and dreamy Heath Ledger, from an army of red coats.
Independence Day (1996): It's Will Smith. It's aliens. It's Will Smith saving America from the aliens.
Top Gun (1986): Tom Cruise plays Maverick, an unruly fighter pilot who gets sent to the Top Gun Naval Fighter Weapons School, which is basically a boot camp of an airbase that whips bad boy (and girl) pilots into the country's best and most lethal airmen.
A Few Good Men (1992): Tom Cruise, again, joined by the likes of Demi Moore, Kevin Bacon, Kevin Pollak in this military thriller as the foursome investigate the murder of a U.S. marine, who may have been subjected to a "code red," otherwise known as extreme violent punishment. The film also features Jack Nicholson—the movie's antagonist—who delivers one of his most famous quotes in a court scene: "You can't handle the truth!"
Born on the Fourth of July (1989): Perhaps Independence Day should be renamed to Tom Cruise Day? Here's another military blockbuster, in which the actor portrays marine who sets out to serve his country during the Vietnam war and becomes paralyzed, only to return home to an unforgiving and uncaring America.
Casablanca (1943): Set during the World War II era, Humphrey Bogart delivers an impeccable performance as Rick Blaine, a bitter, loveless nightclub and gambling den owner in Casablanca who finds himself helping the opposition—the woman who broke his heart and her new husband—escape German regime and flee to America.
Cold Mountain (2003): When the Civil War tears confederate soldier W.P. Inman (Jude Law) from his sweetheart (Nicole Kidman), he'll do just about anything to get back to her, even if it means going AWOL and nearly getting killed during his long, grueling trek back to Cold Mountain, North Carolina.
Dear John (2010): This classic starring Channing Tatum and Amanda Seyfried is bound to make you cry, but what's the Fourth of July without a few red, white and blue tears? Let your heartache as John (Tatum) and Savannah (Seyfried) remain separated by deployment but keep their romance alive through the age-old art of handwritten love letters.
Captain America: The First Avenger (2011): In addition to celebrating the country's separation from Great Britain, the Fourth of July also marks a time to recognize and honor the good folks keeping the USA safe. Steve Rogers (Chris Evans) may not be a fictitious soldier, but the character represents the many real-life heroes of America who have (and still are) put their lives on the lines to protect the nation.
I Know What You Did Last Summer (1997): You're probably thinking, what does a thriller about a group of teens running from a stalker killer with a meat hook have to do with the Fourth of July? Well, everything, especially when the reason the teens are being stalked by the meat hook killer is he witnessed the horrible act they committed the previous summer on the Fourth of July.