On Independence Day, Biden Says America Has 'Never Lived Up' to Idea That We're All Created Equal
Democratic presidential candidate and former Vice President Joe Biden said that America has "never lived up to" the idea that everyone is created equal in a new Independence Day campaign video.
In the clip, shared to Twitter on Saturday morning, Biden quoted a line in the Declaration of Independence: "We hold these truths to be self-evident, that all men are created equal."
Biden pointed out hypocrisies in the line by the Declaration's author, Thomas Jefferson. Despite holding slaves and leaving out women, the Democratic candidate said that the idea that all men are created equal has continued to resonate with Americans throughout the nation's history.
"We never lived up to it, Jefferson himself didn't. He held slaves. Women were excluded," he said. "But once proposed, it was an idea that couldn't be constrained."
The candidate said that "American history is no fairytale," as it's a "constant push and pull" between the idea of equality and racism dividing the country.
Biden spoke about times that the phrase has stood true for Americans, including as recently as the death of George Floyd. "It survived the ravages of the Civil War, the dogs of Bull Conor, the assassination of Martin Luther King, and more than 200 years of systemic racism, and just weeks ago, the murder of George Floyd," he said. "These words have gnawed at our conscious and pulled us towards justice."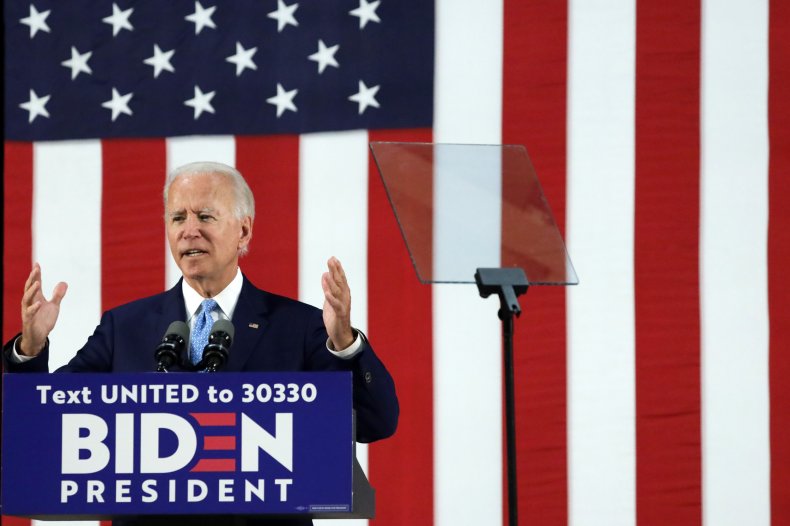 Before the end of the video, Biden wished citizens a happy Fourth of July and called on people to do more than just remember the words of the Declaration. "We have a chance now to give the marginalized, the demonized, the isolated, the oppressed, a full share of the American dream. We have a chance to rip the roots of systemic racism out of this country. We have a chance to live up to the words that founded this nation," he said.
Newsweek reached out to Biden's campaign for further comment but did not receive a response in time for publication.
Biden wasn't the only politician to celebrate Independence Day by calling for Americans to demand change. Former first lady and 2016 Democratic presidential candidate Hillary Clinton called on her Twitter followers to "keep raising our voices, marching, and registering to vote."
"In dark times, it's important to remember that America can be what we make of it," Clinton tweeted on Saturday. She added that accomplishments can be celebrated next Fourth of July.