'Independence Day' Stars Bill Pullman, Vivica A. Fox Criticize Trump's Use of Movie Footage on Twitter
Stars of the 1996 movie Independence Day are not impressed with President Donald Trump's video using footage from an iconic scene.
The president posted a video to Twitter Saturday (May 16) with his face superimposed over actor Bill Pullman's in the beloved 1996 disaster film.
The scene in question features Pullman's character, U.S. President Thomas J. Whitmore, delivering a rousing speech to military troops ahead of their battle against hostile alien invaders.
Some choice lines from the speech include, "We can't be consumed by our petty differences anymore," "We will be united in our common interest," and "We're fighting for our right to live, to exist."
Newsweek subscription offers >
Responding to the bizarre nod to the film, Pullman said he is not fond of the president's use of his scene.
Newsweek subscription offers >
"My voice belongs to no one but me, and I'm not running for president—this year," Pullman told The Hollywood Reporter.
Pullman's co-star Vivica A. Fox took to Twitter to disapprove of Trump's video, expressing her annoyance in all caps.
"PRETENDING U KNOW WHAT YOUR DOING?? CANT BELIEVE U WOULD INSULT OUR CLASSIC FILM THIS WAY!" she wrote.
"BUT HEY! TYPICAL POS BEHAVIOR! U NEVER HAD THE LEADERSHIP OR COURAGE TO DO THIS ROLE! NEVER!"
Fox played Jasmine Dubrow in the movie, the girlfriend of lead character Captain Steven Hiller, played by Will Smith.
Fox's tweet has garnered several responses from followers, with one commenting: "Such a classic iconic film and he has no business substituting this foolishness."
While another added: "I can't believe I actually just saw this. This is actually from a person that expects to be taken seriously in the world. I cant imagine any other world leader doing something as nonsensical."
However, over on Trump's Twitter, some supporters have tweeted positively about the video, with one person commenting: "Best President of my lifetime. Who is with me?!"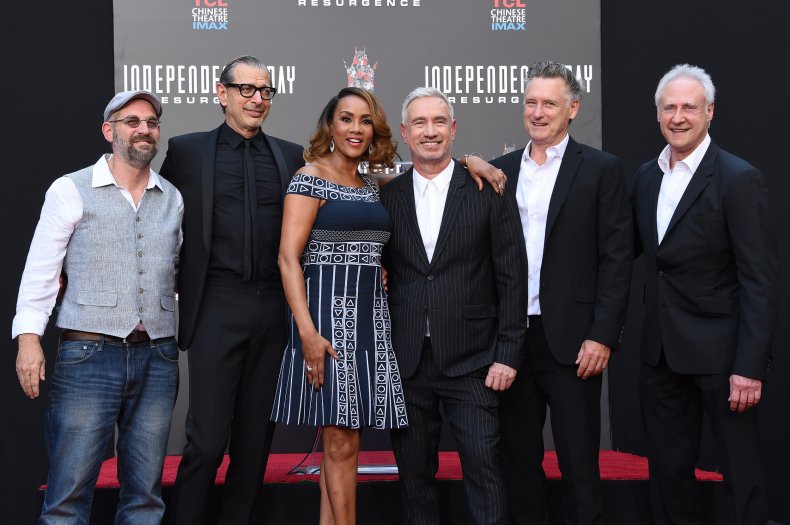 Independence Day was directed by Roland Emmerich and also starred Will Smith, Jeff Goldblum, Mary McDonnell, Judd Hirsch and Randy Quaid, all of who have yet to comment on the Trump video.
The blockbuster is one of the landmark sci-fi action hits of the 90s and was the highest-grossing film of 1996.
The video shared by Trump currently has more than 256,500 likes on Twitter.
Last December, the Trump 2020 re-election campaign used footage from Disney and Marvel Studios' Avengers: Endgame as part of a Twitter ad campaign.
The clip inserted Trump's face over that of villain Thanos, who declares in the film that he is "inevitable." The tweet read that "President Trump's re-election is inevitable."
'Independence Day' Stars Bill Pullman, Vivica A. Fox Criticize Trump's Use of Movie Footage on Twitter | Culture