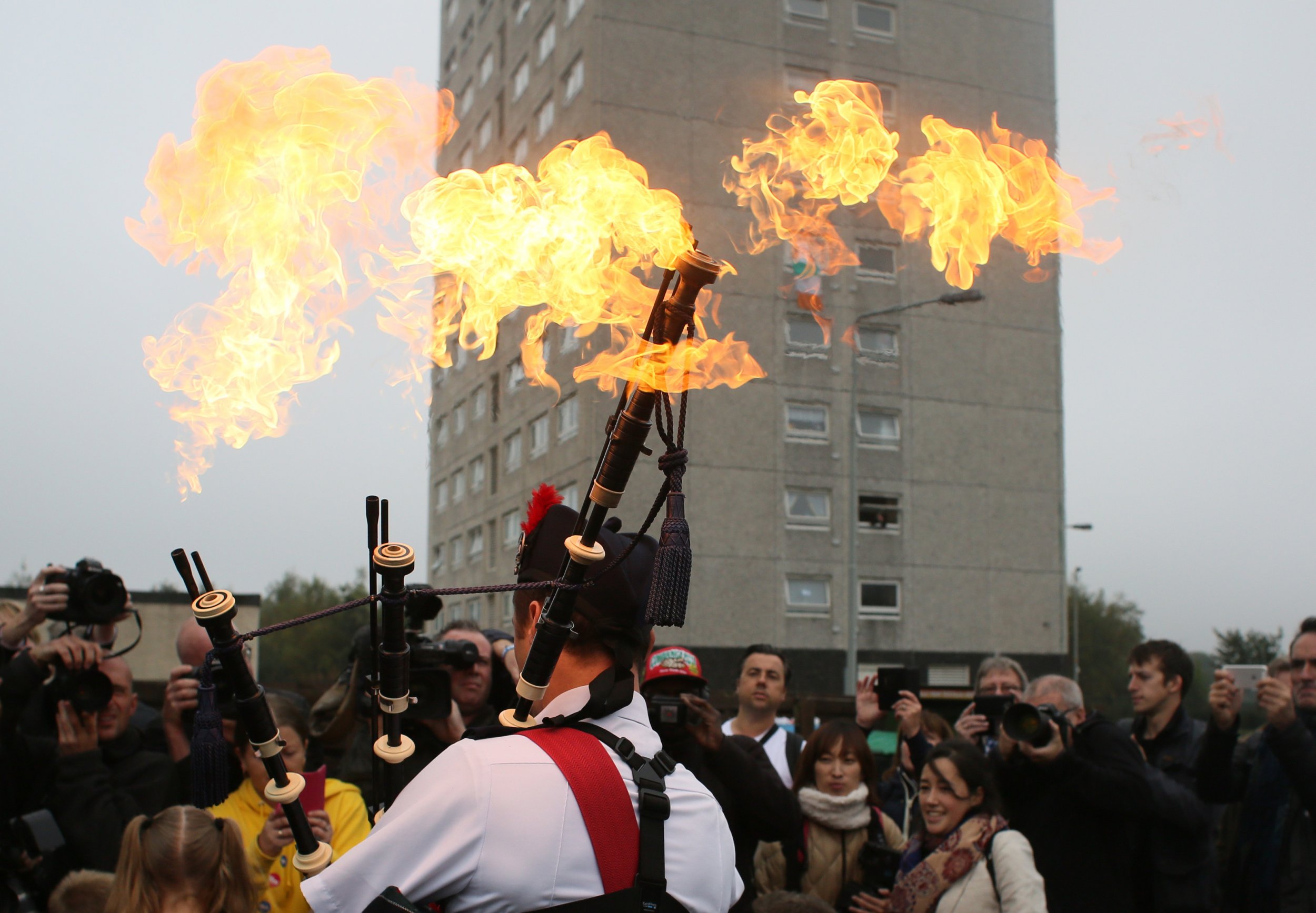 Leading some 40 to 50 men, women and children clad in Yes paraphernalia, a Scottish bagpiper makes his way through Edinburgh's neighbourhood of Craigmillar.
"The people of Scotland will have their say and the United Kingdom will listen," a speaker with a megaphone bellows, surrounded by waving saltires and intermittent chants of "Vote Yes".
The bagpiper's song begins, flames leaping from the tops of his drones, and the crowd assembles to march around Peffermill council estate, knocking on neighbours' doors, hoping to persuade them to join the Scottish independence cause.
The event, one of several throughout referendum polling day urging local residents to "all be bravehearts," was, upon its conception nearly a week ago, criticised by the No campaign as an attempt to coerce voters into the Yes cause.
"Bid your neighbours to join our short walk to freedom," the speaker urges the crowd as they wander towards the flats.
In less than seven hours the final ballot in Scotland's long awaited independence referendum will be cast and a few long hours of counting later its future, in the union or outside it, will begin. Polls put the outcome on a knife edge, with a slight advantage for the No campaign.
But if the Scottish Nationalists are to be believed, the polls have been failing to reach, and therefore under-representing, the young and less well off, so events like this could make all the difference.
Some Twitter users praised the event, one tweeting: "People from a deprived area, long disenfranchised, being engaged and celebrating voting is bad?"
Others have accused the "short walk" of political intimidation. Lothian's Labour MSP Kezia Dugdale has been critical of the march since it was announced. "I think the vast majority of people in Edinburgh want to just go to the polling station peacefully and cast a vote for whatever they've decided is in the best interests of Scotland, their families and themselves," she said.
The marchers are determined and riled up by the atmosphere, happy to give a piece of their mind. "Listen to me," says Kevin Toad, as his friend Shaun wheels a blue Statue of Liberty clutching a Saltire flag toward the festivities on a bike trailer, "Scotland will not accept a No."
"I'm not just speaking for me, but everyone in this country. Me, I'm quite radical. We will have independence."