4th of July Fireworks and Events in Washington, D.C.: Where to Celebrate Independence Day in America's Capital, Live Streams, and Parade Routes
The time is nearly upon Americans to celebrate their history on July 4, remembering when the founding fathers freed them from British rule. For more information on the history of Independence Day, read Newsweek's article: 4th of July: What is Independence Day and Why Do We Celebrate it On July Fourth?
Across the country's capital, Washington, D.C., there are many events and, more importantly, fireworks displays taking place. Newsweek has compiled a guide for all the must-attend events this Fourth of July.
National Independence Day Parade
Newsweek subscription offers >
Starting from the corner of Constitution Ave NW and 7th St NW, and ending at Constitution Ave NW and 17th St NW, this parade is not to be missed. There is seating available on the steps of the National Archives Building, where you can watch the procession which starts at 11:45 a.m. until 2:00 p.m. local time.
The parade will also be streamed live from the National Independence Day Facebook page at 11:45 a.m. EDT. You can also watch the parade at 5:00 p.m. EDT on our YouTube channel.
If you'd like to get "the best seat in the place" pick somewhere near 17th St NW as it is less crowded than other parts of the route.
"Salute to America" on National Mall
Newsweek subscription offers >
Starting at 6:30 p.m. until 7:30 p.m. at the Lincoln Memorial, the armed forces will be honored by President Donald Trump. The celebration will include music, military demonstrations, and flyovers. Participants include the Old Guard Fife and Drum Corps, the U.S. Army Band ("Pershing's Own"), the Armed Forces Chorus, the United States Marine Corps Silent Drill Team, and many others, according to the National Park Service. The gates will open at 3:30 p.m. local time. Access points are open from 10:00 a.m.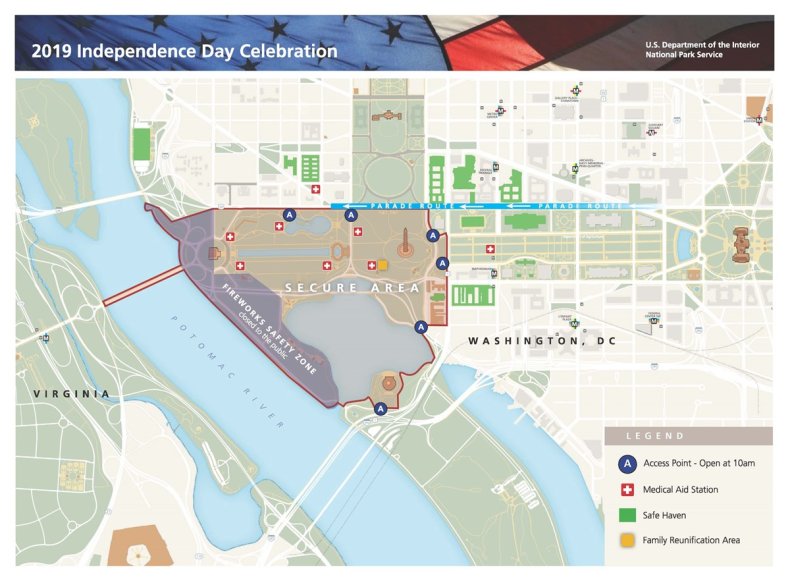 A Capitol Fourth Concert
This celebratory concert is broadcast live on PBS from the West Lawn of the U.S. Capitol. The concert has hosted superstars such as Frankie Valli, Patti LaBelle, John Williams, Stevie Wonder, Aretha Franklin, Reba McEntire, Natasha Bedingfield, Barry Manilow, Neil Diamond, Dolly Parton, Steve Martin, Josh Groban, Gloria Estefan, Huey Lewis and the News, Little Richard, Tony Bennett, Faith Hill, Ray Charles, the Bee Gees, Kenny G, Aaron Neville, Kenny Rogers and the Muppets from Sesame Street.
This year performers include:
John Stamos

Carole King

Sesame Street

Lindsey Stirling

Vanessa Williams

Vanessa Carlton

The Broadway Cast of Beautiful

Lee Brice

Keala Settle

Gone West featuring Colbie Caillat

The O'Jays

Yolanda Adams

Laine Hardy

Maelyn Jarmon

Laura Osnes

Angelica Hale

MusiCorps

Jack Everly

National Symphony Orchestra

Patrick Lundy & The Ministers of Music

Choral Arts Society of Washington

The United States Army Band "Pershing's Own"

The U.S. Army Herald Trumpets

The U.S. Army Presidential Salute Battery

The 2019 A Capitol Fourth will be live-streamed on PBS.org, YouTube and Facebook.
National Mall Fireworks Display
The July Fourth fireworks show is expected to begin at 9:07 p.m. local time until 9:27 p.m. If you can't get into the area, there are many different spots you can view the fireworks such as Potomac River, U.S. Marine Corps War Memorial, Netherlands Carillon in Virginia, or from many of the rooftop bars in the district such as POV Rooftop Lounge and Terrace at the W Hotel. Some are specifically hosting viewing events for the fireworks.
Washington Nationals v Miami Marlins
Presented by SAIC, this promotional game for the Patriotic Series will start at 11:05 a.m. local time. Tickets for the game can still be bought from the team's website via a third party.

The probable pitchers for the game will be Anibal Sanchez vs Elieser Hernandez, according to the National's official website.
George Washington's Mount Vernon
If you're into your history, make sure to head down to Mount Vernon. There is a variety of events including revolution-era demonstrations. The schedule for the day is as follows, according to its website:
| | | |
| --- | --- | --- |
| 9:30 am EDT | Troop Inspection by General Washington | Bowling Green |
| 10:00 am | Independence Day Wreath-Laying Ceremony | Washington Tomb |
| 11:00 am | Naturalization Ceremony | East Lawn |
| 12:00 pm | Red, White, & Blue Concert | Bowling Green |
| 12:00 pm | Rick Atkinson Book Signing | Vaughan Lobby |
| 1:00 pm | Daytime Fireworks | East Lawn |
| 1:15 pm | "Happy birthday, America!" Cake | Bowling Green |
| 1:30 pm | Military and Music Demonstrations | Bowling Green |
| 2:30 pm | Revolutionary War Military Drill | Bowling Green |
4th of July Fireworks and Events in Washington, D.C.: Where to Celebrate Independence Day in America's Capital, Live Streams, and Parade Routes | U.S.