Independent Fishermen Hit Hard by Fisherman's Wharf Fire That Destroyed $5 Million Worth of Traps
Independent fishermen will feel the gravest impact of Saturday's destructive fire at Fisherman's Wharf, representatives from a local seafood distribution service said on Monday.
The fire originated in a warehouse stationed on San Francisco's Pier 45, a fishing industry hub and celebrated city landmark. The four-alarm fire went on to engulf thousands of fishing equipment items and several delivery trucks. An investigation into the fire's cause is ongoing.
Flames reached 100 feet as about 150 firefighters worked to extinguish the blaze, according to a Sunday report from the San Francisco Chronicle. Though there were no deaths due to the blaze, fishermen whose operations were based at the Wharf face enduring financial deficits due to resources lost in Saturday's fire.
In one of several messages shared to Instagram throughout the weekend, an employee of San Francisco seafood distributor Water2Table shared a photo of the ashy remains of a number of traps on Pier 45 near the warehouse, which was completely destroyed. In the post's caption, Water2Table articulated the consequences to the Wharf's resident fishermen, many of whom had not secured insurance policies that protect against property damage, according to the organization.
"These were owned by small independent fishermen with only liability insurance," the caption read. As Water2Table noted, more equipment was stored on the pier Saturday than is usual for this time of year, given decreased demand for seafood as restaurants closed or limited their services during the novel coronavirus outbreak.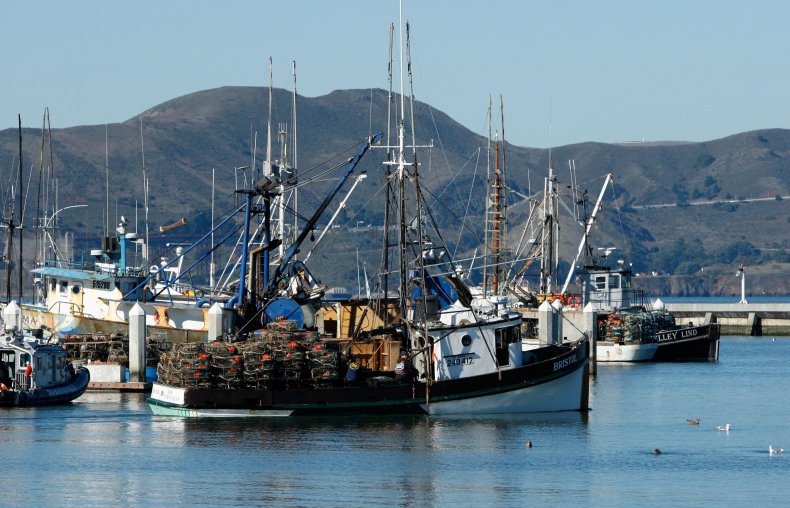 Joseph Conte, one of the distribution company's co-founders, created a GoFundMe campaign on Monday to raise money for those fishermen affected by the fire. As of Monday evening, the campaign had raised close to $18,000 of its ultimate $500,000 goal in two hours since its initial posting.
Addressing the fire's aftermath in comments to the San Francisco Chronicle on Sunday, Larry Collins, president of the San Francisco Crab Boat Owners Association, estimated that overall damage to fishing equipment totaled $5 million. Collins said actual costs, financial and otherwise, could ultimately prove even higher.
"Pier 45 is the heart and soul of commercial fishing out of the Bay Area," he told the outlet. "To take a hit like this, it's a bad one. Most people don't think about where their salmon, crab or black cod come from, but that's where: It's Pier 45."
Newsweek reached out to Water2Table as well as the San Francisco Crab Boat Owners Association for further comment. This story will be updated with any response.