Independent Ralph Nader Calls Networks' Decision to Cut Away From Trump Speech 'Unacceptable'
Former presidential candidate and consumer advocate Ralph Nader said that NPR and commercial radio stations had made an "unacceptable decision" to cut away from a speech from President Donald Trump on Thursday.
Nader, who lost four bids for the presidency between 1996 and 2008, made the remarks in response to the outlet fact-checking Trump, during a speech where the president suggested without evidence that fraud was taking place due to his lead over Democratic presidential nominee Joe Biden dwindling in several key states as valid votes continued to be counted.
"Trump is speaking now before the media," Nader tweeted. "NPR cut off him off for a fact check. Unacceptable decision. I then scrolled through all the many commercial radio stations. They were not carrying Trump's remarks. Misusing our public airwaves, free."
"Demand explanations from NPR and commercial stations," he later added. "Factual checks can come later."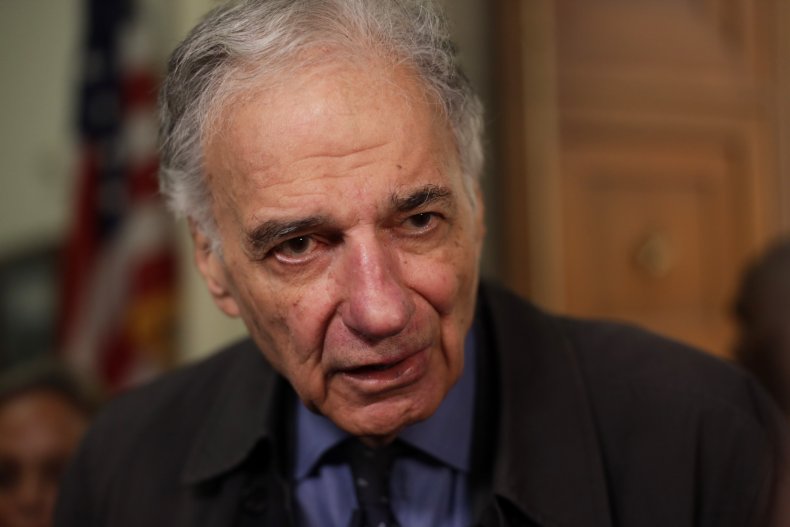 Multiple networks including CBS, NBC and MSNBC cut away from Trump's speech to fact check several unsubstantiated and misleading claims made by the president. Trump claimed without evidence that Democrats were "trying to steal an election" by counting mail-in ballots that have largely been unfavorable for him. NBC cut the speech short after the president described the votes as "illegal."
Although Nader's comments made it clear that he believes the media outlets should not have cut away from Trump's speech, his overall opinion of the president does not appear to be favorable. He said that he opposed Trump, calling him "the chief inciter of domestic terrorism and violence in this country," in an October interview with Salon. Nader also co-authored a book titled Wrecking America: How Trump's Lawbreaking and Lies Betray All, which was released this year.
Nader later shared several tweets from others that further indicated his objection to the fact checking interruptions had to do with the networks allegedly misusing public resources, rather than any agreement with the content of Trump's speech or his claims regarding the election. One was a retweet of actor John Cusack, sharing a quote from MSNBC anchor Brian Williams, who explained that the network had cut away because the president's remarks were "not rooted in reality" and "dangerous."
Nader's 2000 run for president, as the nominee of the Green Party, was cited by many as a factor in former President George W. Bush winning the election. Running on a progressive platform, Nader amassed over 2.8 million votes nationally, including 97,000 in Florida, where former Vice President Al Gore's final deficit of 537 votes cost him the election.