Republican Relegation to 'Third-Party' Status in California Gives Democrats Midterms Boost
Independent voters now outnumber registered Republicans in California, according to a new analysis, which may be good news for the Democratic Party as it looks to regain control of the House of Representatives.
A report from Political Data Inc. Tuesday showed that voters with no party affiliation have surpassed the number of registered Republicans in California by about 73,000 people, making the GOP fall to third-party status. The state as a whole remains blue, with 44 percent of the state's electorate registered as Democrats.
Ted Lieu, a Democratic congressman from California, responded to the news in a tweet on Wednesday writing, "Dear @realDonaldTrump: Now that Independents outnumber Republicans in California, can you please come and do one of your toxic rallies? Unleash your anger, call people names & go full #MAGA. Your presence helps Dems! We are targeting at least 9 GOP held seats. Thanks."
While registration does not necessarily ensure turnout, this independent voter surge could prove to be a boon for the Democratic Party as independent voters are more likely to swing Democrat than Republican, studies have shown.
But first Democrats in California have to make it through a difficult primary election on June 5 in which only party-affiliated voters can participate.
Paul Mitchell, the vice president of Political Data Inc., told The Sacramento Bee that Republicans still have an "outsized influence" because their voting habits are much more consistent than both Democrats and Independents.
Even with a Democratic-majority voter population, some Californian party members are concerned that the state's "top two" system may stunt left-leaning candidates from making it to the general election in November. The system, which was first utilized in 2011, allows the two primary candidates with the highest amount of votes to move onto the general election regardless of political party. It is possible for two Democrats or two Republicans to end up on the final ballot.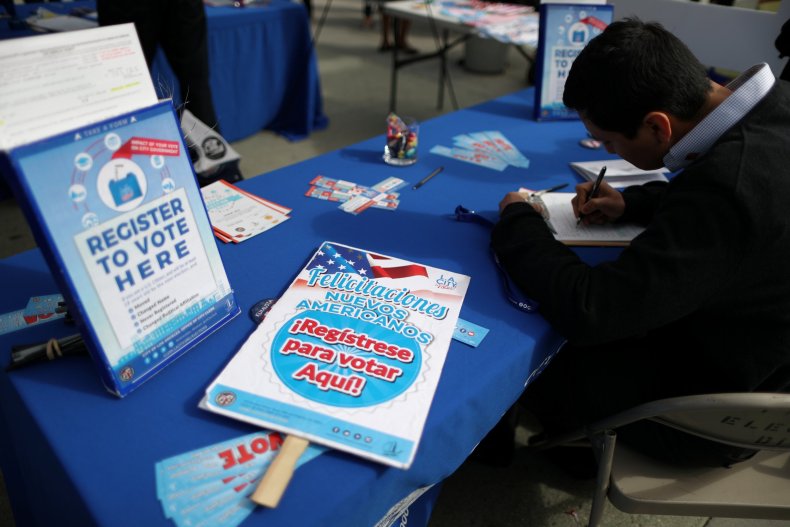 Stakes are high for the 2018 midterm elections as the Democratic Party is desperate to regain some control in Washington from Republicans and the Trump administration. As a result, the Democratic Congressional Campaign Committee has stepped in to support a number of campaigns across the country in an attempt to guarantee party victories. Some candidates, though, fear that the party's disorganization, including pitting two viable Democrats against one another in a primary race, could ruin their chances of being elected.
California has the opportunity to flip as many as seven Republican-held seats in the upcoming midterm elections, and Democratic Party strategists consider the state to be the key to regaining some control of Congress.