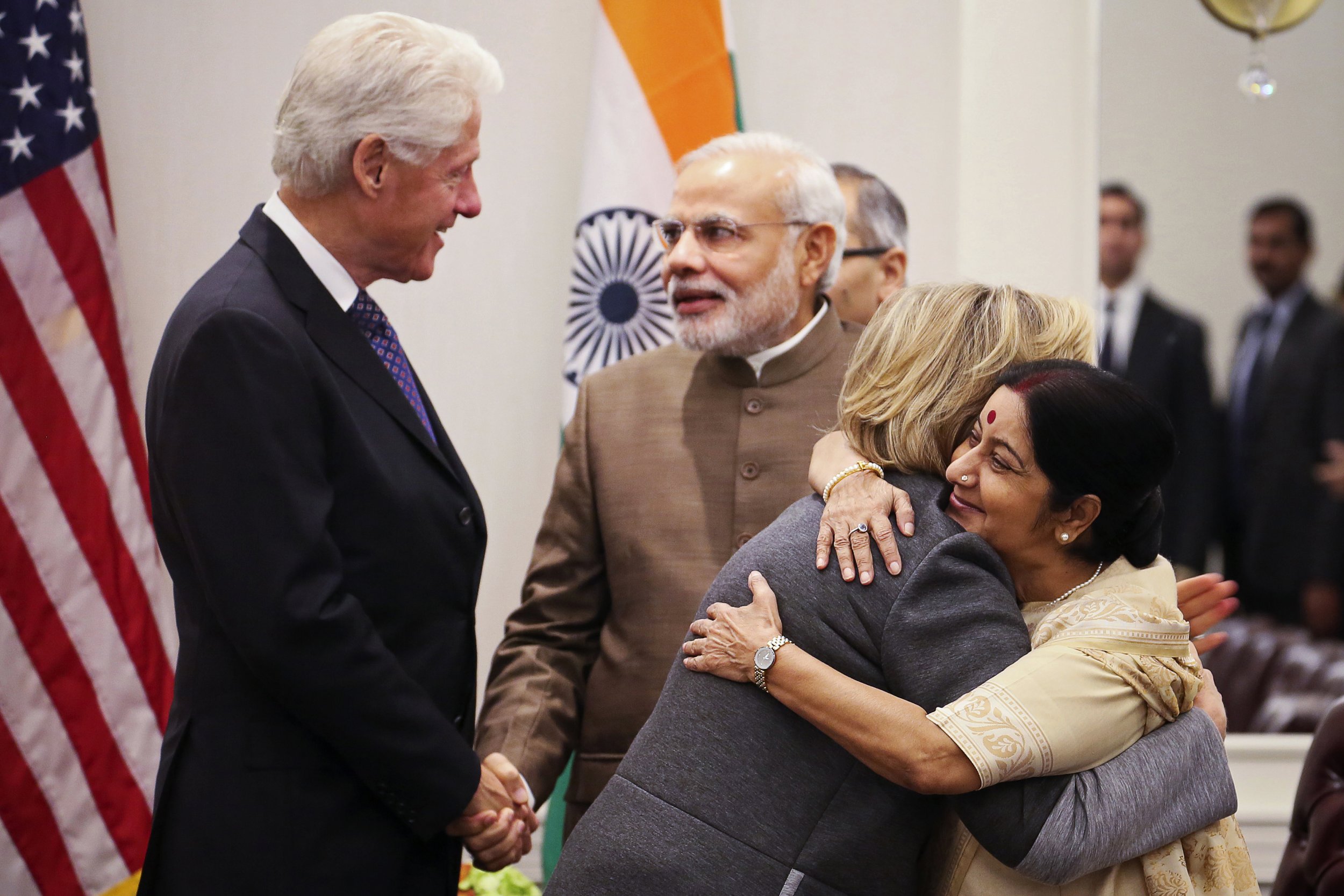 U.S. President Barack Obama and new Indian Prime Minister Narendra Modi vowed on Monday to expand and deepen their countries' strategic partnership and make it a model for the rest of the world.
In a joint "vision statement" issued after their first meeting at a White House dinner, the two leaders said they would work together "not just for the benefit of both our nations, but for the benefit of the world."
They said their countries would cooperate on security and to fight terrorism and would back a "rules based" global order in which India assumes greater multilateral responsibility, including a reformed U.N. Security Council.
They also vowed to work together against the threat posed by climate change and to cooperate to address the consequences of unchecked pollution.
"We have a vision that the United States and India will have a transformative relationship as trusted partners in the 21st century. Our partnership will be a model for the rest of the world," they said in their statement said.
The two leaders also said their countries would work to ensure that economic growth brought better livelihoods for all people and stressed the importance of open markets and fair and transparent practices to allow trade to flourish.
Washington has been keen to expand business and security ties with India, which it sees as a key counterbalance to an increasingly assertive China in Asia. Obama has backed New Delhi's bid to become a permanent member of the U.N. Security Council.
However, the relationship has failed to live up to his declaration in 2010 that it would become "one of the defining partnerships of the 21st Century."
Modi, who came to power in May, has received a warm welcome in the United States, even though he was denied a visa in 2005 over rioting in his home state three years earlier that killed more than 1,000 people, most of them Muslims. Modi denies any wrongdoing and has been exonerated by an Indian Supreme Court investigation.
He has maintained a frantic schedule since arriving in America on Friday, even though he is fasting in accordance with Hindu custom and drank only warm water at the White House.
As part of an effort to spur foreign investment, he met more than a dozen U.S. corporate leaders early on Monday and told them he was committed to liberalizing India's economy, which has underperformed other emerging markets recently after years of breakneck growth.
'BIG THINGS'
On Saturday, Modi addressed the U.N. General Assembly and then appeared before some 60,000 people at a musical event in New York's Central Park aimed at ending global poverty and bringing essentials such as sanitation to all.
On Sunday, he received a rapturous welcome from a big crowd of Indian-Americans in an appearance in New York's Madison Square Garden arena.
He will hold further talks with Obama on Tuesday.
Modi's spokesman, Syed Akbaruddin, said the dinner meeting was "extremely convivial" and the two leaders found they had a common interest in technology and shared experience in that they were relative political outsiders before coming to power.
He said they agreed they "should focus on some big things they can achieve in a finite time period in the next few years."
Modi sought suggestions from the U.S. business leaders as to how the investment environment could be improved. When some complained about unpredictable taxes, he said he was "committed to a stable tax regime" as this was necessary to encourage investment, Akbaruddin said.
He said Modi had invited the U.S. BlackRock investment management firm to stage a major conference in India early next year to bring in big investors from around the world. He said BlackRock had said the event could bring in as much as $6 billion in investment.
Among those attending the breakfast meeting with Modi were the chief executives of Caterpillar Inc and Boeing Co.
Caterpillar Chairman and CEO Doug Oberhelman told, Reuters he had been impressed by Modi's determination to revive the Indian economy. "I believed him. He was very serious," he said.
However, last week the U.S. Chamber of Commerce and 15 other business associations representing various sectors gave a more cautious assessment, questioning Modi's record and urging Obama to press him to remove barriers to trade.
They highlighted India's blockage of a key World Trade Organization deal reached last year, which overshadowed a July 30-Aug. 1 visit to India by U.S. Secretary of State John Kerry.
Speaking at the Council on Foreign Relations think-tank, Modi reiterated his WTO stance, saying that while India supported the trade pact, its demands for food stockpiles were not incompatible with it.
He stressed his campaign to encourage domestic manufacturing and India's desire for U.S. know-how, something U.S. firms have been reluctant to share without stronger intellectual property protections.