Walmart Triples India Exports as Major U.S. Companies Pivot From China
Walmart announced on Thursday it will triple exports of goods from India to $10 billion each year by 2027, as a nationwide pivot to other trade partners gains strength amid the continuing U.S.-China trade war.
U.S. goods imports from China fell by a stark 16.2 percent between 2018 and 2019, as the effects of Washington's aggressive stance towards Beijing takes effect.
Currently, Walmart estimates Chinese suppliers make up 70-80 percent of its U.S. merchandise, according to the Alliance for American Manufacturing.
However, following a ramping up of tariffs placed on exports from China under President Trump, a host of other, predominantly Asian, countries are now seeing a marked increase in trade with the U.S.
The biggest overall beneficiaries, according to a study from the United Nations Conference on Trade and Development that examines the extent of trade diversion from the trade wars, are: Taiwan, Mexico, the EU, Vietnam, Japan, Canada, Korea, and India.
A report by Moody's uncovered comparable effects, and makes particular note of Chinese soybean purchasers turning instead to Brazilian soy farmers.
Meanwhile, trade with India looks only set to increase, with the imminent arrival of Joe Biden's new administration, say experts.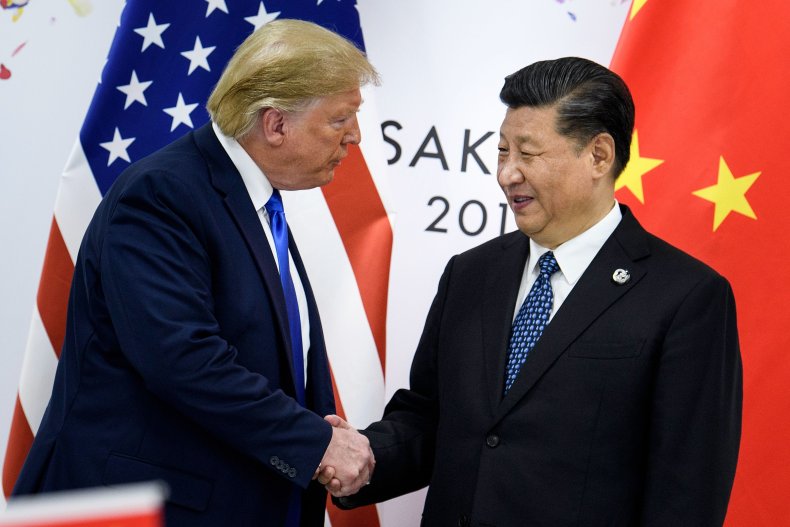 U.S. goods and services trade with India totaled an estimated $146.1 billion in 2019, with exports making up $58.6 billion of that total, and imports $87.4 billion. This was up 6.3 percent ($3.4 billion) from 2018, and up 172.6 percent from 2009, according to the Office of the United States Trade Representatives.
India is currently the U.S.'s ninth largest goods trading partner, with $92.0 billion in total two-way goods trade during 2019.
In the same period U.S. goods imports from China came in at $451.7 billion in 2019, down 16.2 percent ($87.6 billion) from 2018, but up 52.4 percent from 2009. China is still the U.S.'s largest supplier of goods imports, but the decrease is stark.
Despite signing a phase one trade deal with China at the beginning of this year, experts say the U.S. has failed to address the underlying tensions of the preceding trade war.
Trump gave center stage to his complaints about the U.S.-China trade deficit during his 2016 election bid, stating it was his intention to close the $346bn gap and to "cut a better deal with China that helps American businesses and workers compete."
The president launched a trade war to pressure Beijing to implement changes to aspects of its economic system felt to facilitate unfair Chinese trade practices, including forced technology transfer, limited market access, intellectual property theft, and subsidies to state-owned enterprises.
Between July 2018 and August 2019, the U.S. announced plans to impose tariffs on more than $550 billion of Chinese products, and China retaliated with tariffs on more than $185 billion of U.S. goods.
A September 2019 study by Moody's Analytics found that the trade war had cost the U.S. economy nearly 300,000 jobs and an estimated 0.3 percent of real GDP.
A notable early casualty of the tariffs imposed by China on U.S. imports, were the chains of low-price dollar stores, some of which looked to diversify their trading partners, says Dr Michael Plouffe, a lecturer in International Political Economy and International Trade Policy at University College London. This included buying plastic party cups from Vietnam, instead of China.
"Any shift in trade will be spread across a range of countries. I think it's primarily based on which countries have the manufacturing base in place to produce whatever American importers need," Dr Plouffe told Newsweek.
"Those things most affected will be lower-value, value-added stuff. Things that in general don't require significant upfront investment among manufactures. That's the easiest to move in terms of finding a new exporter."
He says India, being the world's largest democracy, with a population of 1.35bn, will be a particularly attractive prospect for the U.S. to form more developed trade relationships with.
"One of the more empirical things we see with trade is democracies trade more often with each other. The fact that India is a democracy makes a trade deal covering a broad range of things more likely. Whereas if an agreement is made with China at this point, it will be more about rolling back on the effects of trade war rather than moving forward with relations," says Dr Plouffe.
Dr Swati Dhingra, a Lecturer at the Department of Economics at the London School of Economics, and a member of its Center for Economic Performance, says the size of the market is key to attracting a positive tradition relationship with the U.S.
"India is such a huge market, so its in the interests of Netflix and the like to establish themselves there," Dhingra tells Newsweek.
Ford Motors has a manufacturing unit in India that exports cars to nearly 40 countries. Meanwhile, ExxonMobil has captured a large part of India's lubricant market and U.S. companies like PepsiCo, Coca-Cola, MacDonald's, Nike, Amazon, Pfizer are household names in India. The presence of these multinational corporations means the U.S. has a vested interest in continuing to grow in economic ties with New Delhi.
Dhingra adds that India offers benefits when it comes to services too, thanks to its highly skilled labour force. "India invests a great deal in high-end tertiary education, often at the expense of everything else," she says.
Google has 6,500 employees in India, making up 6 percent of the company's total global workforce. Microsoft has also had a large employee base in the country, establishing operations there shortly after its first inception.
Trade relations between the two countries look only set to grow, with the inception of Biden's new administration. "Modi is extremely pragmatic," says Dr Dhingra. "So I don't see why he won't seize any opportunity to strengthen trade relations with the U.S.—India definitely recognises what a big trade and investment partner the U.S. is for them."
She adds: "I think diversification is here to stay. I think as much because of COVID, and the effects it has had on supply changes—governments see there is more of an incentive to diversify."
Whether or not it is, the handing over of power in Washington will also signal a change in the tenor of Washington-Beijing relations too. While President-elect Joe Biden last week hinted he will keep up pressure on Beijing with pledge to fight 'unfair trade practices', Plouffe says this will undoubtedly be done with a softening of the U.S.'s stance.
"We'll probably see a shift in rhetoric used around the trade war and a more serious attempt to bring China back to the table and get reforms on major issues that Trump was trying to get at," he says. "With this less confrontational approach, there's a better chance something will be done, and you'll see a reduction in tariff levels as both sides move forward. Assuming both sides abide by it."