India Bans TikTok and 58 Other Chinese Apps Amid Escalating Tensions
The Indian government on Monday announced a ban on 59 Chinese apps, including the popular social media platform Tik Tok, as tensions have escalated between the two nations in recent weeks.
"The Ministry of Information Technology, invoking it's power under section 69A of the Information Technology Act read with the relevant provisions of the Information Technology (Procedure and Safeguards for Blocking of Access of Information by Public) Rules 2009 and in view of the emergent nature of threats has decided to block 59 apps since in view of information available they are engaged in activities which is prejudicial to sovereignty and integrity of India, defense of India, security of state and public order," India's government said in a press release.
India's government noted that it had "received many representations from citizens regarding security of data and breach of privacy impacting upon public order issues" resulting from use of the apps.
Newsweek reached out to the Chinese embassy in Washington, D.C. and India's Ministry of External Affairs for comment, but they did not immediately respond.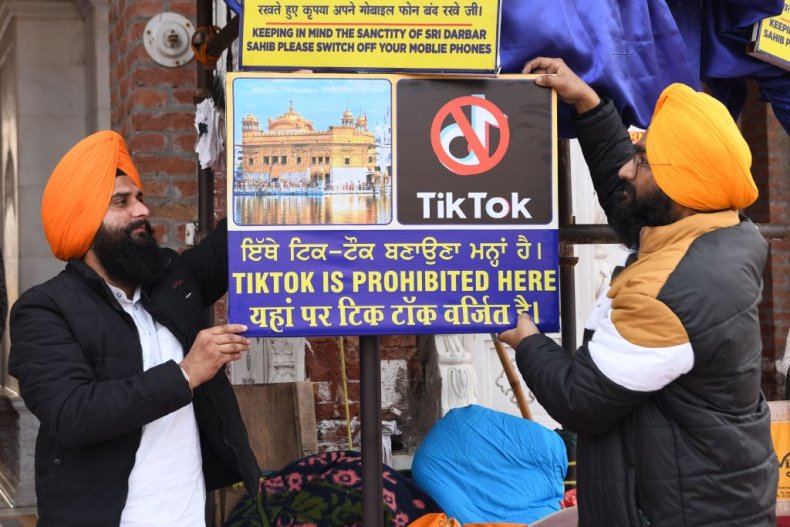 The decision from India's government comes as a longstanding border dispute has escalated in recent weeks. In mid-June, the dispute led to violence, with at least 20 Indian troops killed by Chinese soldiers in the disputed Ladakh border area in the Himalayas. China and India, both nuclear-armed powers, have had scuffles along their 2,100-mile long border for decades due to disagreements over the Line of Actual Control (LAC) officially separating the two countries.
Zhao Lijian, spokesperson for China's foreign ministry, told Agence France Presse (AFP) that India had crossed the border and was "provoking and attacking Chinese personnel, resulting in serious physical confrontation between border forces on the two sides." The incident marked the first deadly clash at the two nation's disputed border in at least 45 years, according to the BBC.
The escalated tensions had already appeared to be impacting trade between the two Asian nations, which both have populations of more than 1 billion. CNN reported on Friday that business deals and trade had been disrupted between India and China in the wake of the clash.
The Indian ban on TikTok will be especially difficult for the Chinese app. India represented the apps largest user base, with more than 611 million of TikTok's over 2 billion users residing in the South Asian nation, India Today reported. China and the U.S. are home to the app's second and third-largest number of users respectively.
This article has been updated with additional information and background.