India Elections: What Does Karnataka State Win Mean for PM Modi?
Indian Prime Minister Narendra Modi's ruling Bharatiya Janata Party (BJP) is headed for a majority win in the Karnataka state elections on Tuesday.
In recent months, critics have said that Modi's popularity has dwindled following his adoption of a sales tax across the nation and ban of high-value currency.
However, the BJP's predicted victory in the huge southern region today suggests that Modi's rallying in Karnataka paid off and will boost his popularity ahead of the general elections next year.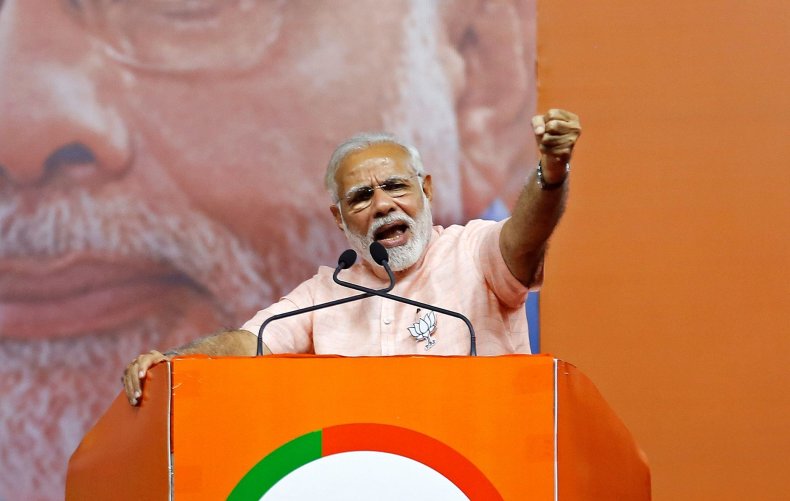 The Indian National Congress (INC) party currently holds Karnataka, the first major state voting for an assembly in 2018. The BJP governs 21 of the 29 states and their new foothold in Karnataka will bring that to 22, giving Modi a southern following in addition to BJP supporters in the north and west regions.
"If we succeed in capturing Karnataka, that will be our gateway for capturing other southern Indian states," said Ram Madhav, the BJP's national general secretary. "Losing this state means the literal decimation of Congress."
On Tuesday, Rajnath Singh, the minister of home affairs, congratulated Modi for BJP's "massive victory" and praised his "astute leadership and organizational abilities" on Twitter.
According to the Election Commission of India, the BJP was leading with 104 seats and the INC was following with 76 seats at the time of publication.
In Bengaluru, the capital of Karnataka state, BJP supporters were seen rallying outside the party's headquarters, holding up flags and chanting slogans as the results rolled in.
"The BJP is winning, which means that Modi magic is still intact," said Satish Misra, a political analyst at the Observer Research Foundation in New Delhi, according to Reuters. N. Ram, a political commentator, said: "The win definitely enhances the prospect of Prime Minister Modi for another term."
The stock market has also been vying for a BJP win.
"I think any indication that the same government will continue in 2019, the markets will like it," said Vikas Khemani, president and CEO of Edelweiss Securities. "That is what seems to be happening in the last couple of days. Any hypothesis which supports a possibility that NDA [National Democratic Alliance] government will return, the market will like that. Anything contrary to this and market will not like it and will correct."