India Hopes for New Defense Deals with Russia, Even Amid Growing Ties to U.S.
India's outgoing envoy to Russia said New Delhi was looking forward to expanding defense cooperation with Moscow, even as the South Asian power forged closer ties with the United States.
Speaking with the state-run Tass Russian News Agency on his final day on the job, Indian ambassador to Russia Bala Venkatesh Varma discussed the future prospects for ties between the two nations, including in the military realm. Here, he expected further collaboration as Indian Prime Minister Narendra Modi and Russian President Vladimir Putin planned a bilateral summit next month.
"We expect a number of agreements in the defense, economic, trade, science and technology spheres. We expect the Joint Commission on Technology and Science to be announced," Varma said. "Military-Technical cooperation for the next decade 2021-2031 will be announced. We also have an agreement on reciprocal logistic support for each other's armed forces so that the armed forces that come for each other's exercises will have good logistic support both in Russia and in India."
"And this year, in the last five months, India has participated in each and every major Russian exercise," he added, naming some examples as "INDRA Navy, INDRA Army, Zapad, and Peace Mission."
Modi and Putin had already agreed during a telephone conversation in April to establish a new 2+2 dialogue involving one another's top diplomats and defense officials.
Varma pointed to "new trends affecting strategic stability at the regional and global levels," including the drastic changes in Afghanistan and new realities elsewhere in Central Asia and beyond in the Indian Ocean, driving the need for new areas of joint work for the two countries.
"It is always important for friends like India and Russia to have an additional level of consultations, an additional platform of consultations," Varma said.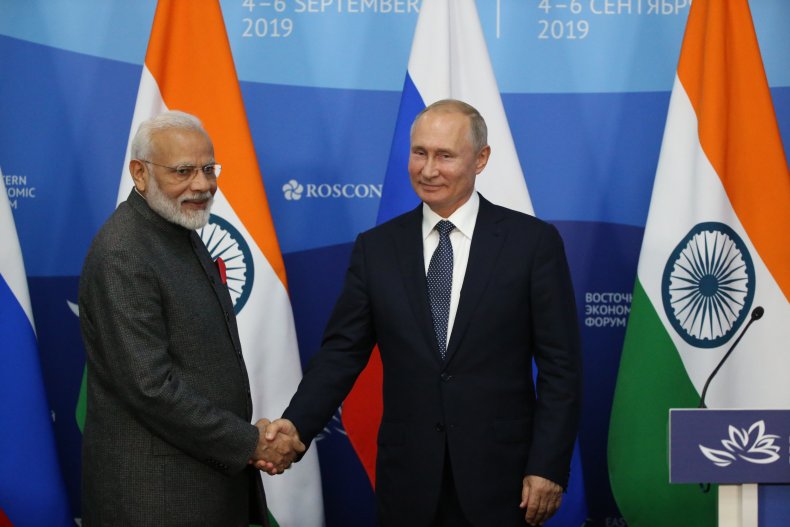 Varma also described "three transformative years in India-Russia relations" since the beginning of his tenure in 2018. He said that "the traditional strengths of India-Russia relations which are defense, nuclear, space, and energy have been further strengthened," while "new drivers of growth have also been added, so there has been a distinct diversification of relations."
He noted that, in the defense field, contracts between India and Russia have roughly tripled from about $2 billion to $3 billion per year to around $9 billion to $10 billion in this time period.
And among the "major defense contracts already under implementation" that he discussed was India's acquisition of the advanced S-400 surface-to-air missile system. The two are also collaborating on frigates, tanks and assault rifles, but it was the purchase of that advanced anti-aircraft and anti-missile platform that has drawn the ire of the U.S., which continues to threaten sanctions against India, as well as ally Turkey, for obtaining the top-of-the-line S-400.
And while Washington has yet to grant New Delhi a waiver under the Countering America's Adversaries Through Sanctions Act (CAATSA) that outlaws buying Russian arms, the U.S. has nonetheless pressed forward in courting India as part of what is widely seen as a geopolitical alignment against another top rival, China.
Under former President Donald Trump, the Quadrilateral Security Dialogue that includes both countries, as well as Australia and Japan, was revamped. This was followed by the signing last year of the Basic Exchange and Cooperation Agreement (BECA), which allows for the mutual sharing of geospatial intelligence.
Prior to this, the U.S. and India had already inked other important pacts, including the Industrial Security Annex (ISA) to the India-U.S. General Security of Military Information Agreement (GSOMIA), the Logistics Exchange Memorandum of Agreement (LEMOA) and the Communications Compatibility and Security Agreement (COMCASA).
Russia has viewed growing U.S.-India relations with wariness, especially amid suspicions that Washington was looking to redeploy its military presence in the region after withdrawing from Afghanistan.
"Well aware of the Americans' intrusiveness, I do not rule out that they will be pressing for the same aim from different sides," Russian Foreign Minister Sergev Lavrov said Monday during an interview with the Rossiya-24 outlet. "I've heard that they have been trying to persuade India to grant the Pentagon some opportunities on the Indian territory,"
The U.S. and Russia have long competed to sell arms to India, with both sides scoring key wins, including Russia with the S-400 and the U.S. with the Boeing-made P-8 Poseidon anti-submarine spy plane.
India's appetite for U.S. equipment marks a shift from the Cold War, when India, though a member of the Non-Aligned Movement, leaned far closer to the Soviet Union. The U.S., for its part, was a top supporter of Pakistan, with which India remains locked in a deadly border dispute that has led to several wars, and continues to cause casualties to this day.
While the relationship between Washington and Islamabad has eroded over the past two decades since the outbreak of the post-9/11 "War on Terror," Pakistan was both throughout the Cold War and today a close partner of China. This relationship was viewed as beneficial to Washington when it considered Moscow its primary foe, but now is seen as a liability as the U.S. seeks to compete with a rising China.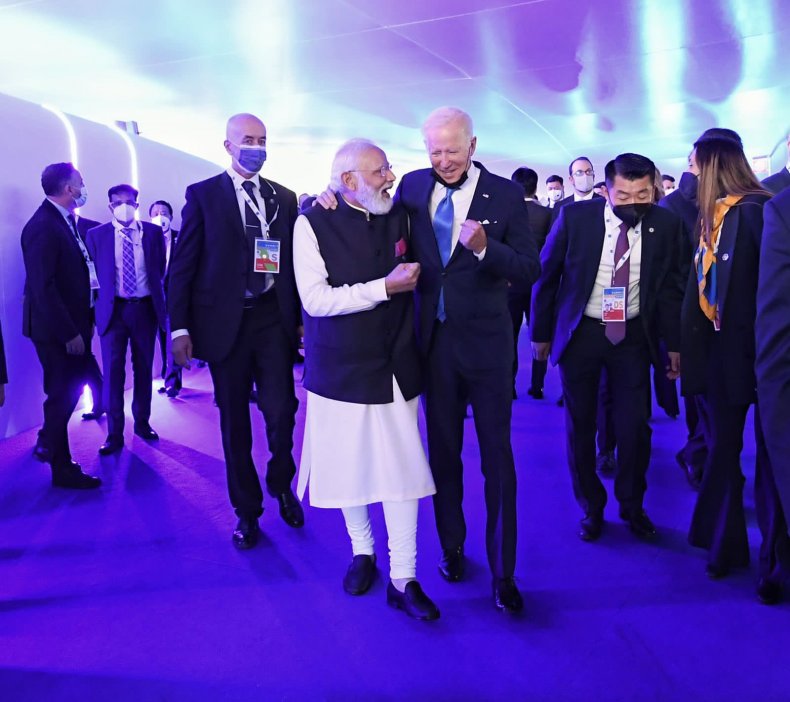 India and China also have a history of confrontation, including a brief 1960s war and more recent bloodshed along their own disputed border. Troops from both sides clashed in 2017 with fists and makeshift weapons and then several times again last year, leading to the deaths of at least 20 Indian personnel and an unknown number of Chinese soldiers.
Russia's relationship with China, on the other hand, is closer than ever, and Beijing too has bought the S-400. The two countries have also engaged in an increasing number of joint military exercises, some bilateral and other of which have actually included India and Pakistan.
All four nations are members of the Shanghai Cooperation Organization, another regional group focused on security and stability across the heart of Asia. Other members include the Central Asian states of Kazakhstan, Kyrgyzstan, Tajikistan and Uzbekistan, as well as the soon-to-be newest addition, Iran.
India has also participated in the so-called "Moscow format" for Afghanistan talks as recently as last month alongside the other Shanghai Cooperation Organization members, Turkmenistan and representatives of the Taliban.
As Putin prepares to meet with Modi next month, Biden has met twice in-person with the Indian leader in recent months, first during September's Quadrilateral Security Dialogue leaders' summit in Washington in September and a second time over this past weekend on the sidelines of the top-level G20 meeting in Rome.
During remarks at the White House that followed their first encounter this year, Biden described "a new chapter in the history of U.S.-Indian ties" and Modi said "the seeds have been sewn for the Indo-U.S. relations to expand."
Both Putin and Chinese President Xi Jinping opted to appear at the G20 summit virtually.
Biden sat down with Putin in June for a bilateral summit, and the White House remains in talks with Chinese officials for a planned virtual meeting with Xi before the end of the year. The two have spoken over the phone twice since Biden took office in January, but tensions continue to strain relations between the world's two top powers.