Huge Kidney Weighing More Than 16 Pounds Removed From Patient Is One of Heaviest Ever Recorded
Doctors in India have removed a huge kidney from a patient which weighs a staggering 16.3 pounds, according to reports. This is far more than a normal kidney, which tends to weigh between around 0.25 and 0.33 pounds.
The monster kidney is though to be the largest ever removed in India—which has a population of around 1.3 billion—and weighs about the same as two newborn babies, the BBC reported.
The patient in question was suffering from a genetic disorder known as autosomal dominant polycystic kidney disease (ADPKD), which is characterized by the growth of numerous cysts in the kidneys. Many patients with this condition have enlarged kidneys.
One of the doctors from the hospital where the operation took place said that generally, the organ is only removed if the patient is suffering from infection or internal bleeding—even if it has grown to a large size.
"This patient had contracted a bad infection that was not responding to antibiotics, and the kidney's massive size was causing the patient breathing difficulties, so we had no choice but to remove it," Sachin Kathuria, from Sir Ganga Ram hospital in Delhi, told the BBC.
Incredibly, Kathuria said that the patient's other kidney is "even bigger." Doctors are now considering whether to submit the find to Guinness World Records.
Currently, the Guinness World Record for largest kidney removed stands at 9 pounds, 5.91 ounces. The organ was removed from patient Ahmed Saeed Mohammed Omar by a Dubai surgeon in 2017. Like the Indian man, Omar was also suffering from polycystic kidney disease.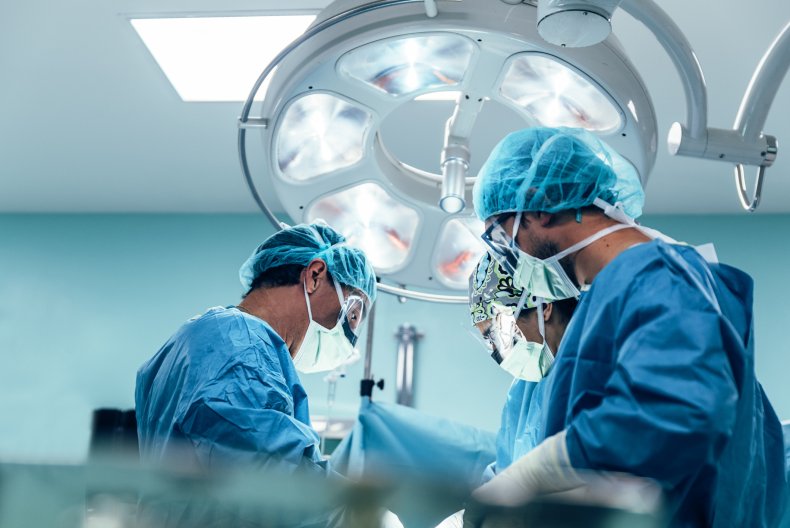 However, there are kidneys reported in the medical literature which are far larger. For example, one case study published in the Annals of Clinical and Laboratory Research reported a 44-year-old man whose kidneys had a combined weight of 39.6 pounds, with one of the organs weighing 20 pounds.
Autosomal dominant polycystic kidney disease is the most common inherited disorder of the kidneys, according to the National Institutes of Health. Symptoms usually appear between the ages of 30 and 40, however, they can appear earlier, and have even been documented in children.
Patients often report pain in the back and the sides—which can be temporary or persistent, mild or severe—as well as headaches. The condition can also cause liver and pancreatic cysts, urinary tract infections, abnormal heart valves, high blood pressure, kidney stones and brain aneurysms. Eventually, ADPKD can lead to kidney failure.
There is no cure for ADPKD, although treatments can ease symptoms of the condition and prolong a patient's life.