The head of an intensive care unit at a hospital in India described the COVID-19 crisis unfolding in her country as "nothing short of an apocalypse."
New infections and deaths from the coronavirus in the country have soared in recent weeks. As of Friday morning, India had a seven-day average of more than 357,000 new daily infections and over 3,000 daily deaths, according to a New York Times tracker. Public health experts have said that these numbers are likely a significant undercount, as many people are getting infected and dying without ever being tested.
"What we are seeing is nothing short of an apocalypse," Dr. Farah Husain, head of a COVID-19 ICU unit at Lok Nayak Hospital in New Delhi, told CNN on Friday morning. "We've had patients rushed—being rushed in. Almost wards getting filled up overnight—90 patients in less than 12 hours."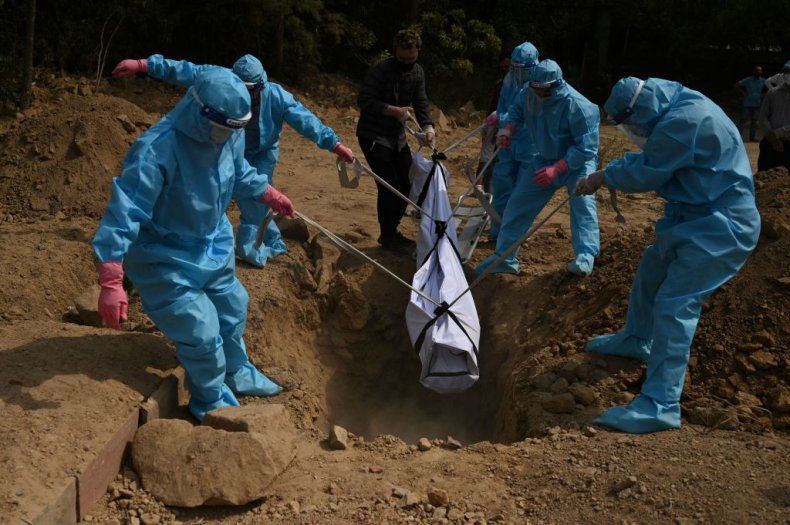 Husain pointed out that "the second wave is extremely contagious, extremely aggressive, and it is affecting the younger population in a significantly different way that we had not expected." The doctor said her hospital had treated thousands of patients for COVID-19 last year but this time "it is overwhelming," noting that medical workers are "extremely fatigued."
"The fact that we have not been able to control the numbers is something that is extremely shocking for us," she said.
In April alone, India—which has the world's second largest population, at about 1.37 billion people—recorded more than 6.6 million virus infections. But India still trails the U.S. in its total number of officially reported infections. The U.S. has seen some 32.3 million infections since the start of the pandemic, while India has now recorded more than 18.7 million. India has also seen less than half the deaths of the U.S., with 208,303 officially reported fatalities, compared with nearly 575,000 in the U.S.
However, experts have warned that India appears to be missing many infections and deaths. The nation has high rates of poverty and homelessness, and many people have reportedly been dying in their homes and in the streets without being able to access testing or treatment. Images and videos of large numbers of bodies being burned, as is the normal custom in India, have been widely circulated online and in the news media.
The World Health Organization warned this week that multiple virus variants—some of which are more contagious—are circulating widely in the South Asian nation. Meanwhile, Prime Minister Narendra Modi and his government have faced mounting criticism for allowing large rallies and religious festivals to move forward in recent months. Public health experts have said these gatherings, and a general sense that the country had beaten back the virus, led to the ongoing surge in infections and deaths.
On Friday, India reported 386,452 new infections—yet another new record—over the past 24 hours. Additionally, the country confirmed at least 3,498 new deaths from the pandemic.
Newsweek reached out to India's Ministry of Family Welfare and Health for comment but did not hear back before publication.