COVID-19 recently took a fierce aim in India, turning it into the latest gruesome epicenter of the global coronavirus pandemic.
As Indian American professors at San José State University, who have given the best of ourselves to the United States, we implore you to take seriously what is happening in India. Our Indian American personas and Indian hearts reel in shock, eyes sting with tears and our feelings lie in tatters as we bear witness, helplessly from afar, to our families' rising death and sickness tolls. In material evidence of a new rock bottom, our aging parents now urge us "not to come" should the worst happen and if they succumb to the dreadful double mutant known as B.1.167.
Our disorienting days and sleepless nights are marred by distress phone calls, weeping inconsolably over the untimely loss of relatives, virtual funerals and baring our hearts on social media. Our hands tremble, our hearts race and our heads throb as we receive the latest shocking updates from relatives in India. Suffice it to say that our physical bodies are here in the U.S. yet hearts remain thousands of miles away, intertwined with the fate of aging parents and extended family members.
Experts say this latest death storm is just beginning and will be relentless in the coming months. To the world, this may appear like one more crisis born out of political greed and resource mismanagement. Yet for Indian Americans like us with family in India, this extends much deeper beyond current headlines in a news cycle. Amid this exponential rise in COVID-19 cases, India's capital, Delhi, and other leading cities, are desperately short of hospital beds, ventilators and oxygen cylinders. These areas are trying to weather the crisis with a depleted stock of remdesivir, as well as a health care system utterly unable to meet urgent demands for testing, treating and hospitalizing patients with COVID-19 symptoms. To put sobering numbers on the current COVID-19 rage, India now reports more than 362,000 new cases, and more than 21 million cases in total, second only to the U.S. India's daily death toll recently exceeded 2,800 deaths in a 24-hour stretch.
In the race to fight this pandemic, several countries are using vaccine production capability to enhance their global influence. We are dumbstruck that India, a leading vaccine manufacturer, ended up with this collapse in its fight against COVID-19. A few months ago, the Indian government was the first to deliver vaccines as gifts to neighboring countries, aiming to save lives in less developed countries. This initiative, Vaccine Maitri (translating to "vaccine friendship"), was launched with the intent to assist the global community in its fight against COVID-19. Right around this time, the U.S. placed a temporary ban on exporting raw materials critical for vaccine production. This controversial decision meant that vaccine makers around the world, including the Serum Institute of India, faced a sudden shortage of materials to manufacture vaccines. In a recent tweet on April 16, Adar Poonawalla, CEO of the Serum Institute, appealed directly to President Joe Biden as the crisis in India deepened. He pleaded: "If we are to truly unite in beating this virus, on behalf of the vaccine industry outside the U.S., I humbly request you to lift the embargo of raw material exports out of the U.S. so that vaccine production can ramp up."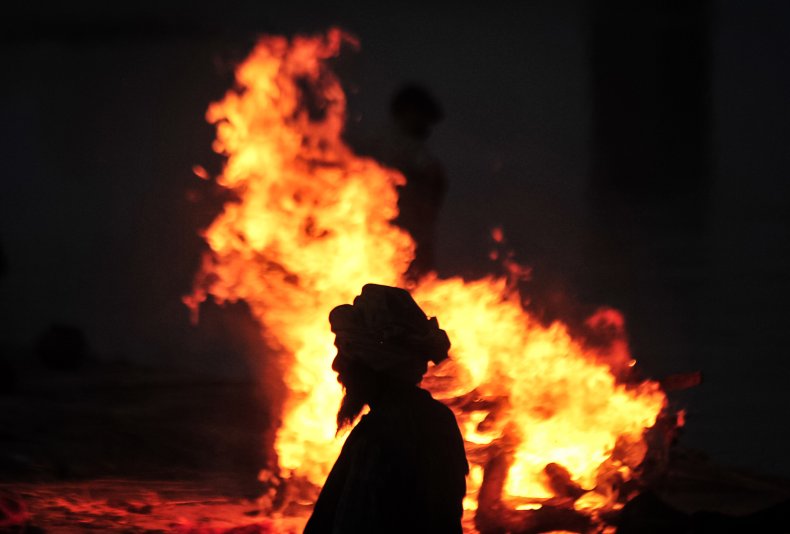 Caution is paramount as the pandemic intensifies around the world, with more new coronavirus cases in the past week than in the first five months of the pandemic, per recent warnings from the director general of the World Health Organization. We are not past this pandemic and experts concur this means that even if you're fully vaccinated, you must wear masks in public and not gather in large numbers. The sudden, sharp spike in new cases has caught India completely off guard. Earlier this year, cases were at record lows, and the government of India declared a premature end to the pandemic. Restrictions were relaxed, travel and gatherings returned, and even more questionably, election rallies and popular festivals were held, likely turning into superspreader events.
Given the established position of India as a powerful ally to the U.S., we question the alarmingly slow response to assist from the U.S. On behalf of the more than 4 million Indian Americans making up nearly 1.2 percent of the U.S. population, we appeal to the Biden administration to expedite its overall response and immediately release the stockpile of AstraZeneca vaccines. We further implore that the ban be lifted on export of critical elements needed for manufacturing COVID-19 vaccines. We also plead with readers to contact your elected representatives and urge them to respond swiftly in aid and assistance, just as India did to help the U.S. at the peak of our fight against COVID-19.
Another great way to take urgent action and support on-the-ground agencies is to consider donations to Hemkunt India, Ketto, Khalsa Aid, Give India, Milaap and Sewa International. Please reach out to your friends, colleagues and neighbors who are grappling with this sudden trauma just when things are beginning to look up in the U.S.
President Biden previously described the U.S.-India partnership and long-standing alliance between the world's two largest democracies as the "defining relationship" of the 21st century. Right now is the time to ditch all platitudes and take bold, decisive action.
Nidhi Mahendra is an associate professor in the Department of Communicative Disorders and Sciences.
Soma Sen is a professor in the School of Social Work.
Tanvi Kothari is an associate professor in the School of Global Innovation and Leadership.
All authors teach at San José State University and are Public Voices Fellows with The OpEd Project.
The views expressed in this article are the writers' own.