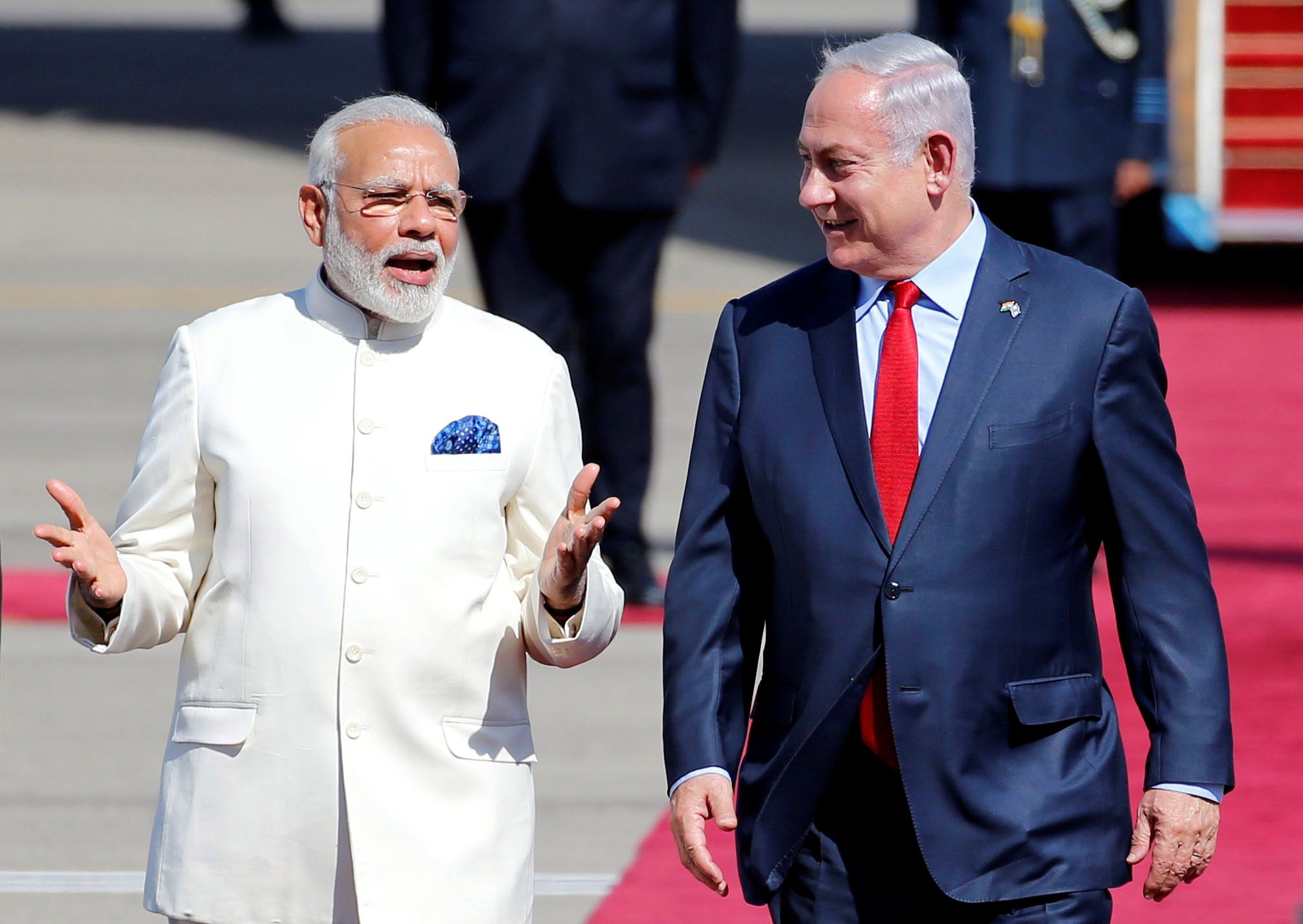 Tuesday marks a historic step forward in relations between India and Israel. To commemorate the 25th anniversary of the countries establishing diplomatic ties, Narendra Modi is visiting Israel for a three-day trip, becoming the first Indian prime minister to do so.
To discuss the notable occasion, Modi gave an interview Monday to the newspaper Israel Hayom in which he talked about how Indian-Israeli relations could improve. A facet of the relationship gaining attention the attitude both hold toward extremism, particularly of the Islamist variety. In response to a question about whether both countries are "facing the same threat of terrorism," Modi replied: "India and Israel could cooperate even more closely and complement each other's efforts to fight with the menace of terrorism."
In a joint Times of India article authored with Israeli Prime Minister Benjamin Netanyahu and published Tuesday, Modi reiterated this statement, adding: "We both recognize the threat terrorism poses to our countries and to global peace and stability. India and Israel are committed to working together to fight this scourge."
The strong words mark a change—India did not always hold this view toward Israel. After gaining independence from the British in 1947, India formed alliances with the former Soviet Union and the Arab World while Israel, which gained independence in 1948, cultivated closer relationships with the West. It was not until 1992 that India and Israel established full diplomatic ties.
But even with full diplomatic relations, it took a while for both countries to warm to each other. "Until the first Bharatiya Janata Party government [the party Modi represents] took over in Delhi in 1999, the previous Indian governments were coy about the relationship with Israel," says Rahul Roy-Chaudhury, senior fellow for South Asia at the London-based think tank the International Institute for Strategic Studies. "They felt developing any relations with Israel would affect the ties, particularly petroleum links, India had with the Gulf countries. They also worried about upsetting the large Muslim minority there is in India."
When the center-right Bharatiya Janata Party came to power in 2014, however, it began to increase India's trade with Israel, particularly in defense. In 2017, the Stockholm International Peace Research Institute published its annual arms transfers database which found that Israel supplied 7.2 percent of India's arms, a significant amount given Delhi is the world's largest arms importer. In April, the state-owned Israel Aerospace Industries announced it had won a deal worth close to $2 billion to supply India's army and navy with missile defense systems.
The defense deals also include purchasing counter-terrorism technology, something that reflects Israel and India's shared security concerns, despite their geographical distance. "Both countries have a long history of fighting Islamist armed groups, extending well before 9/11," says Samir Puri, lecturer in war studies at King's College London. "For India, the threat has been posed by Pakistani-backed armed groups that waged war primarily over the status of Kashmir, and which flared in the 1990s. For Israel, it has been unable to bring its violent struggles with [the Islamist groups] Hamas and Hezbollah to an end," Puri says.
In 2008, both countries' fears collided in the Mumbai attacks that lasted four days and left 164 people dead. Organized by the Islamist Lakshar-e-Taiba group, two militants stormed a Jewish center in Mumbai, killing six Israelis. On Wednesday, Modi will meet with an orphaned survivor, 12-year-old Moshe Holtzberg, whose Indian nanny saved him from the assault. In the immediate aftermath, Israel sent a team of counter-terrorism experts to Mumbai to assist with the response.
Support for this kind of cooperation has grown recently thanks to Modi's popularity in India, says Charu Lata Hogg, associate fellow of the Asia Program at the London think tank Chatham House. "Under [his] BJP government the relationship between India and Israel has warmed up as it resonates with anti-Muslim sentiments held by a section of population which voted Modi to power and believes Israel to be anti-Muslim," she adds.
Hogg is referring particularly to the swaths of the population that back Modi as a Hindu nationalist. Since he took office, human rights organizations have pointed to a rise in Islamophobia in India, with Amnesty International reporting on June 28 that "at least 10 Muslim men have been lynched or killed in public in suspected hate crimes," since April 2017.
Modi's continued focus on strengthening Indian defense and maintaining his own popularity and power base means he has sought to make deals around the globe. In an April visit to Saudi Arabia and a June visit to the U.S., the Indian prime minister announced greater intelligence sharing with both countries. It is likely that after his three-day Israel trip, there will be a similar announcement.