Net Neutrality Concerns Kill Facebook's Free Internet Plan in India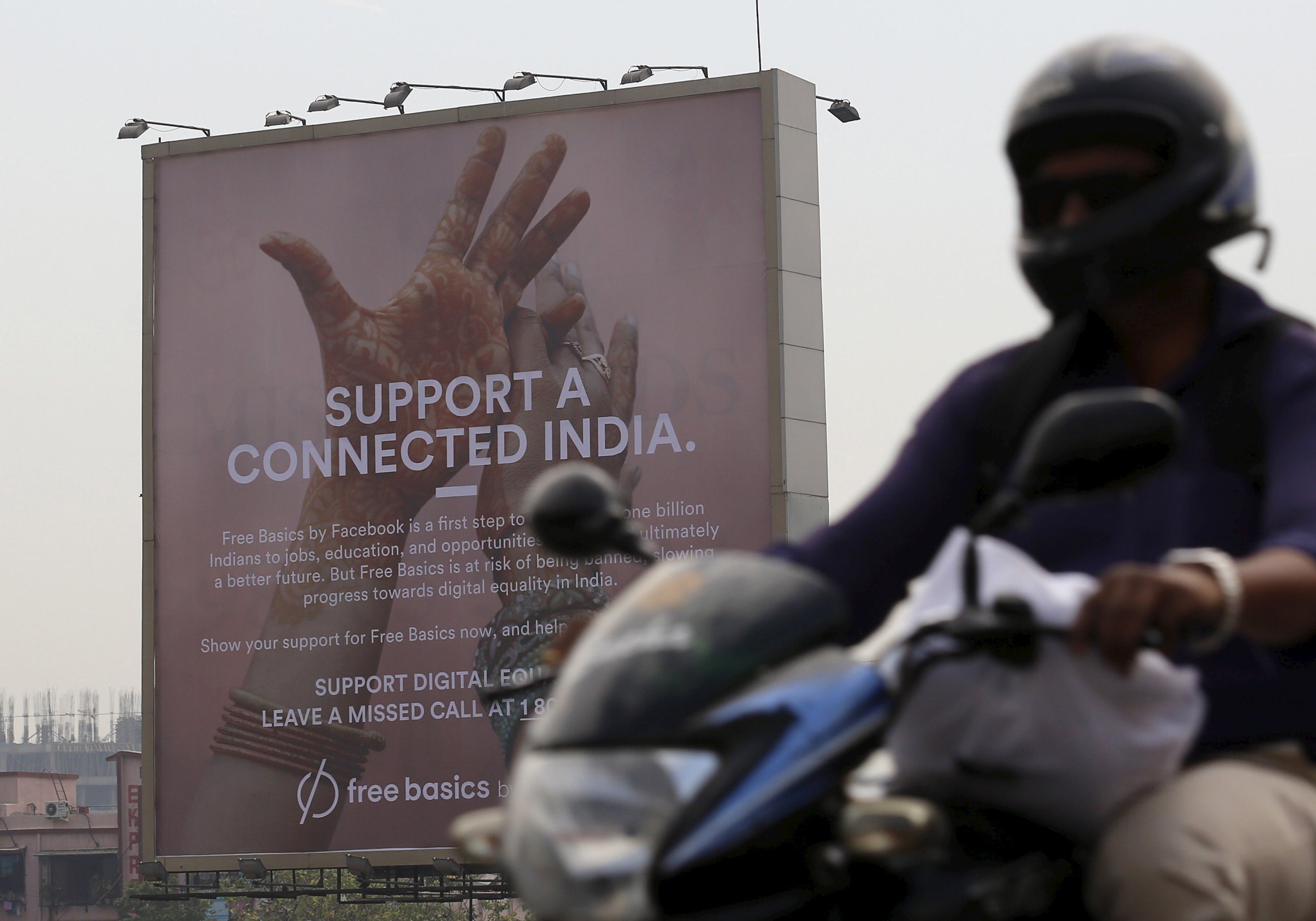 Facebook took a major blow in its initiative to spread free Internet around the world on Monday when Indian regulators banned its "Free Basics" program, which would have given free access to a select part of the Internet, including Facebook's site.
After months of debating and lobbying, the Telecom Regulatory Authority of India (TRAI) struck down Free Basics, which was advertised by Facebook and its founder Mark Zuckerberg as a way to provide free mobile data to Indians.
Zuckerberg wrote an op-ed in The Times of India on December 29, arguing that free Internet is a basic societal service, like health care or primary education. Free Basics, provided through Reliance, an Indian mobile provider who partnered with Facebook, was envisioned to introduce the Internet to hundreds of millions of people in three dozen countries. Facebook has also been ways to bring cheap Wi-Fi to rural villages in India.
Net neutrality activists aggressively lobbied against Free Basics, arguing that the program may steer newly learning Internet users in India toward a Facebook-centric vision of the Web.
This practice of mobile providers selecting certain websites and services over others called "zero-rating" has been contentious in the United States as well, notably due to T-Mobile's "Binge On" program which allows select streaming apps to play unlimited amounts of data. Both Free Basics and Binge On services give some providers like Facebook, Reliance and T-Mobile the power to hand out preferential treatment over others.
Indian Net neutrality supporters organized against Free Basics. In April, more than 800,000 Indians sent emails to TRAI in one week demanding Net neutrality. Several Indian conglomerates backed out of signing on to Free Basics following the public backlash.
The TRAI raised similar concerns as the activists, saying Free Basics "can prove to be risky in the medium to long term as the knowledge and outlook of those users would be shaped only by the information made available through those select offerings."
The World Web Foundation, which the World Wide Web inventor Tim Berners-Lee founded to promote an open Internet, welcomed the decision. "[This decision] follows a precedent set by Chile, the United States, and others which have adopted similar Net neutrality safeguards," says the foundation's program manager Renata Avila. "The message is clear: We can't create a two-tier Internet—one for the haves, and one for the have-nots."
A Facebook representative told Newsweek that "our goal with Free Basics is to bring more people online with an open, nonexclusive and free platform. While disappointed with the outcome, we will continue our efforts to eliminate barriers and give the unconnected an easier path to the Internet and the opportunities it brings."