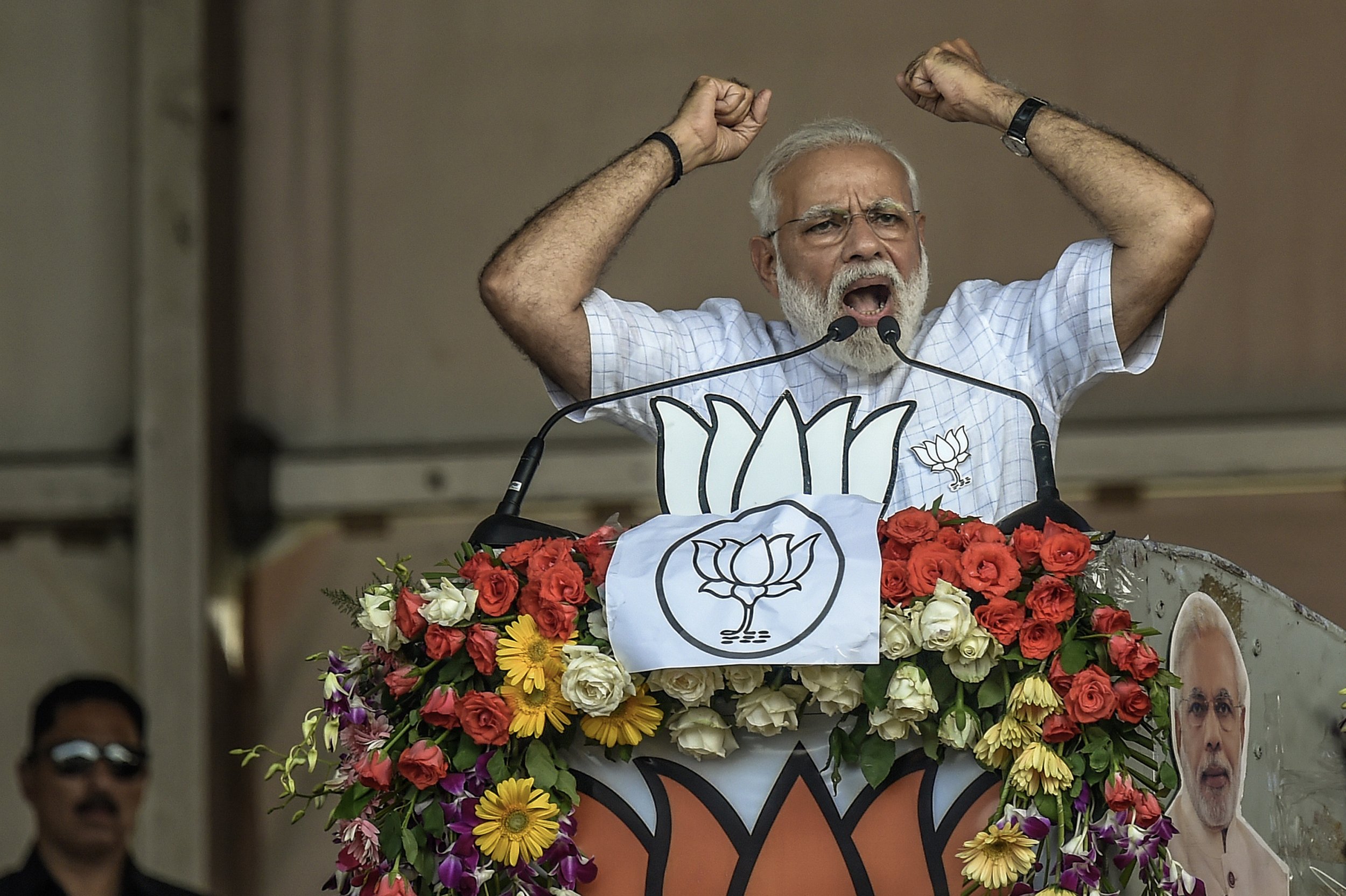 India's Prime Minister Narendra Modi was trolled by Rahul Gandhi, the leader of the opposition Indian National Congress party, who claimed on Twitter that the Oxford English Dictionary had included a new word, "Modilie," and posted a pretend screenshot of the definition.
"There's a new word in the English Dictionary. Attached is a snapshot of the entry," wrote Gandhi, adding a smiley face. The definition of "Modilie" read: "1. To constantly modify the truth. 'He is such a Modiliar.' 1.1 To lie incessantly and habitually. 'He just keeps Modilying.' 1.2 To lie without respite. 'Look look there goes a Modiliar.' "
Oxford Dictionaries responded on Twitter to shoot down the joke: "We can confirm that the image showing the entry 'Modilie' is fake and does not exist in any of our Oxford Dictionaries."
Following up on his initial tweet, Gandhi wrote: "'Modilie' is a new word that's become popular worldwide. Now there's even a website that catalogues the best Modilies!" He linked to the "Modi Lies" website, which has a timeline running back to 2014 of what it says are all the time Modi has lied.
Gandhi's tweets arrived amid India's general election, for which polling ends on Sunday. The elections are for the 545-seat Lok Sabha, the powerful lower house of the Indian Parliament; approximately 900 million Indians are eligible to vote. India is the world's largest democracy.
The Indian National Congress is a member of the left-wing United Progressive Alliance (UPA). Gandhi is fighting to remove Modi, of the ruling Hindu nationalist Bharatiya Janata Party (BJP), and his right-wing National Democrat Alliance (NDA) of parties from power. Currently, the UDA has 341 seats. The UPA has just 66.
Gareth Price, a senior research fellow on the Asia-Pacific Programme at the think tank Chatham House, wrote in April that India's election would be dominated by the fast-growing economy, which is heading toward what could be a painful slowdown.
Price highlighted a letter by 108 economists written in March that brought the credibility of India's economic statistics into question and suggested they may have been manipulated for political gain.
"Many indices have been re-based making historical comparisons difficult while growth rate numbers appear at odds with other evidence," Price wrote.
"If economic growth is being exaggerated, this would not be for the first time. In 2004 the BJP campaigned under the slogan 'India shining,' and when enough Indians disagreed, it was out of power for a decade.
"That said, even though the government has not lived up to pre-election promises, including a 50 percent increase in farmers' incomes, it will, not unreasonably, argue that it needs more time and that the main opposition party, Congress, has failed to deliver despite having ruled for decades."
Dishil Shrimankar, an assistant professor at the University of Nottingham's Asia Research Institute, wrote in May that Modi was focusing on attacking the Nehru-Gandhi dynasty to avoid debating economic issues.
Modi recently alleged that the late former Prime Minister Rajiv Gandhi, father of Rahul Gandhi, had used the warship INS Viraat for a family and that he was corrupt, Scroll.in reported.
"Prime Minister Modi's remark on former Prime Minister Rajiv Gandhi clearly illustrates the personalized and negative tone of the campaign that this election season has taken," Shrimankar wrote.
"Rather than campaigning on economic issues, it serves Prime Minister Modi's political interest to target the Nehru-Gandhi family.
"Moreover, it places the Congress Party on the back foot, with the majority of its leaders and spokespersons coming out in defense of Rajiv Gandhi in contrast to providing their vision for the future."