India and Pakistan Border Attack Kills Hindu Worshipers Returning From Pilgrimage
Seven Hindu pilgrims were killed Monday after their bus became caught in the middle of a firefight between militants and law enforcement along India's restive border with Pakistan.
An unknown group of militants opened fire on police in Anantnag, part of the disputed Indian state of Jammu and Kashmir, and were likely targeting a nearby base for Indian counterinsurgency operations, according to local authorities cited by BBC News. As Indian officers responded, a bus carrying about 50 Hindu worshipers returning from a Himalayan cave shrine, as part of the annual Amarnath Yatra religious celebration, drove through the area, despite being unregistered and violating a vehicle curfew for the pilgrimage, The Atlantic reported. The militants' bullets reportedly tore through the bus, resulting in the deaths of seven passengers, including six women, and injuries to 11 others. Indian leaders have sharply condemned the deadly assault, which has already sparked right-wing protests calling for greater protection for Hindus.
Related: U.S. military trains with Japan and India, while China courts Pakistan
"Pained beyond words on the dastardly attack on peaceful Amarnath Yatris in J&K. The attack deserves strongest condemnation from everyone." Indian Prime Minister Narendra Modi tweeted. "India will never get bogged down by such cowardly attacks & the evil designs of hate," he later added.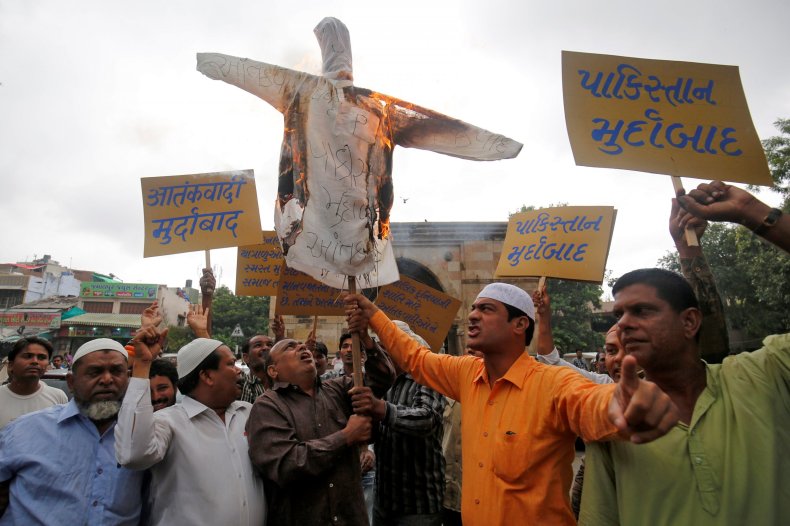 India is already in a heightened state of security as a result of the yearly pilgrimage. Following the fatal assault, supporters of Hindu nationalist militant group Bajrang Dal reportedly took to the streets in the region, disrupting traffic and shouting slogans in protest of what they consider to be lenient security measures. Some of the demonstrators specifically called out neighboring Pakistan, which India frequently accuses of sponsoring militant groups that occasionally conduct cross-border attacks.
No group has yet claimed responsibility for the attack, however, and some early suspects have already denied playing a role, going as far as to condemn the massacre. Pakistan-based hardline Sunni Muslim militant organization Lashkar-e-Taiba, which has taken credit dozens of attacks that have killed hundreds of Indians, denied its fighters contributed to Monday's "reprehensible" act after being named as a likely culprit by Indian police superintendent Altaf Khan, according to Reuters. Other local militants fighting for the independence of Jammu and Kashmir from India condemned the attack, as well.
"This incident goes against the very grain of Kashmiri ethos," separatist leaders Syed Ali Geelani, Mirwaiz Umar Farooq and Mohammed Yasin Malik said in a joint statement, according to the Associated Press.
In addition to facing hostilities on its northern border, India has recently engaged in another rivalry in its far east with neighboring China. Last month, China said Indian troops crossed an international boundary, while India argued its forces were mobilized in response to the construction of roads close to the trijunction border between India, Bhutan and China, threatening the security of Indian ally Bhutan. Photos emerged of Modi and Chinese President Xi Jinping shaking hands at the G-20 summit in Hamburg, Germany, but the Chinese Foreign Ministry maintained that the two leaders "did not hold a bilateral meeting."