India and Pakistan: Indian Official Warns Country Will Deliver 'Unforgettable Lesson' and 'Completely Isolate' Neighbor After Kashmir Attack
India has vowed to isolate its neighbor Pakistan after a suicide bombing of a paramilitary convoy killed at least 46 soldiers in the disputed state of Kashmir on Thursday. The attack was the deadliest in the region's history.
The military group Jaish-e-Mohammed, which aims to separate Kashmir from India and give complete control of the region to Pakistan, has taken responsibility for the attack. The group operates in both Kashmir and Pakistan, but the government in Islamabad has said that it was not behind the attack.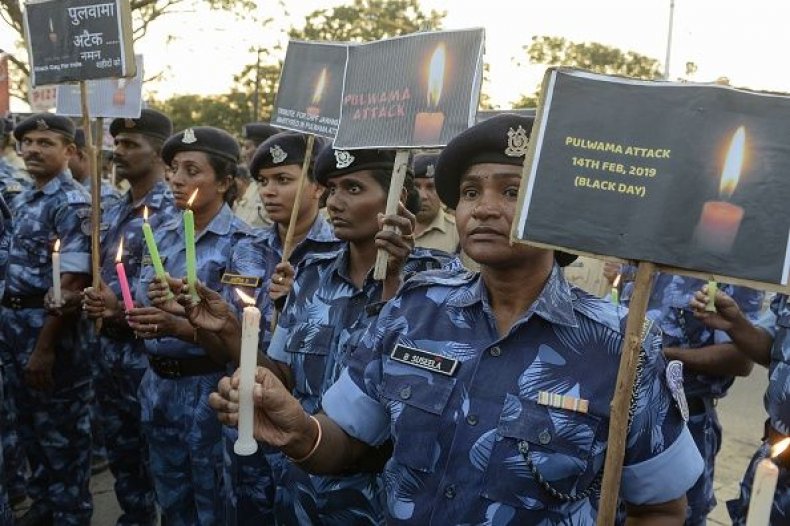 Nevertheless, India pledged to work to isolate Pakistan from the international community in response to the incident. Like the United States, India has accused Pakistan of allowing terrorist groups to operate on its soil. On Thursday evening, the White House condemned the attack and called on Pakistan to end its support for groups like Jaish-e-Mohammed. On Twitter, Indian politician Arun Jaitley pledged to teach the perpetrators "an unforgettable lesson for their heinous attack."
"The United States condemns in the strongest terms the heinous terrorist attack by a Pakistan-based terrorist group that killed over 40 Indian paramilitary forces and wounded at least 44 others. We express our deep condolences to the victims' families, the Indian government, and the Indian people for the loss of life in this brutal attack," the White House press secretary said in a statement.
"The United States calls on Pakistan to end immediately the support and safe haven provided to all terrorist groups operating on its soil, whose only goal is to sow chaos, violence, and terror in the region. This attack only strengthens our resolve to bolster counterterrorism cooperation and coordination between the United States and India," the statement continued.
Both India and Pakistan lay claim to all of Kashmir, but both countries only control parts of the state. The dispute has been ongoing since for over six decades, since the Indian subcontinent was partitioned in 1947. A Line of Control serves as a de facto border that separates Pakistan-controlled Kashmir from India-controlled Kashmir.
"India and Pakistan have consistently subjected Kashmiri interests to their own national security agendas and silenced calls for greater autonomy," notes a report from the International Crisis Group. "With the start of their composite dialogue – comprehensive negotiations to resolve all contentious bilateral issues, including Kashmir, launched in February 2004 – both appeared willing to allow more interaction across the Line of Control (LOC) but failed to engage Kashmiris in the process. As a result, they did not take full advantage of opportunities to enhance cross-LOC cooperation by identifying the most appropriate Kashmir-specific confidence-building measures, and bureaucratic resistance in both capitals resulted in uneven implementation of even those that had been agreed," the report concluded.
There has been an uptick in violence in the heavily militarized state over recent years.